Petunias are wonderful plants for containers and summer hanging baskets, but they have been the focus of some quite intensive breeding in recent years which has recently revealed some new and exciting variations
Surfinia petunias
The Surfinia petunias were the first trailing petunias. All Surfinias are petunias but not all petunias are Surfinias. These were introduced twenty plus years ago in the 1990's and have become a must have summer basket plant as the plants are branched with a trailing habit and flower abundantly all summer. They are available in a stunning range of flower colours now including the much sought after red and the stunning 'Night Sky' with its rich purple flowers speckled with starry white freckles.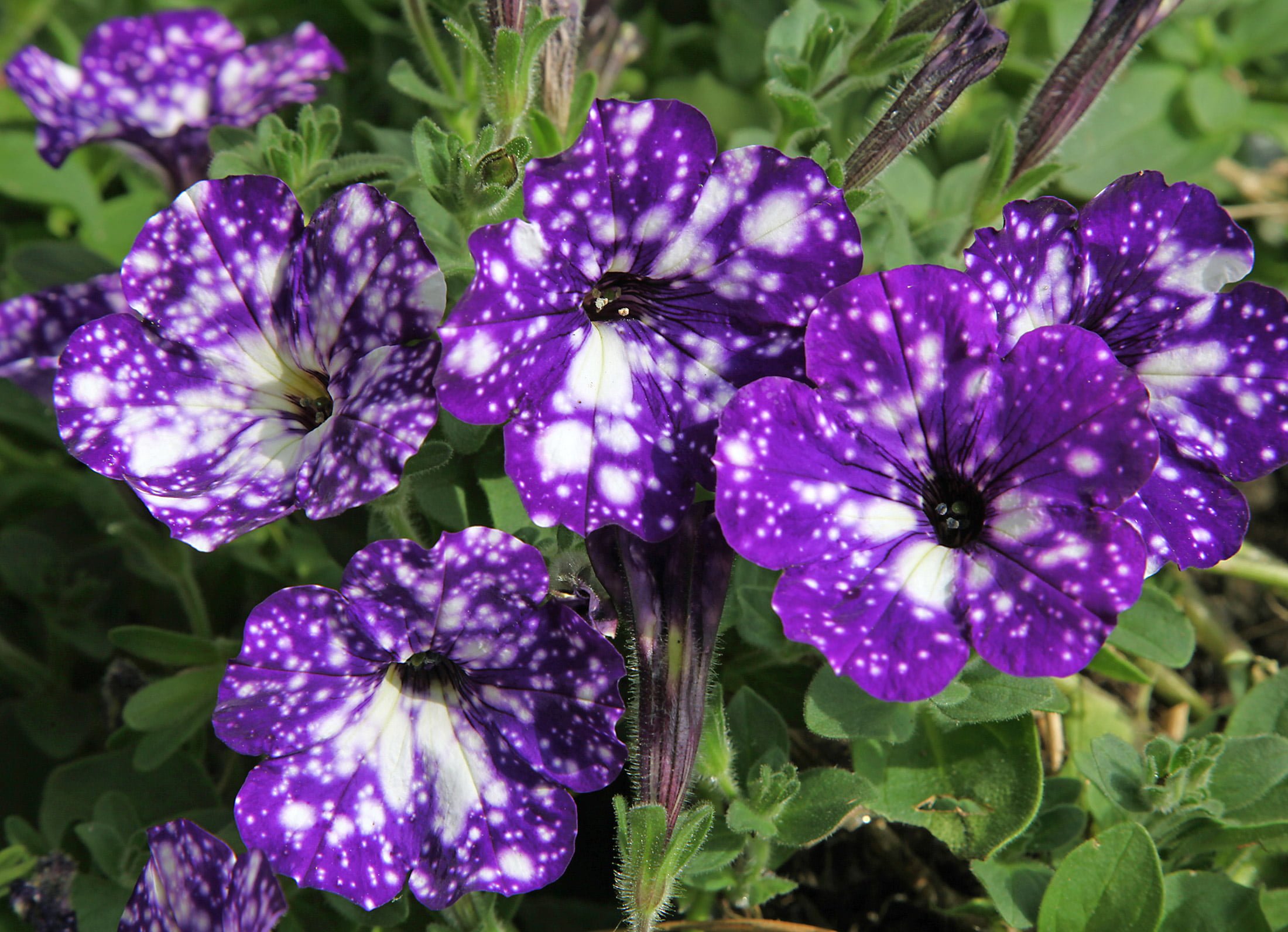 Million Bells
The million bell petunias arrived on the scene around 1997 and were hailed as the perect summer patio plant, ideal for pots and baskets because they produced a mass of small, prolific flowers. Technically these plants are not petunias but in fact calibrochoas, which are different plant genus (group) and are better adapted to alpine conditions making them a bit more drought tolerant and a good choice for a well drained container or basket. Available now in a rainbow of colours, these beautiful flowers have been bred to transform your garden pots, containers and baskets. They flower practically non-stop and don't need deadheading like their petunia cousins.
What's a petchoa?
It didn't take too long for the plant breeders to recognise that there were amazing traits in both petunias and calibrochoas that if correctly combined could create the 'perfect patio plant'. And so the petchoa was born, a hybrid between our favourite garden petunias and the amazing floriferous calibrachoas. These are the new kids of the block and they are set to become the hot new trend in basket and container plants. Perfect for a sunny patio, these are easy to grow, sun-loving annuals in a fabulous range of colours. Generally the plants grow in a mound or a trailing habit, so they grow up and flow over, making them just perfect for basket sand containers and you can even grow them as bedding plants or to fill gaps in the border. Imagine them growing along the top of a wall where they will flow over the edge in an attractive billowing form.
Vintage Shades Petunias
Richard's Vintage Petunias are an extraordinary breakthrough in plant breeding, combining the best features of petunias and calibrachoas (petchoas), with none of the disadvantages. They look particularly stunning in pots, containers and baskets, as they combine three habits – growing upright, then mounding and finally gently trailing over the edges. The plants are also extremely weather resistant – the large flowers recover from wet conditions much faster than ordinary petunias. They grow up to 30cm (12in) high by 45cm (18in) across.
Buying mail order
You can buy wonderful collections of petunias, calibrachoas and petchoas mail order. These will usually be what are called plug plants, which are grown in individual modules and posted through the mail. They should come with growing instructions. But in case you don't have them, you can follow these simple steps.
When your plants arrive, open the box fully, carefully lift out the plants and water them if the compost seems dry.
Plug plants should be potted up individually into 9-10cm (3½-4in) pots of good potting compost first, grown on and then planted out when the roots start to fill the pots.
All petunias are tender and can only be planted outside once the last spring frosts have finished, usually around the end of May to the beginning of June – depending on where you live.
Until then, keep the plants inside in a cool but frost-free (ideally around 10-12C/50-54F) place, in good light but out of hot, direct sunlight. Allow the compost to slightly dry out before thoroughly watering them again.
If you have a warm greenhouse or a conservatory, you can plant up container and basket displays earlier, moving them outside to their final positions in late May/June. This will give you a delightful outdoor display earlier.
Before planting outside, gradually acclimatise the plants to outdoor conditions for a week or so by putting them outside during the day but bringing them back indoors in the evening for a few days, then leave out all night but covered with horticultural fleece when cold temperatures are forecast.
Planting out
Water the plants thoroughly immediately before planting out. Watering with Flower Power at half the recommended dilution will help get them off to the perfect start.
They are perfect for growing in pots; containers and hanging baskets either mixed or, better still, on their own. Plant them 30m (10-12in) apart. Make sure to use a good quality multi-purpose or potting compost; they're great in my compost! To help them establish extra quickly, water them in with a dilute plant food, such as Flower Power.
In borders, they grow best in well-drained soil that doesn't dry out in a sunny or lightly shaded spot. Dig the planting hole, sprinkle some compost in the bottom and, ideally, add some Root Booster or Easy Feed fertiliser, before planting. Pop the plant in the planting hole, adding a bit more compost if needed so that the top of the root ball is at the same level as the soil, and add compost around the sides of the plant. Gently firm in with your fingers or the end of a trowel or hand fork and water in thoroughly, ideally using a dilute plant food like Flower Power.
For the best display, plant about 30-35cm (12-14in) apart.
Growing on
When your plants get a little bigger than when they arrived, you can encourage bushier plants that will produce many more flowers by pinching out the growing tips, although this will delay the start of flowering by a couple of weeks.
Water thoroughly whenever necessary to prevent the compost or soil drying out.
Feed plants regularly with a high potash, liquid plant food, such as Flower Power. This really helps produce stronger, healthier plants with lots more flowers.
It's important to deadhead – removing finished flowers and their flower stems as they fade – to keep plants tidy and, more importantly, to encourage lots more extended flowering.