If you want to have a go at growing some fabulous cut flowers, try ranunculus, otherwise known as Persian buttercups. We explain how in our 'How to grow Ranunculus' guide.
Persian buttercups are loved the world over for their stunningly beautiful multi-layered ruffled flowers. Botanically they are known as ranunculus, but they are also called 'Rose of Spring' and for many gardeners they are the highlight of the gardening year.
There are many different varieties, but Persian buttercups are very special Italian varieties that are the most spectacular. Expert plant specialists have bred these beautiful flowering plants so that they produce much bigger flowers. The gorgeous flower mix includes fabulous colour shades, and each flower has large petals on taller, stronger stems that are perfect for vases, cut flowers or enjoy them growing in a rustic flower pot.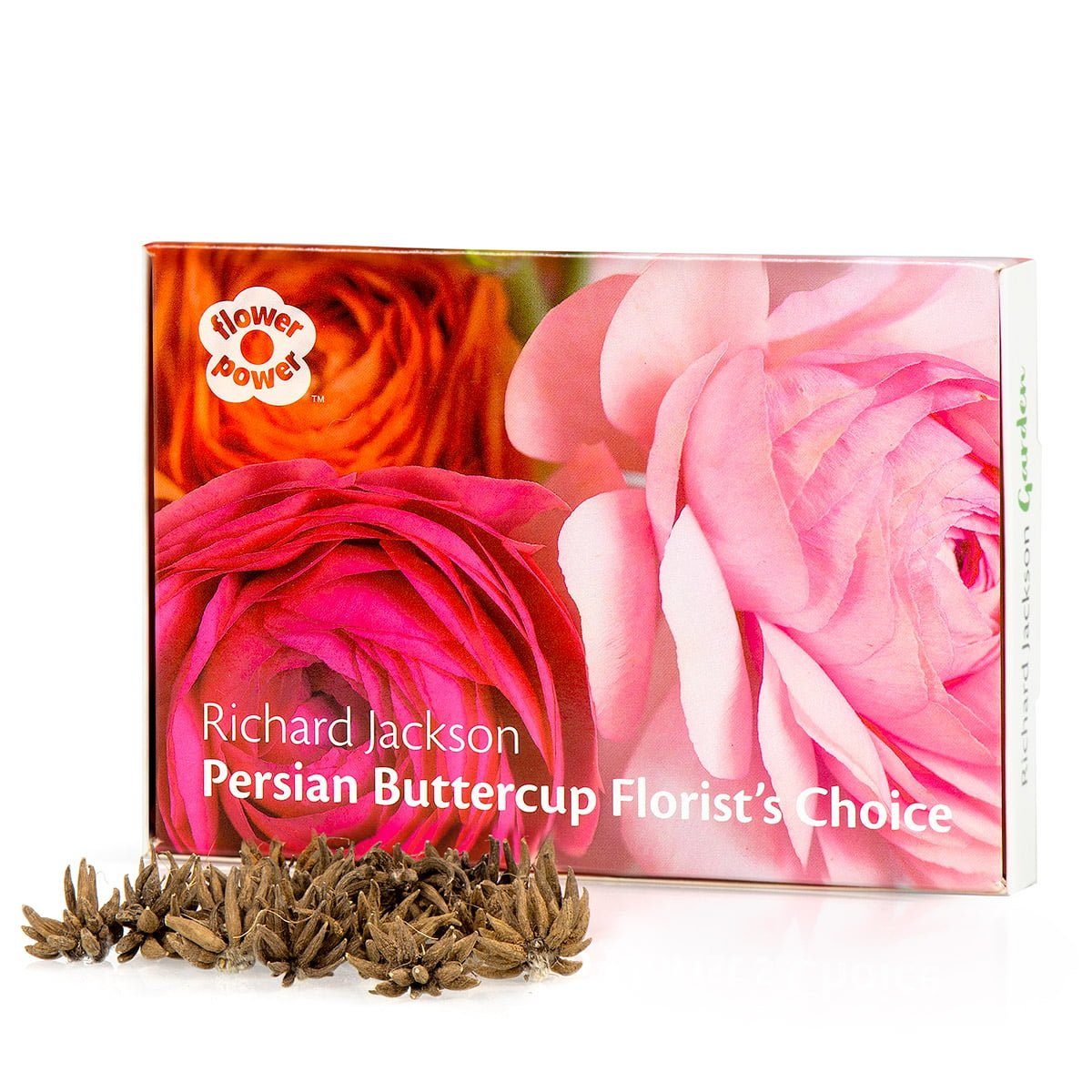 Easy to grow
If you've ordered your pack of Ranunculus from Richard Jackson, then you can be sure you've got high quality claws that will give you great results. You need to keep the pack cool and dry until planting time, which does vary depending on where in the UK you live. If you're wondering how to grow Ranunculus then the guide below should help.
The ideal planting for the south of the UK is mid-March.
In the midlands, plant them at the end of March and in the north, plant them in mid-April.
Plant each claw, claw side down, 2cm/1in deep in a well-drained compost (Richard Jackson Multi Purpose Compost is a great choice) in a 15cm/6in pot. Place the pots on a sheltered, sunny patio protected from strong and cold winds. Water well, and then don't water the claws again until the shoots appear a few weeks later. The young shoots are able to cope with light frosts but if a heavy frost is forecast after the first shoots appear, then bring the pots inside and place in a cool spot indoors overnight.
Persian buttercups are easy to grow but if they get very wet for too long, the claws can rot and not grow so don't over-water. For best results, feed at least once with Flower Power Premium Plant Food as the plants are starting into growth. Your Persian buttercups should grow around 40cm/15in high and, depending on the weather, they should start to bloom around 90 days after planting.
Enjoying them as cut flowers:
For the longest lasting flowers, cut the blooms just as the buds show some colour and are squishy like a marshmallow.
Growing them next year
With a little care, you can keep your Persian buttercups from year to year. Continue feeding with Flower Power after they've finished flowering. As the leaves begin to turn brown in the summer stop watering and let them dry out. When the leaves have completely died off, brush them off, and gently remove the new claws from each pot.
Store these in a cool, dry, frost free place during the autumn, and plant them again next spring following the instructions above.
We'd love to see some photos of your plants in bloom, or in vases when you've picked the flowers.