I don't ever open my garden in the spring but love to look out from the kitchen across the pond area in the early part of the year and see a cheerful container of spring bulbs. It's a really easy way to create splashes of colour in the garden.
The more pots the merrier in my case. I generally have around 10-15 on the edges of the pond and more on the central steps in the garden. Last year I had fallen and cracked a rib then in February I tore my Achilles tendon so my gardening through the colder months into 2020 was extremely limited and I lost quite a few bulbs that I generally dry and plant out again.
All these images are from Spring 2019. So, the consequence is I've just ordered nearly 400 to plant this month and ensure a great display next Spring. I've stuck with my 3 favourites, which work well for me in containers, daffodils, tulips and hyacinths. What's more, they are some of the easiest and most rewarding garden plants to grow.
Dazzling daffodils
First of the three off the starting blocks are generally the daffodils with hyacinths in hot pursuit and tulips not far behind. I've tended to have a lot of dwarf daffodils as they work well in smaller containers.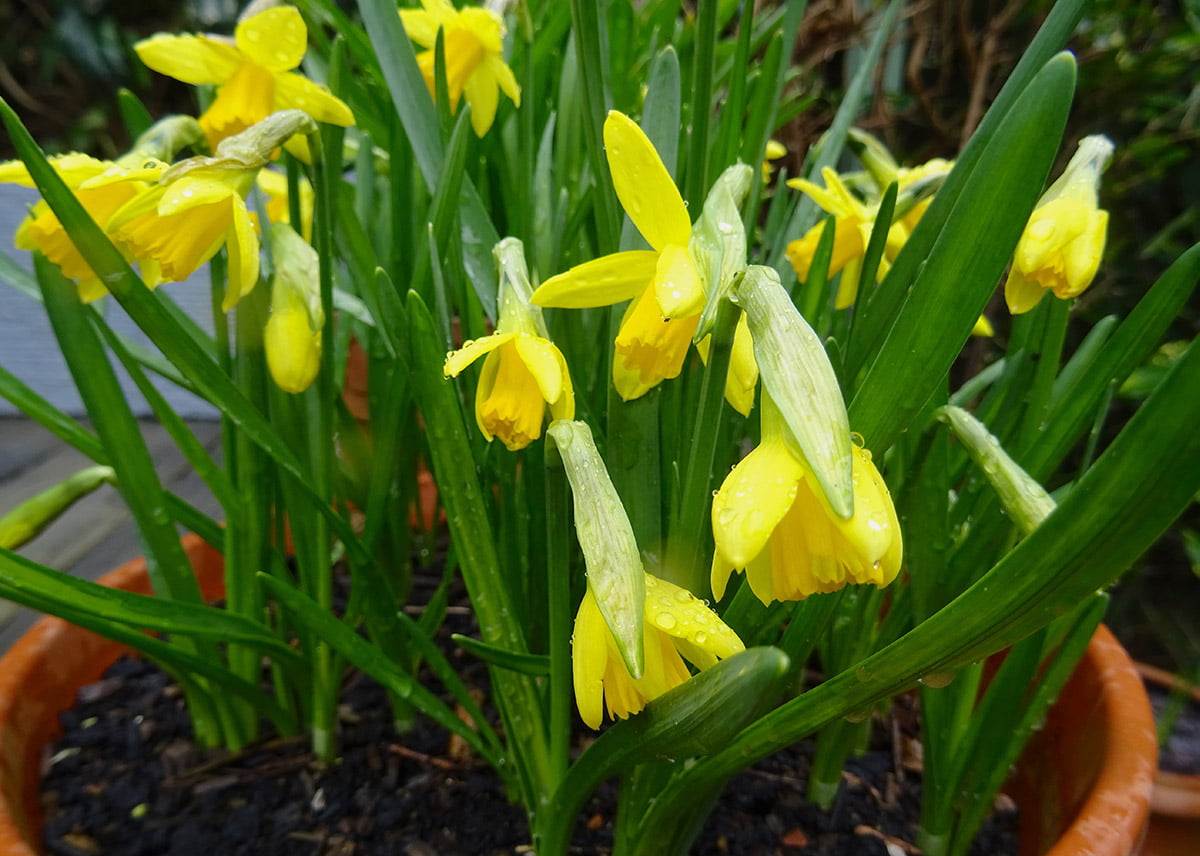 This year though I very much look forward to seeing the Daffodil 'Replete'. It is a stunning variety of daffodil that is highly fragrant. The bi-colour flowers have pretty ruffled apricot-pink centres that are surrounded by white petals with a tinge of pink. I've also purchases some Actaea and also some double mixed varieties. Narcissus 'Actaea' is a popular English daffodil that is highly scented and a great naturaliser so will hopefully provide endless pleasure for many years to come.
Managing the display
I tend not to layer pots of bulbs as I like the ability to move them around so the need to keep colour coming out of the pot is not so crucial, however, if you do, you will get colour from lots of different flowers one after the other.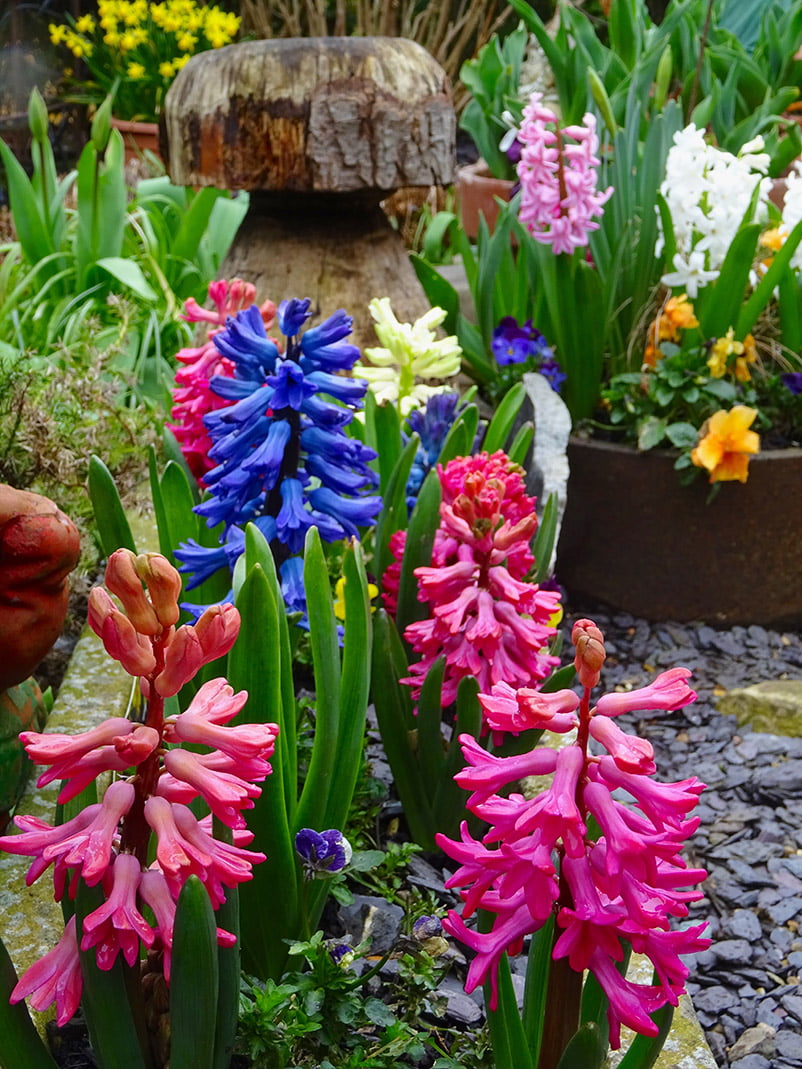 If you have squirrels in your garden, I don't but friends have told me they place a mesh cover over the container in autumn and winter, which stops them digging, then remove in spring before the bulbs poke through!
Scented hyacinths
I've ordered 30 Hyacinth bulbs called 'Autumn Colours' to complement those I already have in the garden. Hyacinths are a great magnet for bees too and the scent quite amazing. Flowering during the spring from March and April, or for an amazing six weeks in an optimum season these will look stunning.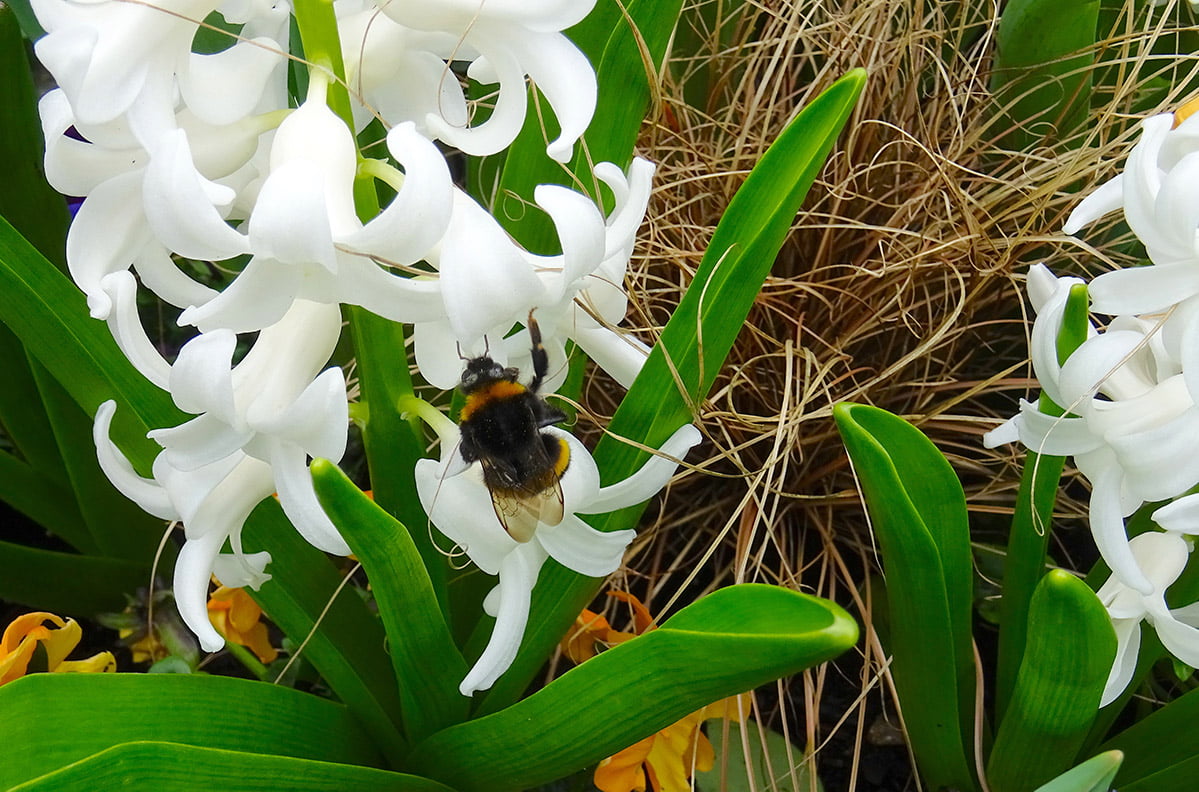 Tulip Fever
The third of my favourites are tulips, which I tend to plant in cubed containers around the central steps in the garden. I do have quite a few planted in the ground too which reliably come back each year. My new purchases include 'Paul Scherer', this variety is a luxury dark bloom with a velvety deep maroon/black colour which is unusual for a tulip. These flower in April/May and should add plenty of style and sophistication to my display. We'll have to wait and see. One of the other varieties I've purchased is a mixed bag of parrot tulips. There will be the added excitement of not knowing what varieties are going to appear until spring. One thing is certain, each flower head will boast exquisitely curved petals with deep feathering, standing atop tall stems with tapering lance-shaped leaves acting as a contrasting backdrop beneath. They will bring bold colour and a touch of the unusual to my spring garden. I never tend to worry about colour combinations as all nature's colours blend well together.
Planting bulbs
In the case of all bulbs they need to be planted as follows, cover the drainage hole with a piece of pot and add a layer of compost at the bottom of the pot to ensuring there will be enough room for roots to grow. Plant daffodils and hyacinths, preferably by the end of September and tulips in November. Aim to plant in groups of at least six, as the more bulbs that are grouped together, the better the display. Plant most bulbs at two to three times their depth. Place them in the hole with their 'nose', or shoot, facing upwards. Space them at least twice the bulb's own width When the pot is almost full, add a decorative layer of gravel mulch. Now you can look forward to a pot of colourful blooms in spring. Needless to say, I feed mine with flower power for that extra boost! I tend to store against the back wall of the house through the winter which is a north facing wall and just water as required. I'm often asked if I pick them for the house but to be honest, I like them better viewed in the garden so rarely cut unless one accidentally gets damaged. Many plants thrive in containers and bulb planting in pots allows for a much more flexible display, a moveable feast for the eyes, that you can adjust and update throughout the year.
For more advice on planting bulbs have a look at our beginners guide here.
There's more bulb advice in our article here.
Or you can read about lasagne planting here.