Gardening doesn't stop now, there is so much to enjoy and inspire throughout the autumn and winter months. Here are some of the highlights you can look forward to and one or two projects that will keep your garden vibrant, fresh and on-trend.
Plant some winter colour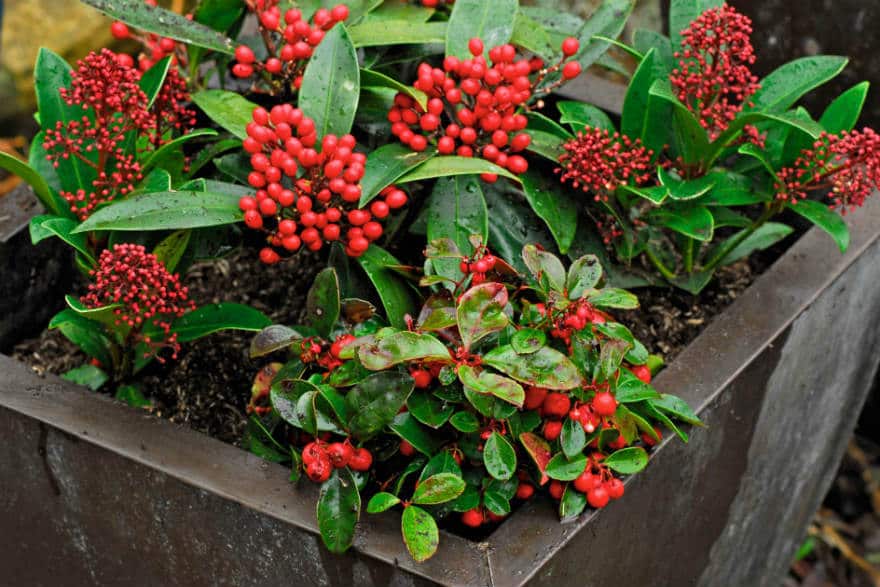 Plant a winter container. Visit the garden centre for a great choice of winter bedding and suitable flowering plants. Look out for winter flowering violas and pansies, skimmias and hellebores, all good for containers. Put it somewhere you can see it from the kitchen window or when you venture outdoors. Read about how to Plant a winter container.
Look out for autumn crocus, cyclamen and other garden treasures, Once established in your garden these will flower year on year, gradually spreading to create a bigger and better display.
Don't let the long dark nights put you off being outside. Add a fire pit and some lights and you can still enjoy some precious time in your garden.
Don't dismiss some of the late summer and autumn perennials such as sedums, asters, echinacea and rudbeckias that will flower right up to the first frosts.
Plenty of plants flower over the winter months. Take time to look at what is in flower in your neighbourhood. Plant one or two new things so that you have winter interest for years to come. Good winter flowering shrubs include mahonias which have lovely clusters of yellow flowers, winter honeysuckle with its heavenly scented cream flowers, winter sweet, and Christmas box. Many of these winter beauties have intense fragrance, attracting the few insects still on the wing. Plant them into pots so you can move them to appreciate their scent, or beside the front or back door so you get a whiff of their fabulous perfume as you enter or leave your home.
Plant a hellebore in a pot or at the front of the border. These delightful perennials have large, beautiful flowers that bloom for weeks and are rich in nectar for pollinators. They have a bit of a cult following, when you've bought one you will want another and another. But they are great garden plants with winter and early spring flowers. Read our article on Five great hellebores.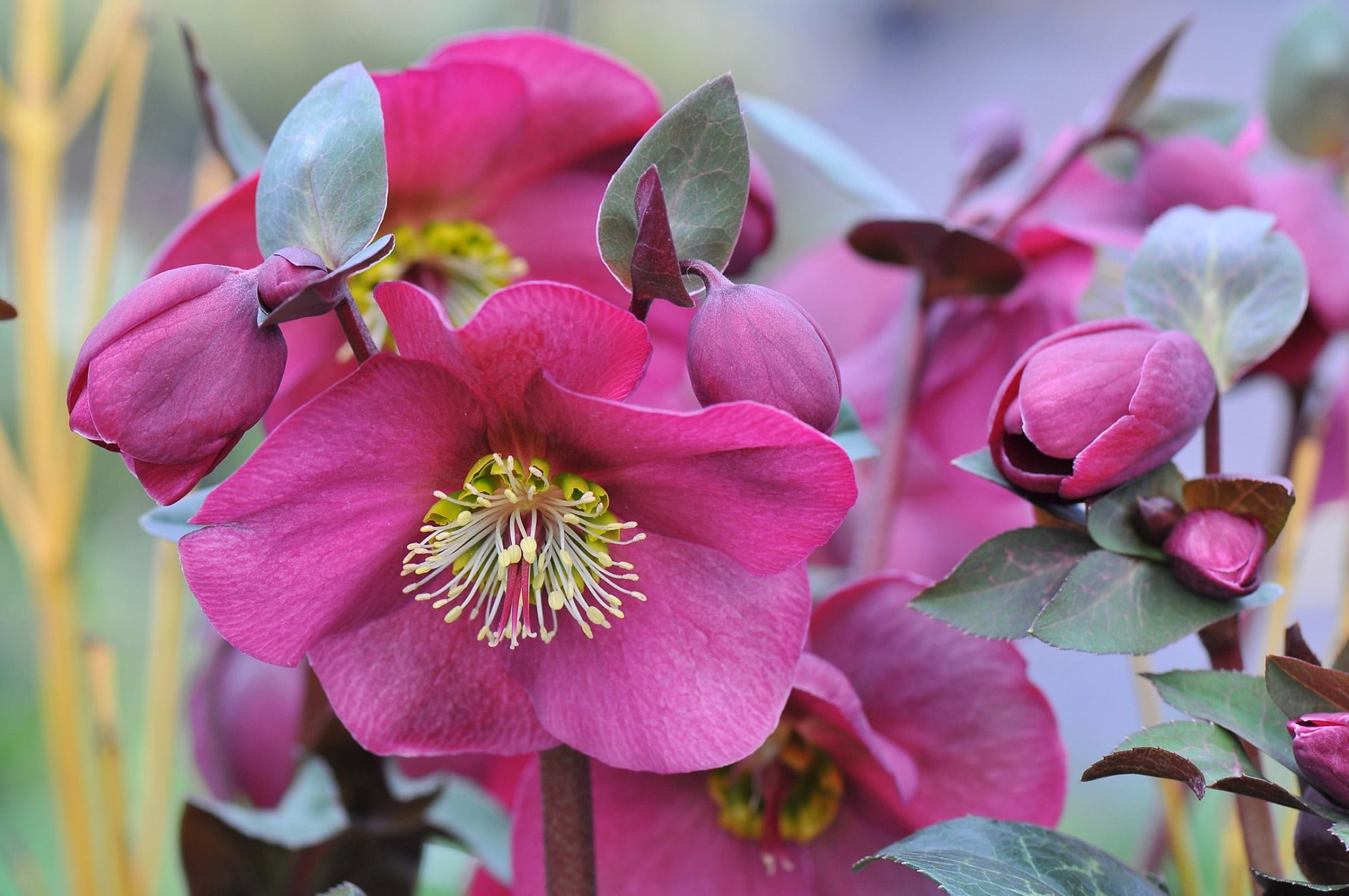 Leaves, leaves and leaves
The autumnal hues of trees and shrubs light up the season, offering a virtual firework display of glorious fiery colours.
Enjoy the autumn foliage. Visit a local park or public garden and study the fallen leaves as well as those still on the shrubs and trees. Look out for autumn wonders such as acers, liquidambar and rowans. But there are many more that have a colourful foliage display. Most deciduous trees have interesting leaf colours before they fall, it's simply a case of choosing those that you like the best. Some years are better than others for autumn shades, and if it's windy, some are over very quickly.
Don't waste those leaves
Our gardens are quickly cloaked in a layer of autumn leaves. Remember kicking through them as a child? Well now you can gather them up and make them into a really rich, valuable soil conditioner. It's so easy. Just gather them up with a leaf rake and pile them into large bin bags. Stab a few holes into the bags at the bottom, tie them up at the top and stack the bags behind the shed or out of sight. The leaves will break down inside into a wonderful organic matter that you can use as a mulch to improve the soil. Ideally leave them for 2-3 years. And then open the bags in the autumn and spread generously around your garden borders, and the veg or fruit garden. Read our article on What do I do about autumn leaves and watch Richard's video below:
Stems and twigs
But don't just think about flowers, many plants have vibrant coloured stems such as dogwood, ornamental brambles and many willows. Read our article on Five great winter stem dogwoods.
If you've got room think about planting a tree with stunning winter bark. Birches are a great choice, many have striking white trunks, but there are lots of other species with chocolate, red, pink and amber bark that come alive in the winter sunshine. Read our article on Five great birches.
Add a bird feeder to the branches and let the birds bring a fresh new vibrancy to your garden. Watching their antics will lift your spirits and give you a whole new purpose. These precious creatures need our help to get through the winter and will help keep you engaged with nature. Read our article What do I need to know about feeding the birds.
Plan and plant for spring
Autumn is the best season for planting. The soil is still warm from the summer and moist from the autumn rain. That makes it the perfect conditions for planting.
Visit the garden centre each season to see what's looking great now. They have a lovely skill of grouping seasonal plants together to show off their berries, leaves and points of interest. Ask for plant advice from the plant sales team to ensure that the plants you choose are suitable for your garden and don't forget to choose plants that are hardy and will survive your local conditions.
It's bulb-planting time and the choices are phenomenal. You can pick and mix from the bulbs on offer to create a fabulous garden display in spring. Bulbs are perfect for pots and containers too. If you've got plenty of space why not plant a mixture of tulips for cutting, so that you can fill the house with beautiful blooms all spring. Read about Planting bulbs.
Grow your own
You don't need to be an expert gardener to grow something to eat. Have a go. Start small and experiment, as you gain confidence you can try to grow other things to expand your ingredients.
Choose some fruit for your garden. Raspberries are easy to grow and will produce a generous crop next summer. Thornless blackberries can be trained against a fence or a wall to save space. Cordon fruit trees can be grown against a wall or trained as a 'fence' to delineate an area or create some privacy. Or if you are gardening in pots, grow blueberries in ericaceous compost for handfuls of rich, ripe fruit in summer. Read our article on Easy fruit for beginners.
For winter pea shoots sow peas in pots now, or sprout in shallow containers lined with kitchen roll.
Plant broadbeans for a steady supply of shoots and leaves, or allow the plants to mature for an early crop of pods next season. Read our article on how to Grow broad beans.
November is the best season to plant garlic. Buy special planting cloves from the garden centre for the best results. Read about Growing garlic in the garden.
Bring pots of herbs inside and continue harvesting leaves for cooking and herbal teas.
Enjoy your garden
Use this magical time to get to know your garden better. Find those places that need a little more attention and where you can make changes. Make plans for how to improve your garden so you make more of the space that you have and find ways to enjoy it when the winter sun shines. The winter garden is a magical place to be.