Just about everyone loves summer containers and hanging baskets overflowing with a rich tapestry of summer-flowering bedding plants. And it's not surprising why. They're versatile, you can place them all over the garden to create colour and interest and they really create a wow factor.
Sadly, once summer is over and the display has died down, these containers – especially hanging baskets – are often relegated to the shed or garage, only seeing light of day when it's time to plant them up again for summer. But that shouldn't be the case. Our gardens are often in desperate need of that wow factor from autumn to spring too. Admittedly, there aren't as many autumn to winter-flowering plants as there are summer ones – but that's no excuse! So, make this year the year that you do something about it and create fabulous autumn to spring displays.
Winter wonders
Here are some of the best plants to bring you winter containers to life.
You can use any evergreen shrub or perennial, but especially small and slow-growing ones are perfect to act as a centrepiece in pots and any small specimen can also go into hanging baskets. These include dwarf conifers, skimmias in berry or showing colourful flower buds, box, elaeagnus, winter box (sarcococca), euonymus, gaultheria, carex (ornamental sedges) and winter-flowering heathers, which also add long-lasting flowers.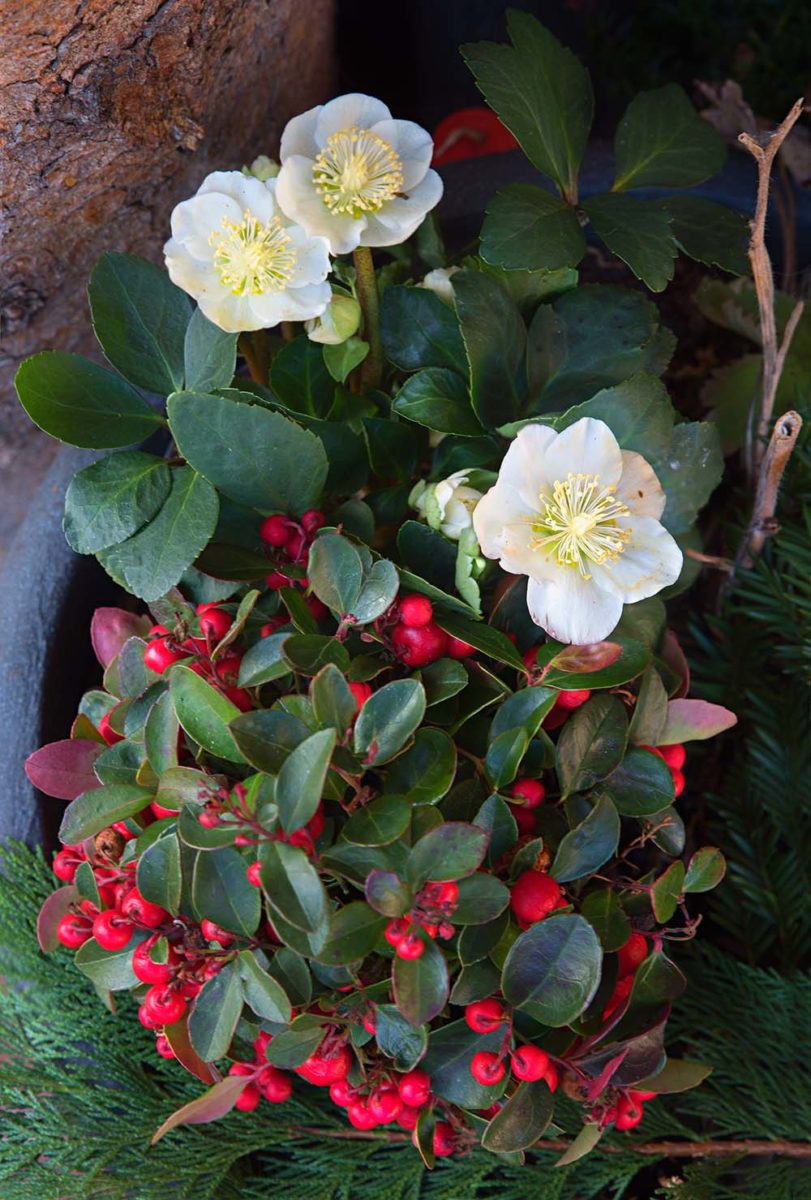 Even deciduous shrubs with colourful or interesting stems or attractive shapes and structure can go into pots, and look even better with an evergreen underplanting. And don't forget those deciduous shrubs that flower in winter, such as witch hazels, viburnums and winter honeysuckles.
For flower power, add winter-flowering pansies, often the stalwarts of winter displays, and violas, outdoor cyclamen, which also have highly ornamental patterned leaves, primroses and polyanthus, plus ornamental cabbages and kales. There are also winter-flowering perennials, like hellebores, that look great in pots and hanging baskets.
Although primroses and polyanthus are thought of as plants that herald the start of spring, thanks to the boffins, we don't have to wait until spring to enjoy these delightful flowers. Plant breeders have been busy extending their flowering season and we now have varieties that will start flowering in winter, reaching a crescendo in spring, and one extraordinary new variety flowers for six months! Primrose 'Everlast' is that flower-power-filled primrose. Other primroses for winter include 'Autumn Colours Mixed', 'Eternity Mixed', 'Husky Mixed', 'Primus' and 'Alaska'. As for polyanthus, there's the Supernova series, 'Most Scented Mix' and 'Inara Flame'.
For trailing plants around the edges, use ivies, periwinkles (Vinca minor or Vinca major), bugles (ajugas) and deadnettles (lamiums). If you have some of these already growing in your garden, they root as they spread. You can dig these up earlier in the year, pot them up and then transfer them to the container or basket.
And don't forget to pop in some bulbs of dwarf daffodils, dwarf tulips, crocuses and any of the other smaller spring-flowering bulbs to double the flower power of your displays. Simply underplant the container before you add the plants.
Bear in mind that plants won't be growing during cold temperatures, so it's important to make your containers and baskets look full from the start
Pots and composts
Obviously, you'll need to make sure that your containers can take the cold weather and are regarded as being cold or frost proof, especially terracotta ones. Even plastic pots can be degraded by cold weather, so again, make sure you choose pots that are going to survive any severe cold periods.
The Elho containers we sell are perfect choices, for example. And being available in a range of lovely and even vibrant colours, they'll add their own pop of colour to your winter displays.
And make sure to use a good compost, such as Richard's Flower Power Premium Multi Purpose Compost and Flower Power Premium Peat-Free Compost, or Flower Power Ericaceous Compost for acid-loving/lime-hating plants.
Care
As plants rarely grow much if at all in cold temperatures, they need less watering and feeding than in summer, so they're really easy to look after – much easier than summer containers.
Plants may still need watering in winter, depending on how much it rains, to prevent the compost drying out, and those that are flowering would benefit from fortnightly feeds of Flower Power Premium Plant Food.
Deadheading to remove spent flowers when they go over will encourage further flowering, keep the plants looking their best and help prevent the build-up of any plant diseases.