Ah, the humble hanging basket – a vibrant, shining beacon of colourful joy in our gardens. Although, sadly, usually only for summer since most people don't plant them up for winter and spring, and they languish in the shed until it's time to plant them again for summer.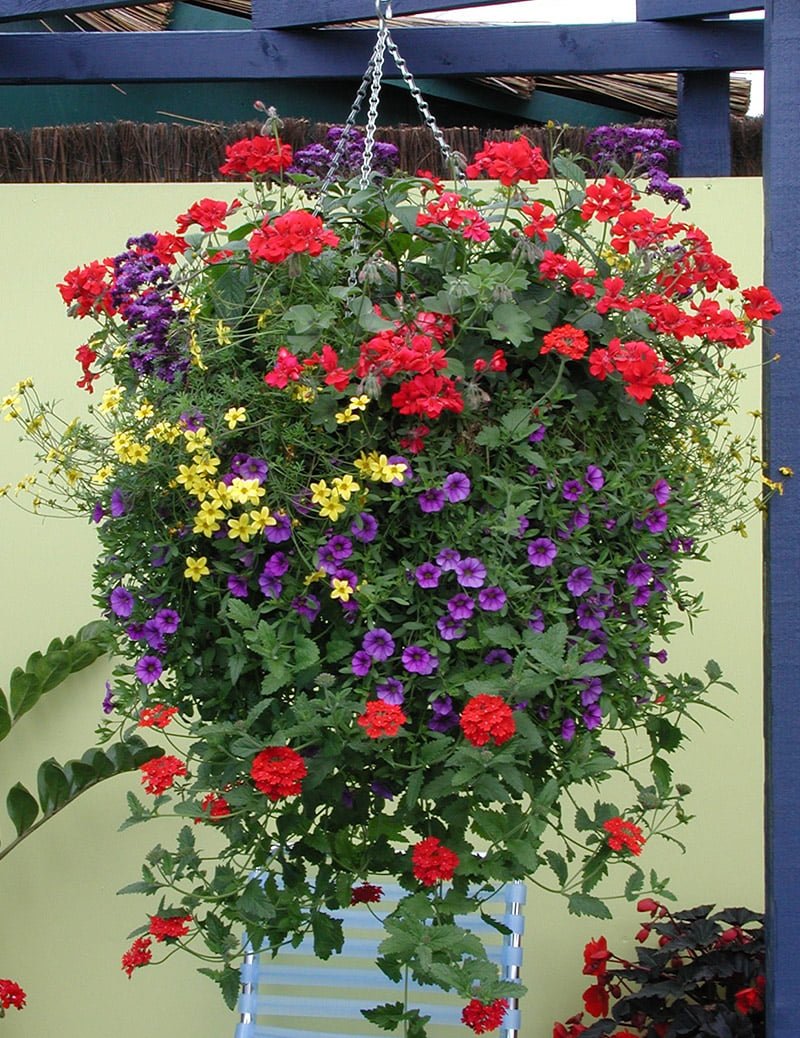 While hanging baskets should provide a cascading mound of colour at height, some people do struggle to create the colourful spectacles they should be. We expect a lot from our hanging baskets. In effect it is a tiny "pot" with a small amount of compost expected to sustain a relatively enormous amount of plants – namely the plant roots. So how do you achieve brilliant results? For Brilliant baskets – Here's what you need:
Basket
The basket is only meant to be a receptacle to hold the compost and the roots. In the best baskets, you can't even see the basket itself – it's completely camouflaged by foliage and flowers. On the other hand, poorly planted ones just display a rusty metal basket, complete with dead moss and three half-dead plants sticking out of the top! As it will be covered in flowers and foliage, you don't need to spend a fortune on ornate baskets – unless you plant them badly and they show through, or you've bought an expensive one and want to show it off! Wire mesh baskets are cheap, but sometimes difficult or impossible to plant through the sides to produce a full, covering display.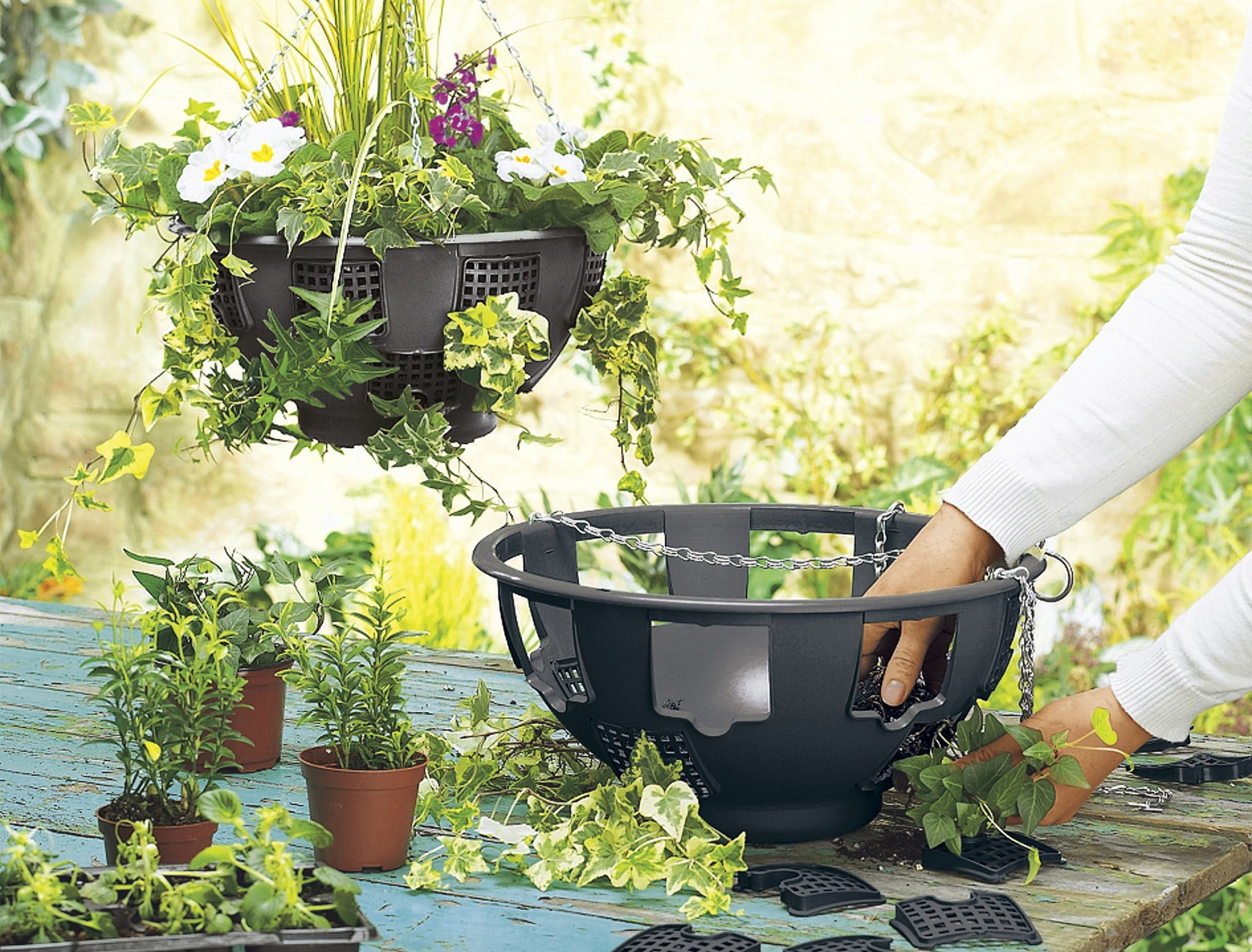 In recent years, I've gone over to plastic Easy-Fill Hanging Baskets, often available from QVC, as they have so many advantages over other types:
Their flat bottom makes them easier to fill.
They have a water reservoir in the base.
The removable side grills make side planting – even with relatively large plants – a doddle.
They have four easy to remove, evenly spaced stainless steel chains, so they always hang correctly.
Liner
Again moss is traditional, but it dries out so quickly. Coir and fibre liners tend to dry out more slowly, but they can be difficult for planting the sides of the basket. As baskets dry out, always try and do anything you can to reduce this when using a liner. You can line the inside with polythene (but pierce a couple of drainage holes to prevent waterlogging) and/or put a plant saucer in the bottom. You don't need any liner for solid plastic hanging pots, nor for the Easy-Fills!
Compost
Any good multi-purpose or potting compost is perfect. Stick to the ones you usually use, which give good results, and you know how they "work". John Innes composts tend to be too heavy, adding to the overall weight of the basket and added strain on the brackets. A well-watered hanging basket can be very heavy anyway. Container & Basket Compost is simply a multi-purpose with added water-retention gel (or similar substance) and long-term, controlled-release feed. So save yourself some money, and add the gel and controlled-release fertiliser yourself before filling the basket. Richard's Container Magic contains three ingredients that improve plants growing in baskets: water-storing crystals; controlled-release booster plant food that is released over the first five to six weeks after planting to help the plants establish; and mycorrhizal fungi that help the plants absorb more nutrients and water, so they grow better.
Plants
The most important and pretty bit. There are dozens of great hanging basket plants. While mixing together all sorts of different plants in a kaleidoscope of colours can look good, sticking to a few – or even one, especially those that trail well, including Surfinia petunias and trailing begonias – types of plant and a limited range of or even single colour always looks far better. We often get lots of questions at the Flower Power Gardening Club about how many plants to use. There's no "magic" number, and much depends on the style of basket – whether it's possible to plant up the sides etc – and the type(s) of plants you use. Personally, I put up to nine plants in the sides of the basket (in two staggered rows) and then plant as many as I can fit into the top. The more you plant, the sooner it starts to look good – but plants will need a lot more feeding and watering in summer. Using fewer plants takes a bit longer for the basket to look full.
After Care
Once planted, it's now up to you to make sure the display looks fabulous all summer long.
Watering
While getting the basics and planting right are key, most problems start during the summer – especially hot, sunny, dry ones or during windy weather. Allowing the compost to dry out stops the plants in their tracks and so they never grow or flower, as they should, resulting in disappointing displays. Once the compost has dried out, it can be very difficult to re-wet. The ideal should be to keep the compost evenly moist, ideally not allowing it to dry out or flooding it with excess water when it does. When the basket is full of roots and during hot or windy weather, the compost will probably need watering daily – if not more than once a day. To make watering easier, you could install a drip irrigation system attached to an outdoor tap. Just turn on the tap and it will do all the watering for you. Not only is this easier for you, the drippers ensure all the water goes right where it's needed – into the compost, making it better for your plants.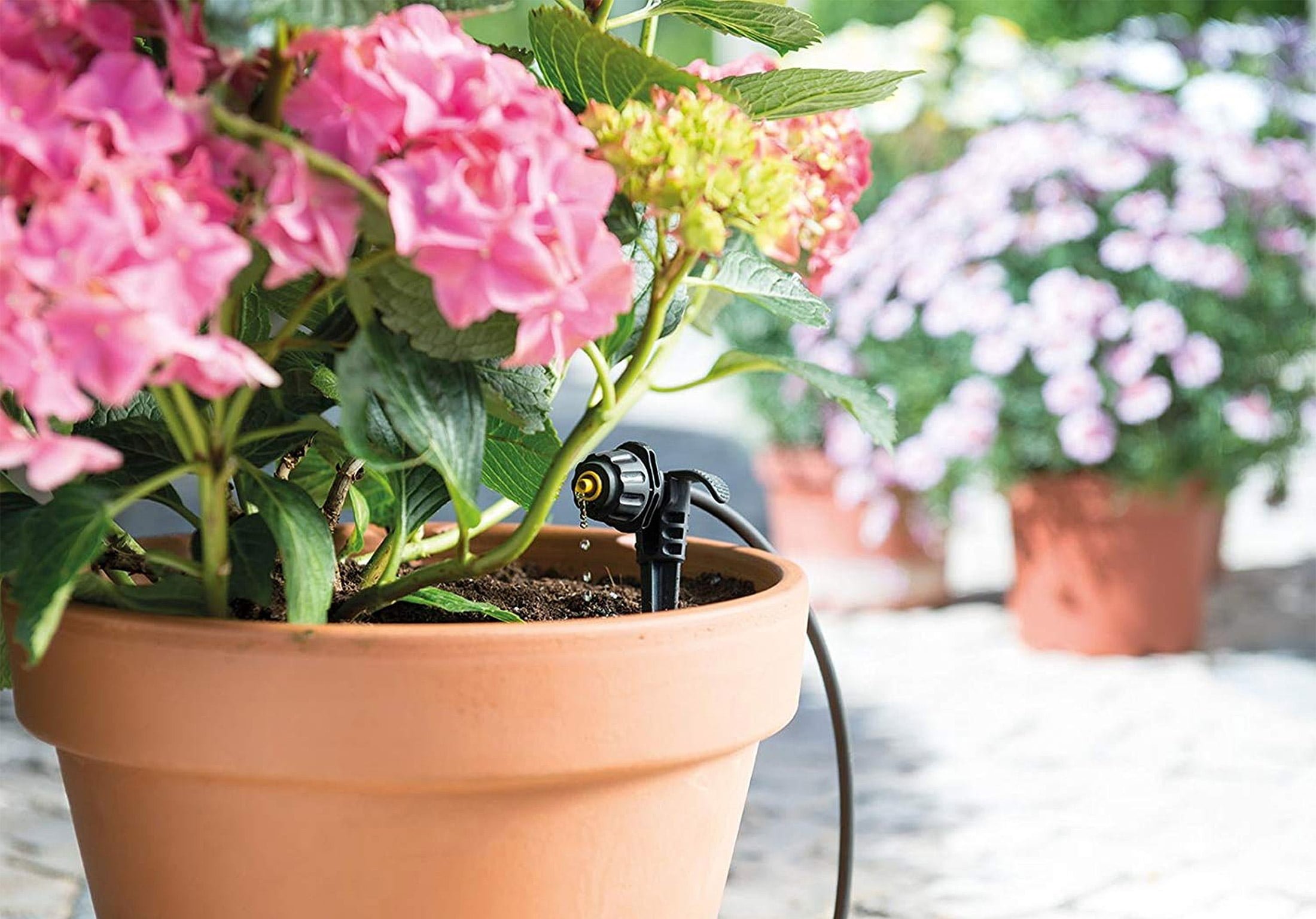 You can automate the system by using a simple water timer or make it totally automatic by using a watering "computer". Simply programme it using a couple of buttons and it will do the watering for you – especially useful if you're away from home, can't, or don't have enough time, to do it by hand. And, as the best time of day to water is around 3-5am, it means you won't be outside watering in your jim-jams or nightie in the middle of the night!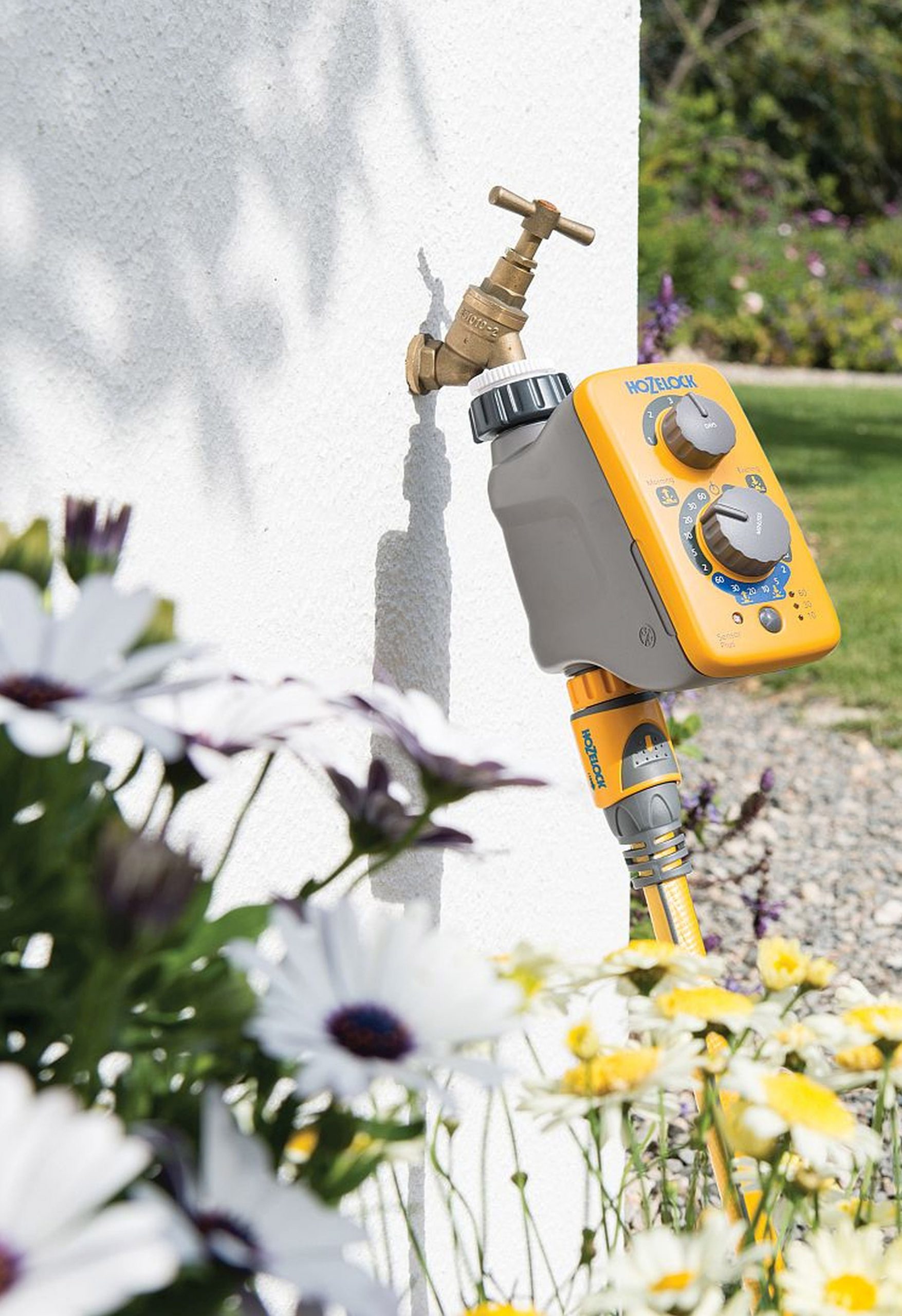 Feeding
All plants in containers need a lot of feeding to do well. If you used a compost that contains a long-term controlled-release feed, there may be no need to feed again. But even then, when plants are flowering their heads off during summer, it is still usually worth using a high potash liquid feed, like Flower Power, as a "top up" feed.
If you didn't use a controlled-release fertilizer, then you'll need to feed once or twice a week throughout summer and autumn. You only have to see the photos and comments we receive every year from customers who use Flower Power to feed their baskets to appreciate the great results it produces.