I'm often asked by garden visitors where I get the inspiration to create the different rooms in my garden. If you read the many 5-star reviews of Driftwood on Tripadvisor, you'll come across the word "inspired" on numerous occasions. It is so pleasing to know visitors see my plot and go away inspired to do something in their own gardens.
Praise Indeed
Michele posted this in August 2021. "Inspirational! Wonderful range of planting with a delightful sense of playfulness. An absolute pleasure to visit & highly recommend."
Equally, Anna Smith posted this too, after her visit this summer: "We enjoyed everything about the garden. We were impressed by the fabulous planting in all the rooms and the lovely tea and cake we had in the summerhouse. Geoff explained the 'history' of his garden and then we spent some time looking around by ourselves. There is a real wow factor. Lots of inspiration here."
I often recount the story from a few years ago, when an elderly couple, who have visited Driftwood many times, took me to one side and showed me images of their garden on their phone and said "our garden would not look like this if we had not been inspired by your plot!"
What a compliment. Quite amazing!
So where does my inspiration come from?
Let's take a look at the beach garden in the front of the house! With both my paternal grandfather and my father working in the fishing industry up to the mid 1960's, there must be something that rubbed off on me along the line! Some of my prize possessions in the front garden are the original fish crates, used as part of my garden design. They were used to move house back in the 1960's and were stored in my parent's garage. I snapped them up as an inspirational idea, likewise, the fish basket in the back garden is a wonderful and imaginative addition to creating my very personal garden space.
Monet's Garden in Giverney
One of the many gardens I vividly remember visiting, is Monet's beautiful garden at Giverny in northern France. I've been twice over the years and love the idea of dense planting and not being able to see exposed soil. The image below was taken there in May 2009, the year I really started to think about what I wanted to do with my own garden. I have always tended to over plant and create canopies of colour for visitors to enjoy. Indeed, back in 2013, garden photographer and prolific garden blogger, Charlotte Weychan described Driftwood as a mini Giverny, with reference to the fabulous garden of impressionist painter Monet. Without question, an amazing comparison which indicates that some of the inspiration rubbed off on my two visits there.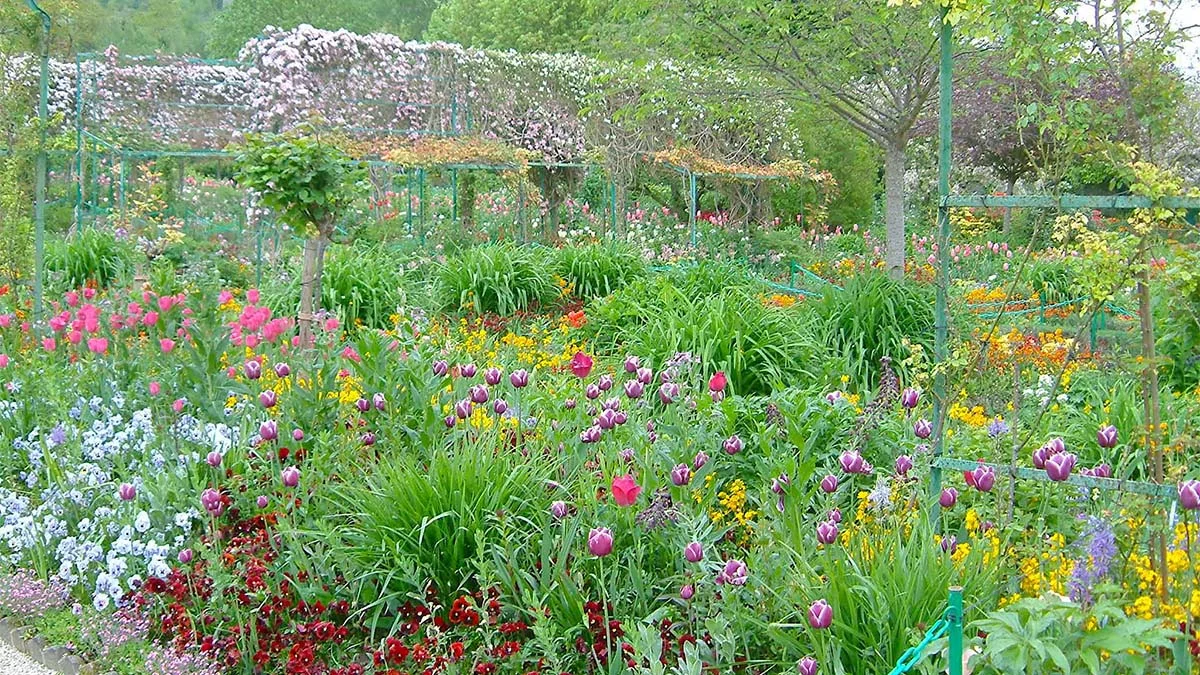 Derek Jarman's garden at Dungeness
Many visitors to the garden often remark, on seeing the beach garden, was I inspired by Derek Jarman's simple but effective garden at Dungeness? It is certainly an area I have visited many times, it's not that far from where we live! The image below was taken in November 2019. I can't, in all honesty, say it was the true inspiration for my garden but certainly there were aspects about it that helped influence the way I created my own plot. The idea of the gravel garden being used to its full potential even, if I have managed to cram a considerable amount more in my own attempt over the years.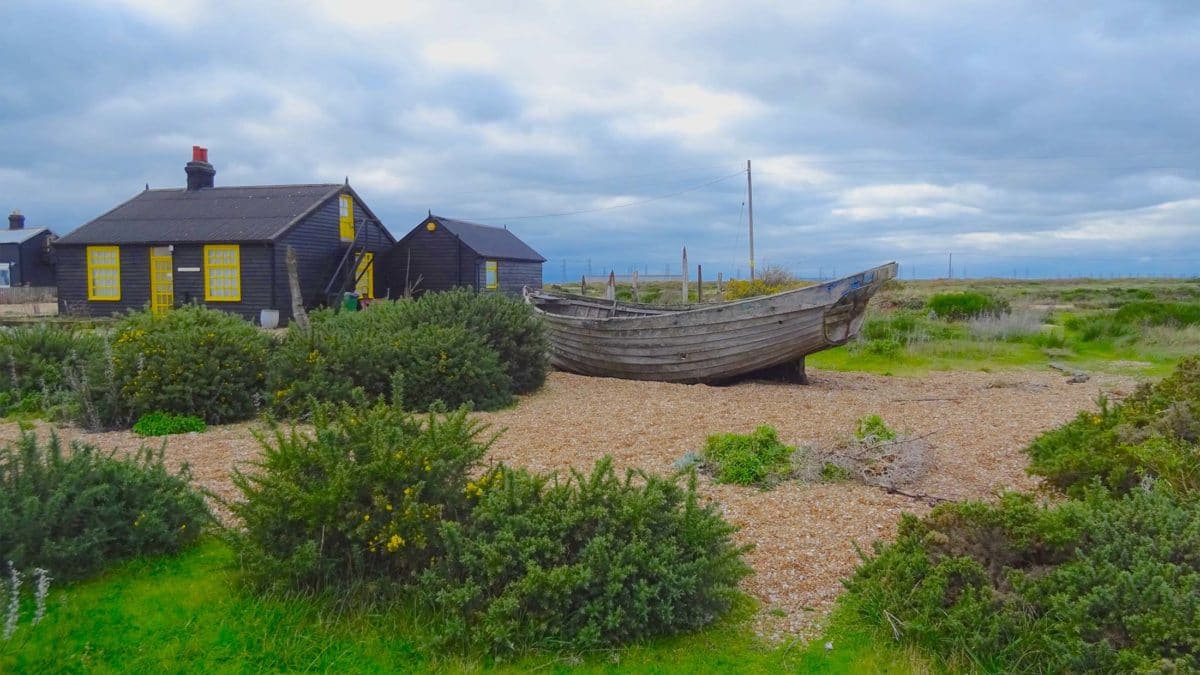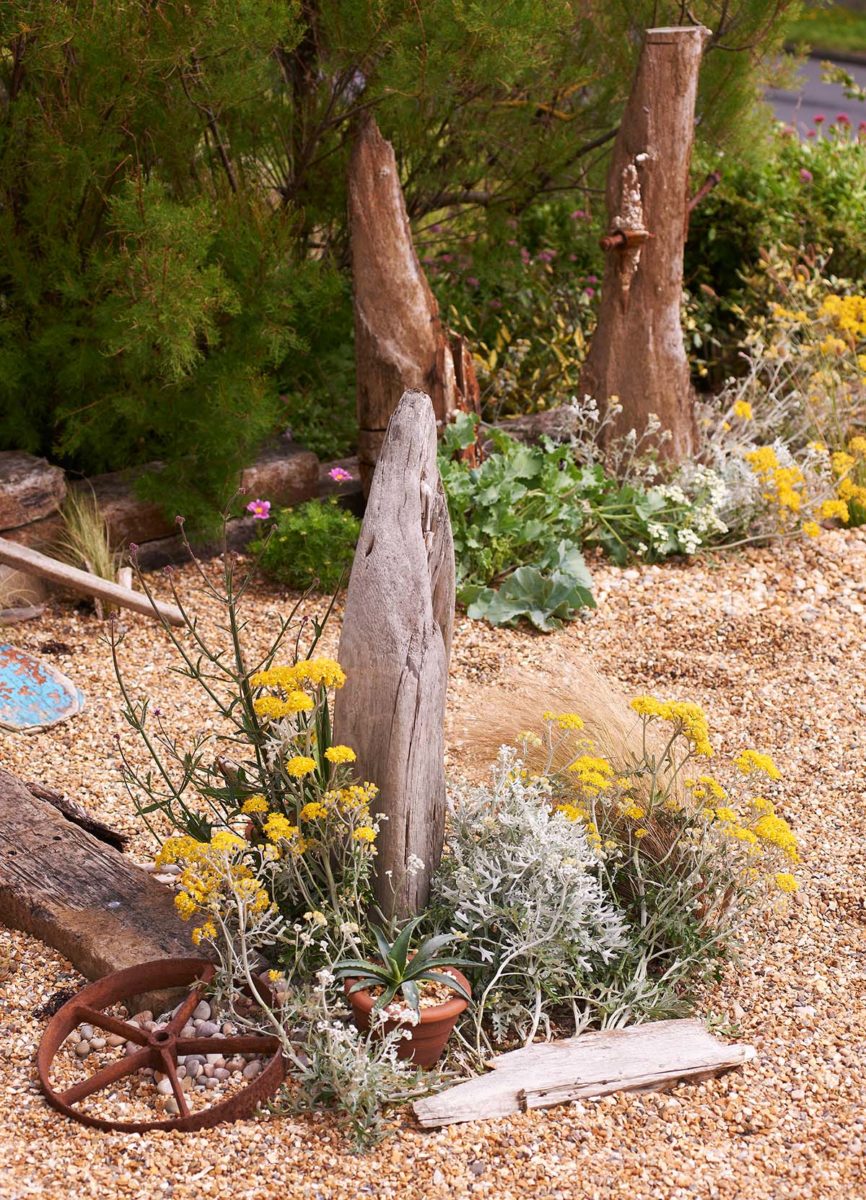 Great Dixter
I first remember visiting Great Dixter, back in 2005, and being greatly inspired by the display of containers in the walled garden there. At the time, Christopher Lloyd was still alive and I attended a 1-day workshop on propagation run by Fergus Garrett with Christopher present too. I loved the idea of masses of containers to display plants and introduced the idea into my own garden which now has over 300 different containers with a huge variety of plants. This image of Dixter is from 2005.
Royal connections
Similar inspiration on the use of containers was taken from Highgrove, from the two visits I have made there over the years! I vividly remember seeing some beautiful urns at the back of the house that looked a little worse for wear at the time of my visit! As I'm thinking that, a tractor and trailer pull up with three or four gardeners and some amazing containers of perfectly primed tulips on the back. The team set about lifting out the inner container from the tired looking urns and replacing them with the pots of tulips! Instant impact! A trick I use to this day at Driftwood.
Back in 2018 I was lucky enough to be invited to a reception at Buckingham Palace, as a valued volunteer for Macmillan Cancer Support and had the opportunity to meet their Patron, HRH Prince of Wales and recounted this story to him. You can see from the image that it brought a smile to his face.
The moral is always look around you for inspiration to create those special areas and ideas for your own garden.