Summer Containers are a great way to add drama to the garden. No digging, no weeding. All you need is a few pots, a big bag of container compost and the plants.
First thing: bigger pots look more dramatic and are easier to look after as they dry out less quickly. Drought is the big enemy, pots 40cm or more across are ideal.
Second: buy compost specially formulated for containers, the bags are clearly labelled, but if in doubt do ask. It contains special ingredients to hold on to the water. You can order Richard's Premium Multi Purpose Compost from our online shop.
Thirdly: choose flowers that will give you colour all summer.
For instant impact choose plants sold individually, rather than in packs of six or eight. Individual plants cost a little more, but they give you bigger results, faster.
Five plants that will flower all summer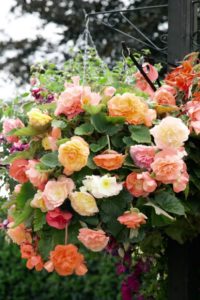 Begonia
In a vast variety of colours and colour combinations – well everything except blue – they come in bushy types for the middle of the pot and trailing types to hang over the edge. Some have large fluffy flowers, where size is what makes the impact; others have smaller, simpler flowers and it's the numbers that impress. Look for plants with pretty bronze leaves as well. A few are even scented!
All begonias are good in the sun, and they'll also do well in the shade. Only when overhung by low tree branches will they languish.
Plants grow to 45cm (up, or down).
French marigolds (Tagetes)
The colour range of these is limited to sunny orange and yellow and gold shades, plus some moody mahoganies, but for flower power French marigolds can't be beat. African marigolds have fewer but bigger pompom flowers on larger plants but with similar colours and are a good choice too.
The plants rarely grow more than about 30cm, many are smaller, so they can go around the edges of the pots with trailing plants set in between. And here's a tip: it really helps marigolds flower for months if you snip off the fading flowers with the kitchen scissors.
Plants grow to 15-30cm tall.
Fuchsia
Easy to recognise, fuchsias come in combinations of purple, red, pink, lavender and white shades and while some have a simple elegance others are big and blowsy with plenty of additional petals. All will bloom through the summer until the frosts and most drop their dying flowers so you don't have to snip them off – just clear them away.
Today's fuchsias come either upright, for the centre of big pots, or trailing to cascade over the edges. There's a huge range. Check the labels for upright or trailing, and buy the colours you like most.
Plants grow to 30-60cm (up, or down).
Geranium (also know as pelargonium)
Sometimes sold as geraniums, sometimes as pelargoniums, give them sun and they'll bloom all summer – even if they get dry. Stout stalks carry big heads of red, pink, white or sometimes bi-coloured flowers above soft rounded leaves, which are often boldly marked in maroon.
Geraniums are just so dependably colourful that you really do have to have them. Some people treat them as a focal point: three plants, all the same colour, in one pot. Or use them with other flowers in a mixed display. Take your choice.
Plants grow to 35-50cm tall.
Petunia
Petunias provide more different colours than any other summer flowers: from one end of the rainbow to the other, including white and even black, plus all sorts of combinations. And a few have a lovely fragrance too. Their flared flowers come on plants that are trailing, to hang over the edge of pots, or bushy and ideal for filling in between upright plants in the centre and those hanging over the edge.
Petunias hate it when their roots are dry so water the plants regularly and, again, the kitchen scissors get a work out when the flowers flop and die.
Plants grow to 23-38cm tall, 30-60cm trailing.