When it comes to gardens and gardening, small is beautiful. There are so many great ways to make the most of a modest plot and tricks to make it look bigger than it really is. Geoff Stonebanks at Driftwood by Sea has a small, narrow, sloping plot by the sea. It's been described as "A garden by the sea – small and perfectly formed," By Francine Raymond in the Sunday Telegraph. The garden is 100 feet long and 40 feet at its widest point, but certainly punches above its weight in terms of its content!
Gardening in small spaces does require you to maximise the space you have and try and keep potential problems under control. Small gardens, tiny terraces and petite patios may require a little more thought than larger spaces, but even the tiniest plot can be transformed into an elegant outdoor retreat. All you need are budding small garden ideas to get you started.
Create a folly door
A good few years ago I decided to add a folly door to the left hand boundary of the garden. I'd hoped to find a reclaimed door but without success, so a local carpenter built this gothic beauty against the fence for me. I erected a small arch around it and let the planting grow up. Hey presto! There's a feel that there is something beyond adding to the allure of the plot. You'd be surprised how many visitors ask what is beyond the door!
Enliven spaces with colour
As with interior decorating, think of how using colour can help invigorate an outdoor space, especially in a small garden , it can really make it seem larger. The use of a vibrant colour painted onto furniture or even a building helps to add depth to the space.
A flash of bold colour allows the plants to really pop against the colourful backdrop – creating an illusion of a sense of space. Not to mention the mood-boosting power a splash of colour can have on the senses. This green bench at Driftwood and the painted Summer House, both in sage green, prove the point.
Garden Mirrors
A garden mirror will make your outdoor space seem bigger than it really is. I have one hanging on a brick wall in my garden next to the Summer House. It really brings this dark corner, under a tall tree, alive with the reflected sun on the planting in front. Remember to set a table close by so that you can enjoy a different view of the garden wherever you are seated.
In the same way you would hang pictures and mirrors indoors, create a display of frames and wall hung planters on an outside wall, fence or shed. Utilise junk shop finds by hanging old wooden frames and up-cycle old loaf tins as planters. I've got lots of recycled pieces around the garden. Adding interest and slowing the pace through the garden, this delays visitors walking around the garden, by getting people to focus on what's right there, it's a simple trick that makes the garden feel larger.
Create a sense of height through planting & sculpture
A clever and simple idea for planting a small garden is to play with the height to add a feeling of space and depth. Use clusters of different pots that contain foliage at varying height and scale to make the most of the space. An ideal solution for small patios, courtyards and balcony gardens. I have a dominant 15 foot tall Jelly Palm (Butia capitata) in the centre of the garden and rusty metal arches across the paths which both make the garden feel bigger.
Make a small space attractive and ensure a crisp contemporary look with strong landscaped lines. Create interesting interlocking zones with distinctive materials, such as railway sleepers. Last autumn, I added further interest by creating a new level, a sunken terrace area. The ledges open up how you can use the space, adding in extra spots for plant pots to be arranged or areas to add furniture to accommodate guests. Shelves and hooks aren't just for indoors. I've added some to the back wall of railway sleepers.
Garden room divisions
As with indoors different floorings/dividers signify a change of room, therefore outdoors it can help to subconsciously make the space feel bigger by identifying different areas. I've created a small area at the back of the house as a writers' corner, complete with vintage typewriter, bistro set and rug on the ground, complete with our playful terrier, Chester.
Make a small garden feel bigger by making it feel like a continuation of your indoor space. A plethora of potted plants adds foliage, but as pots are moveable you get a sense of freedom to change things around from time to time. I have folding screens that help create divisions between rooms and rusty old garden gates make great dividers too.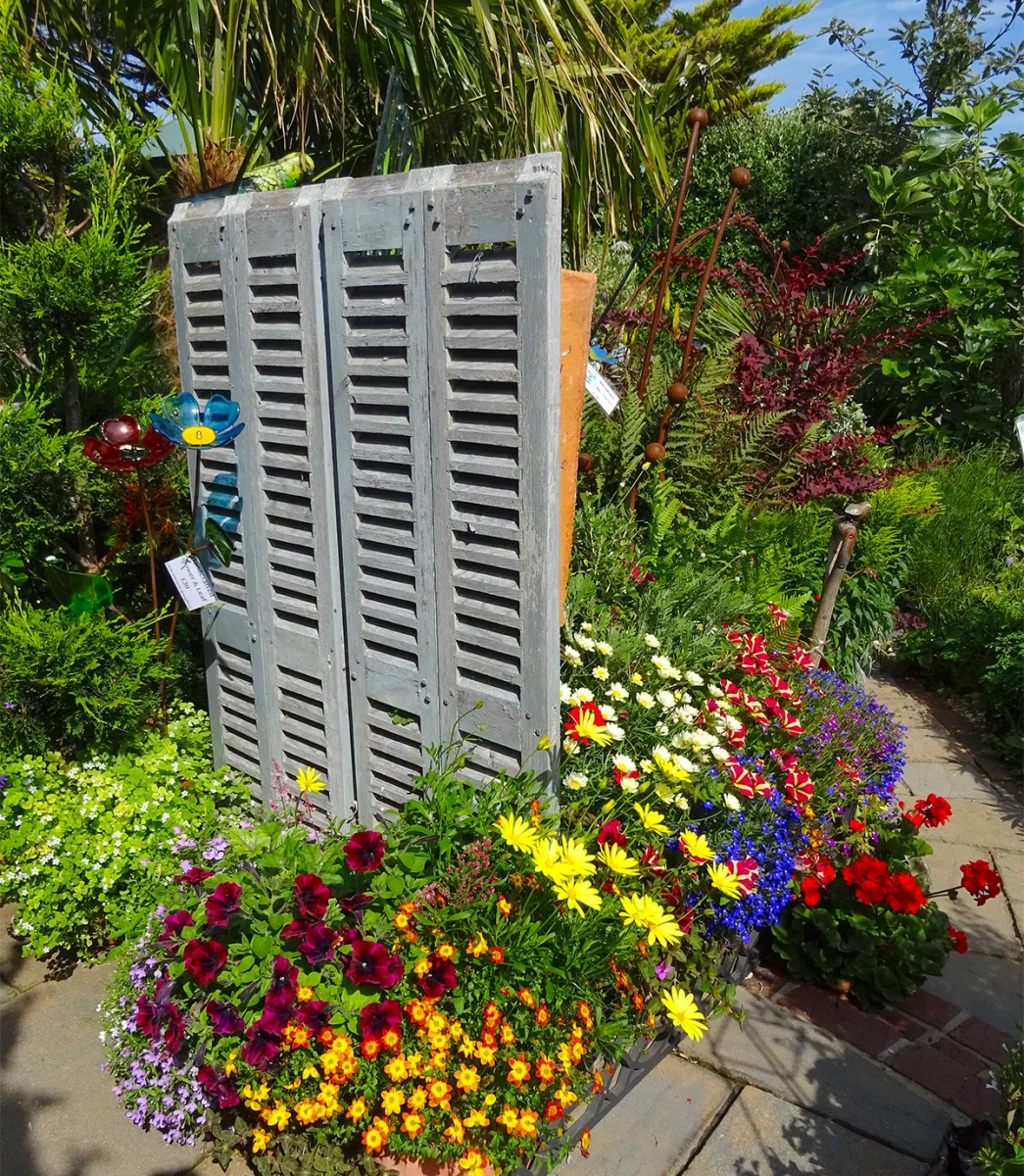 Stand out plants.
When you have a small patio or internal courtyard, leave the wow factor for the plants. Look for tropical varieties that are hardy enough to withstand the vagaries of the British weather and plant up your own jungle oasis.
Add instant drama with towering palms, phormiums and cordyline and palms. Be aware that some may need a bit of protection over the winter and add gravel to help retain moisture in the summer and make maintenance easier.
Add specimen palms in containers too to add the wow factor. Most importantly, do what you think is best for your garden.