In winter it is the stems and the bark of many plants that create texture and presence in the borders. The shrubby dogwoods, (Cornus) are a great choice for gardens large and small and are grown for their vivid vertical structured stems. Here are five great varieties to grow, suggested by Hillier Nurseries.
Plant them in a winter border gap to appreciate their performance or in a woodland garden to accentuate the winter tree trunks. Planted in drifts and in contrasting colours as they mature into established plants the effect will get better and better.
Cornus alba Sibirica
The best-known of the red-barked dogwoods. Striking, bright red winter stems are extremely effective underplanted with white hellebores or with skimmia. First recognised in 1838 at the Westonbirt arboretum in Gloucestershire, and sometimes also called C. alba 'Westonbirt'. Will grow to 8-9 feet unpruned. Cut it back to 3-4 inches from the ground in March and a whole batch of fresh red stems will spurt up for next year's winter display. You can keep the plant constrained by hard pruning, but it will get quite big.
Cornus alba 'Sibirica Variegata'
Less vigorous than C. alba Sibirica, reaching around 4-5 feet high and wide but with the same bright crimson stems. Attractive, creamy-margined variegated leaves turn shades of pink and red in autumn. Like all cornus alba types, the best colour is on new wood, so cut stems back to 12in in early spring each year to get 2-3 feet of fresh growth for the following winter.
Cornus alba 'Kesselringii'
Red-purple stems turn almost black in winter and are very effective planted alongside red or yellow stemmed varieties of Cornus. Dark green foliage turns dark red in autumn. White berries on more mature plants form a striking contrast and give this cornus the common name of white dogwood.
Cornus sanguinea 'Midwinter Fire'
A low growing variety to around 3-4 feet with a less upright habit than the alba varieties, it spreads sideways through a border. Bright, orange-yellow stems in winter look best en-masse and fantastic against dark evergreens or planted with the black grass Ophiopogon nigrescens. A fairly recent discovery in Germany in the 1980's then introduced commercially by Dutch growers in 1990. It is now widely available at garden centres.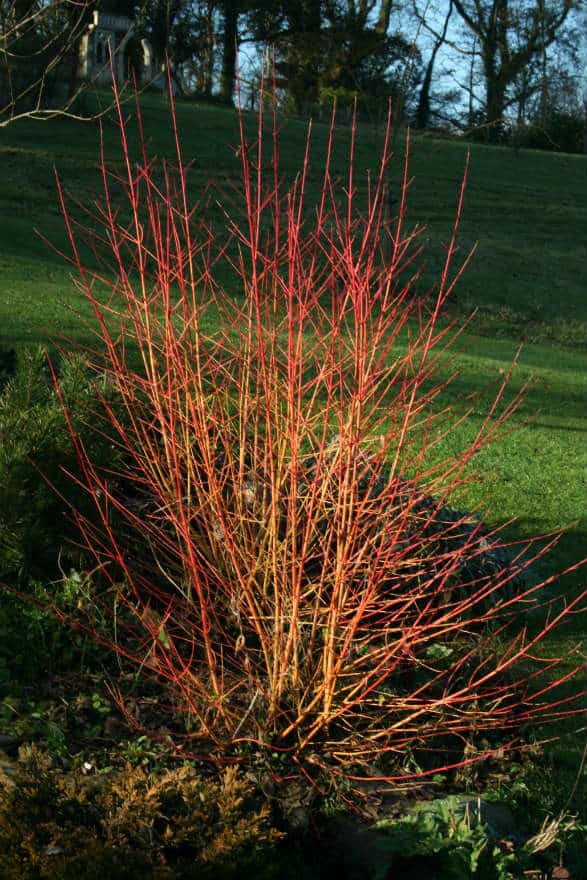 Cornus sericea 'Bud's Yellow'
This dogwood has an upright habit similar to C. alba Sibirica but with yellow-green stems and mid-green foliage that turns butter-yellow in the autumn before falling. Happy in most soil types and useful in a wet location. Plant with red-stemmed dogwood varieties for a stunning winter effect. Commonly called the yellowtwig dogwood.