Close your eyes and imagine your perfect summer garden. What do you see? Copious drifts of colourful blooms? Well plant summer bulbs, tubers, corms and rhizomes now and virtually guarantee a lively injection of colour into your garden this year. Here are Five Summer Bulbs to set your garden ablaze with colour.
Containers are an easy way to integrate summer plants and keep your planting scheme flexible. If you change your mind, move them. If the weather takes an unexpected dip or we suffer another heat wave, reposition to a more suitable location and when blooms start to fade, discreetly remove from pole position.
Deadheading is essential to prolong summer displays, it stops the plant going into seed mode and keeps it producing new flowers.
Use free draining multi-purpose compost and make sure you feed your plants. A high potash formula such as Richard Jackson's Flower Power will give your plants everything they need to shine.
Glorious gladioli
I fell in love with Gladiolus communis subsp. byzantinus the first time I saw them at Charleston, Sussex. Drifts of deep magenta en masse wafting through a border of oxeye daisies, delphinium and foxgloves. An exquisite combination; I was smitten.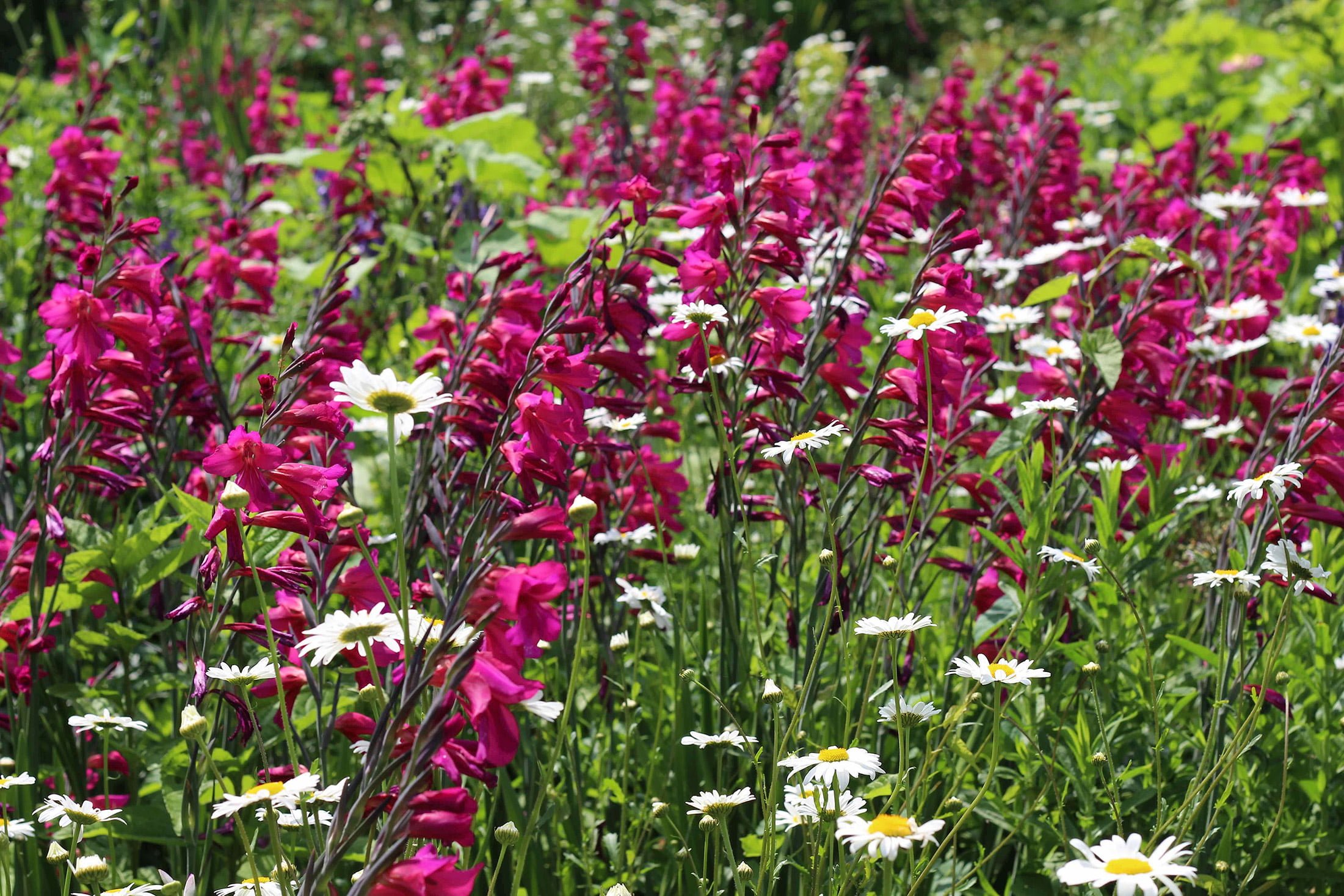 They time out perfectly as tulips fade and before roses bloom, paving the way to summer perennial extravaganza. With a plethora of colour choices, these easy to grow, low maintenance perennial corms add height to your border and also make excellent cut flowers.
Try large flowered sumptuous purple 'Antica,' deep crimson 'Black Surprise,' pillarbox red 'Bonfire,' 'Limoncello' or the chic 'Green Star.'
Lovely lilies
Asiatic and Oriental lilies provide an explosion of vivid summer colour. These sun loving exotic blooms make great cut flowers and are ideally suited to containers as their foliage neatly grows up in a uniformed manner.
Try early flowering Asiatic 'Black Charm,' later blooming highly scented Oriental 'Bodyguard' or Tiger Lily 'Henryi.' Just keep your eyes peeled for lily beetles!
Cat owners beware; lily pollen can be fatal to felines so try pollen-free double-flowered cultivars known as Roselilies such as 'China Girl' or candy-striped 'Magic Star.'
Or if you fancy something to rival the height of sunflowers try tree lilies. Although not actually trees these herbaceous perennials can grow to 2.5 metres tall and boast prolific trumpet-like scented blooms. Stake in a large pot to counterbalance height.
Eucomis, technically not a lily but as they are called 'Pineapple Lily' I am sneaking them in to the line-up! These exceptional exotic flowers are great for pots, borders and rockeries. 'Playa Blanca' and 'Sparkling Burgundy' are exquisite.
Beautiful begonias
Begonias are a colour wake up call, sumptuous, vivid and certainly never described as shrinking violets! Their big blousy flower heads bloom non-stop all summer.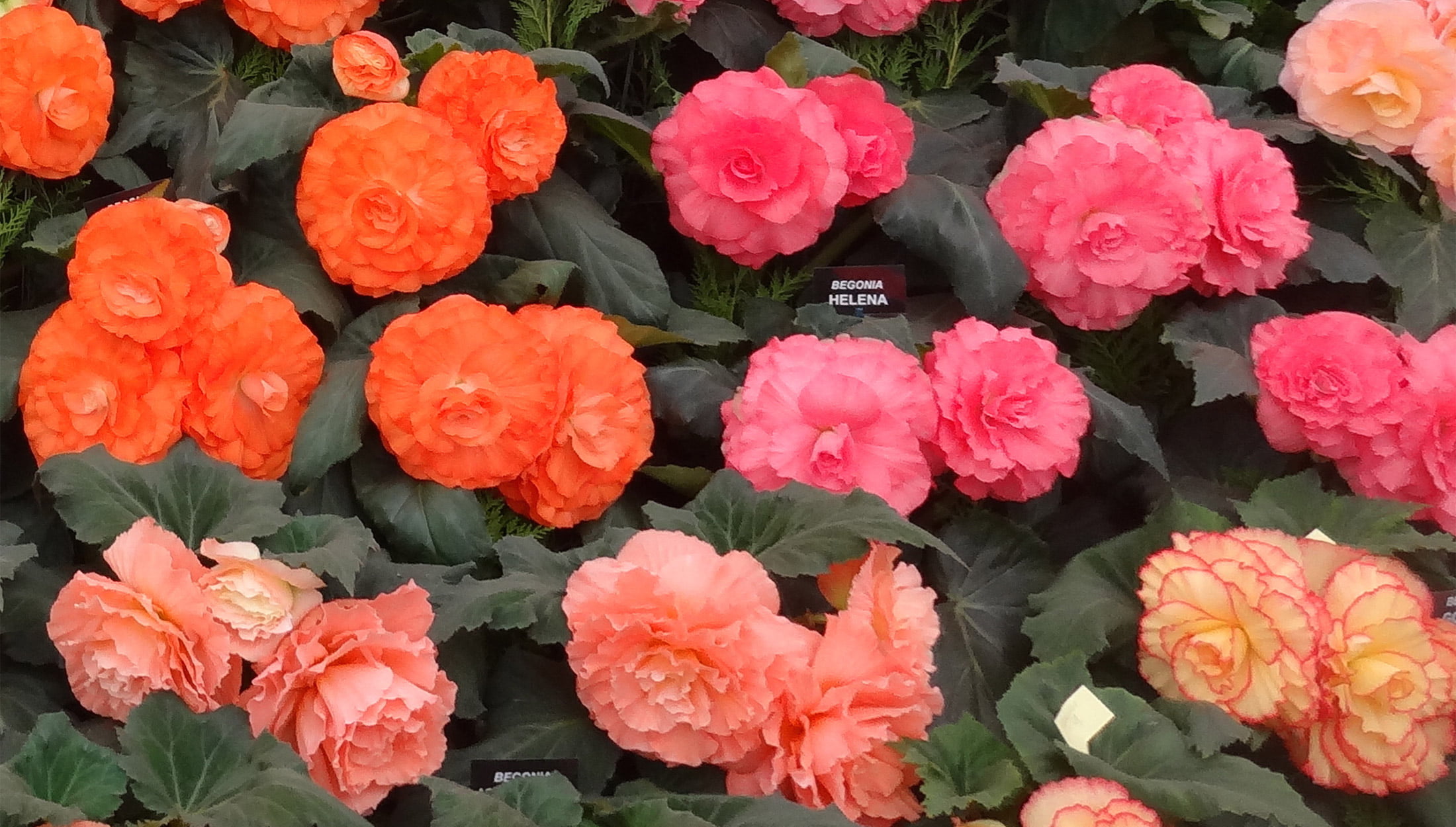 Begonias are enjoying resurgence in popularity as perfect for window boxes, hanging baskets and containers making them very useful for any size garden, from tiny urban courtyard to rolling country borders.
These tuberous tender perennials can be started off indoors and moved outside once frost risk has passed. They provide great value for money as will flower year on year if the tubers are lifted before winter, stored in soil/sand in a cool dry outbuilding until spring, then replanted.
Set your flower display on fire (not literally!) with 'Cascading Fireball,' 'Helena' and 'Apricot Shades' or try the subtle pink tones of 'Mother's Day,' which flower from May or light up shady areas with pendula 'White Giant' which flowers from July.
Colourful cannas
These brightly coloured large foliaged tropical treasures make fabulous feature plants. Long leaves unfurl from the stem to reveal tall impressive perennials growing up to 2.3 metres from rhizomes.
Although Cannas thrive best in a moist sunny position they can cope with drought and shade.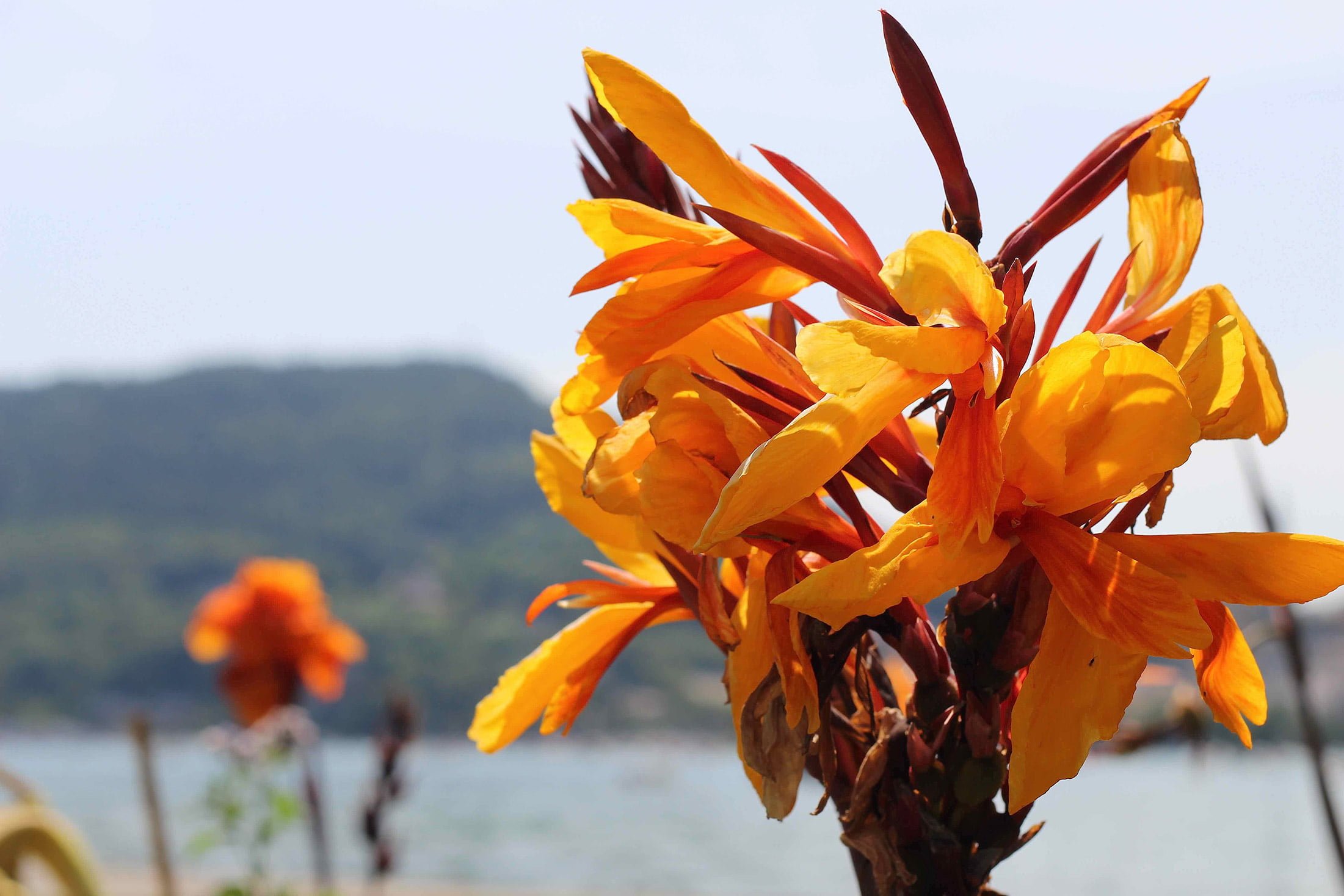 Deadheading is not necessary as a new flower grows from bud below but for aesthetics you can carefully snip off spent head.
Make sure you mulch or dig up these tender rhizomes after frost blackens foliage and store over winter like dahlias.
I have a real soft spot for Canna Tropicanna 'Phasion' incredible stripy foliage accompanies bright orange flower heads. For height try Canna 'Wyoming' and for a more compact plant try the stunning Canna 'Louis Cottin.'
Dramatic dahlias
Who can resist the lure of kaleidoscopic colours and myriad of flower heads from cactus to pompon, single to dinner plate? Surely there is a dahlia to suit everyone's taste?
My personal favourites are 'Bishop's Children,' which I grew from seed last year, the delectable 'Café au Lait,' 'Raspberry Ripple,' 'Mick's Peppermint' and the exquisite pompon dahlia 'Moor's Place.'
Dahlias can be planted in the ground or a good-sized container to cut down jobs as you can overwinter the entire pot, tuber et al rather than digging them up.