The Christmas tree is the centrepiece of most people's Christmas festivities and a real Christmas tree not only looks great – but smells wonderful too.
Millions of Christmas trees are sold on the lead-up to Christmas – whether those are cut trees, living, potted trees or those lifted from the ground where they've been growing still with their roots and often sold in a pot. To make sure you get the best tree for your festive celebrations, you'll need to choose the right variety and look after it over the Yuletide season. Check out our Christmas Tree Care Guide for great advice to keep your tree fresh and healthy over the festive season.
Start by deciding on where you're going to buy your tree. Christmas tree farms and garden centres tend to have the freshest trees, while DIY stores usually have the best prices. Whatever type of Christmas tree you buy, or where you buy it from, it pays to buy early to make sure you get a real cracker!
If you want to buy local and support your Christmas tree grower at the same time, buy direct from the farm. You cut down on transport costs, support our farmers and can truly enjoy the magic of choosing your own tree. Find your nearest British Christmas tree grower on the British Christmas Tree Growers Association website.
What type of Christmas tree shall I buy?
While most people buy cut Christmas trees, others want a potted, living tree that they can keep and use from year to year.
If you're keen on the latter, just remember that the vast majority of conifers used as Christmas trees grow very tall and are not suitable for planting out, unless you have a large garden, or keep it permanently growing in a container.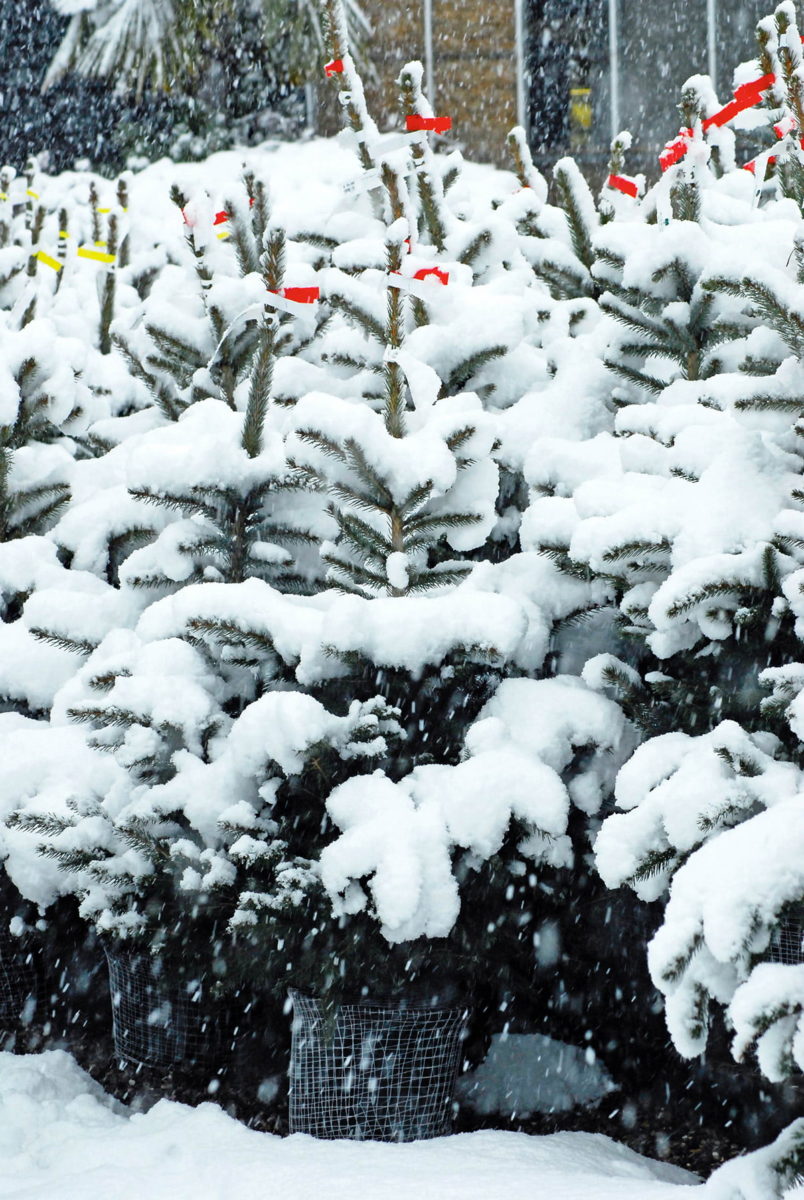 There are now lots of different conifers that are used as Christmas trees. These are the most popular.
Nordmann fir
By far the most popular Christmas tree and best-selling type, thanks to its beautiful bushy shape and its ability to not drop its needles all over the carpet! The glossy, deep green needles are dense, soft and slightly scented. The strong branches make it easy to decorate, supporting all your lights and decorations.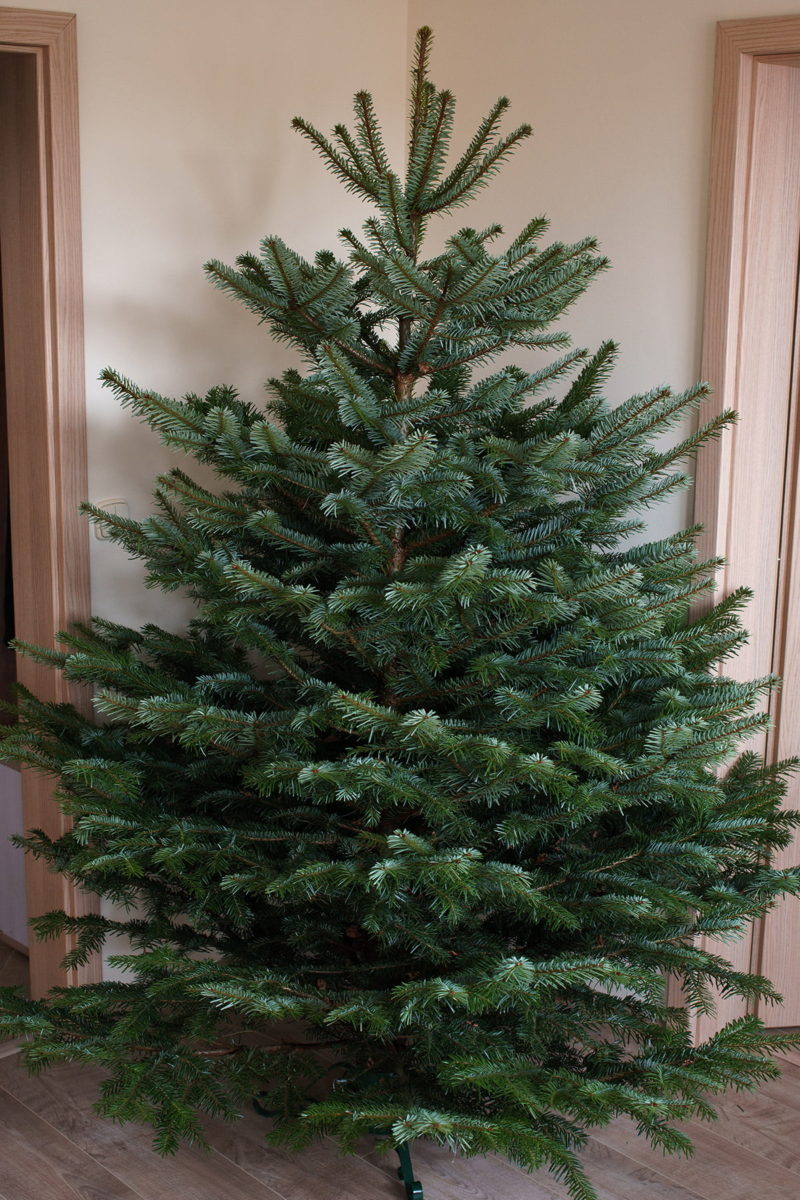 Norway spruce
This is the traditional favourite of Christmas past – and the cheapest. But it can shed needles by the bucket load unless well cared for – especially in warm rooms. The branches are fairly strong for decorating and the needles tend to be quite sharp.
Noble fir
The best of the non-needle drops with gorgeous, elegant, blue-green, highly scented needles. Neat compact branches and strong, dense foliage, make it a noble choice. But they tend to be expensive.
Blue spruce
The steely-blue, non-drop needles look great, but are also very prickly. Strong branches and a rich festive aroma. The trees can be short and dumpy, so look around for the best shape, but the perfect shape to display presents around.
Fraser fir
The Fraser fir boasts dark green foliage with a gorgeous citrus scent and strong branches. Trees are sometimes sold with fir cones attached. It tends to grow with a compact, upright habit, making it a great choice for smaller rooms.
Scots pine
Another good non-needle drop choice with greeny-blue needles and strong branches. Scots pines fill the room with a rich pine perfume.
What to look for in a Christmas tree
Some people will spend ages looking for their Christmas tree – hunting through the pile, looking for the perfect specimen. Others don't give it a second thought and pick up the first one they see. But it's worth being somewhere in the middle, spending a bit of time choosing.
Ideally, two of you should go to buy your tree, so one can hold it upright, while the other checks its shape all round. Look for a balanced, bushy shape with few or no bald spots. To make sure you get a good one, check the tree's leading shoot. Be wary if there's a large gap between the top branches and the lower branches.
Always buy a tree with healthy green needles – avoid those with yellow or yellowing needles.
Cut trees
Pick them up and feel the weight; if they're very light, they may have been cut weeks ago.
Firmly tap the base of the trunk on the ground and check to see if and how many needles fall off. Avoid those with excessive needle drop, as they're well past their sell-by date.
Avoid already-netted trees; if they're netted for a long time, they sweat and the needles start to fall off.
Potted trees
To check this is a proper pot-grown tree, not one lifted and freshly potted up, carefully lift it by the trunk. If the pot and compost fall off, then it's not a pot-grown tree and won't live past Christmas.
Tree decorations for gardeners
Here's a fab idea to create a garden theme for your Christmas tree. Have a look at our lovely gardening themed balls, baubles and ornaments. They would make fun place markers for your Christmas lunch, or great stocking fillers. Or why not make your own Christmas Crackers and add these as the gift. Of course the best place for them is hanging on your tree and we think you will love them as much as we do. For the wildlife gardener there's a lovely Bumblebee and a set of charming Woodland Creatures. Or for the veg grower there's a Christmas Bauble Carrot and some Mini Fruit & Veg. Or why not indulge someone with the very cute Garden Shed or Greenhouse Baubles. There's even a Wheelbarrow, some Wellies and a Watering Can.
Tree support
The last thing you need when you've invested in the wonders of a real tree and bought your decorations is a collapsed display. Sometimes Christmas trees can topple over and apart from the chaos and hassle of having to start again, this can also be dangerous. So, when you want peace of mind that your festive focal point will stay where you put it, you need a reliable Christmas Tree Stand. Have a look at our Krinner stand. It's genius! It clamps the base of your real tree in place. It's weighted down so it balances the weight of your tree and it has a water reservoir, so you can keep your tree fresh and healthy. We think it's the best ever Christmas Tree Stand.