It's always exciting when there's a new kid on the block, but when it's already won two prestigious garden industry awards in its first few months, you know that it is something very special.
Well … here it is Plantsmith
And I'm secretly extremely proud of this super new houseplant care range because it's the brainchild of my son Nick. Brought up around Flower Power and it's magical effect on plants and flowers, I suppose it's no surprise that he wanted something special to keep his houseplant babies happy and healthy. It was pretty useful that he could draw on the decades of experience of our horticultural experts here at Richard Jackson, but then put his own stamp on his new range. Nick's love of houseplants has resulted in something rather special. And now Plantsmith is on a mission to demystify houseplant care and help all indoor gardeners get the very best from their houseplants, with effective products that make maintenance quick and easy.
Feed and nourish
Like all living things, houseplants need a little nurture. If you want to take the guesswork out of houseplant care then the NEW Plantsmith Houseplant Care Gift Set is a great place to start. Whether its something special for you to ensure you don't turn into a plant killer, or a gift for a loved one, it's complete with everything needed to help your houseplants thrive. The bottles and packaging are really stylish and gorgeous, so you can keep them out on display with your plants and the box is decorated with beautiful on-trend botanical images to resonate with your indoor décor.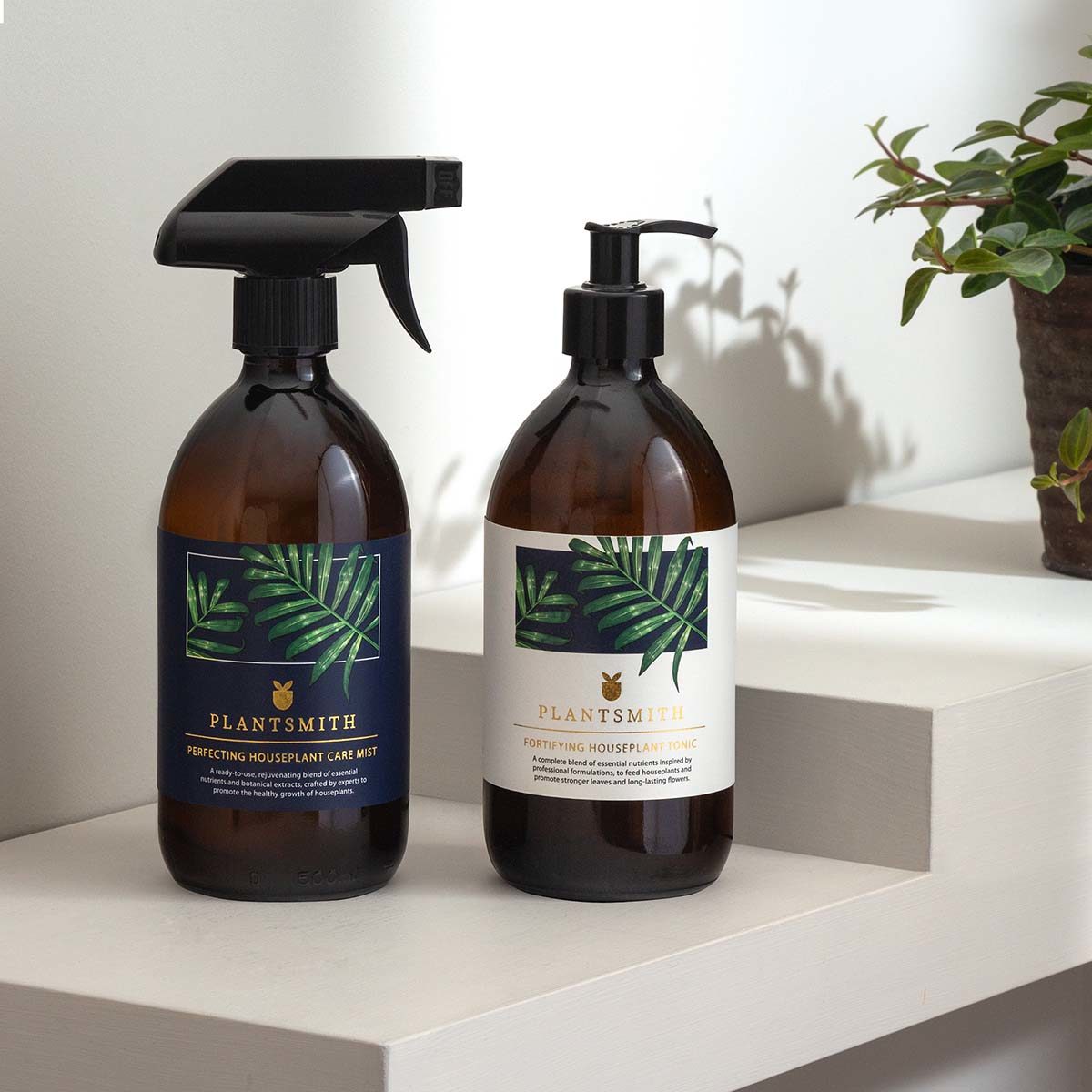 This handy set contains one bottle of Fortifying Houseplant Tonic – designed to feed and boost plant growth – plus a bottle of Perfecting Houseplant Mist, which promotes good health and protects houseplants from pests. Beautifully presented in an attractive gift box for just £29.99.
A brand new Eco Refill Bottle (sold separately) is also now available to top up the glass Houseplant Mist spray bottle when it's empty. The Eco Refill Bottle is made from a plant-based polymer, sourced from a waste product of sugar cane, plus recycled materials, meaning this gift set is likely to prove a hit with your green-minded friends and family.
Cleanse and shine
To make your indoor plants the centre of attention they need to look really healthy. The NEW Plantsmith Houseplant Cleanse & Shine Gift Set is a handy kit designed to keep luscious leaves gleaming. It's ideal for removing the dust and dirt that often settles on plants, preventing them from fully absorbing much-needed sunlight. This newly-launched gift set boasts Plantsmith's Beautifying Leaf Shine Spray, which keeps plants glowing, thanks to the cold-pressed oils that condition plant leaves, and the grapefruit extract that provides anti-fungal protection. The kit, presented in a gorgeous gift box, also includes a re-usable organic cotton cloth to wipe away grime and reveal a healthy sheen on plant leaves. All this for just £19.99.
For Orchid lovers.
Everyone loves orchid plants, but most struggle to keep them flowering. Well now you can give your plants the TLC that they need with the ultimate kit for an orchid enthusiast. This gorgeous gift set boasts everything needed to keep these exotic houseplants and their delicate blooms in tip-top condition. In the box, you'll find Plantsmith's Invigorating Orchid Care Mist, which boosts orchid growth, encourages flowering, and protects against pests, plus a 500ml bottle of the Plantsmith Nurturing Orchid Feed & Tonic that ensures orchids receive the vital nutrients that they need to flourish. Considering orchids symbolise love, beauty and thoughtfulness, imagine how touched someone will be by this set; all wrapped up for you in an elegant box embellished with striking imagery. Price £29.99.
Add something really special
All of the Plantsmith products featured in these sets are also sold separately, making them an ideal stocking filler, Secret Santa gift, or a considerate 'add on' when purchasing a houseplant for someone.
Plantsmith Fortifying Houseplant Feed & Tonic – This miracle product is suitable for all houseplants and succulents – designed to bring joy to the plant enthusiast in your life. This professional formulation houseplant food combines 13 essential nutrients, including potassium, magnesium and iron, to nurture indoor plants; helping to produce strong, glossy leaves and encourage growth of beautiful longer-lasting flowers. It's a true wonder product, designed to make plant care a cinch, and beautifully housed in Plantsmith's iconic and striking packaging. Just £14.99 for 500ml.
Plantsmith Perfecting Houseplant Care Mist – Promoting good plant health with every spray, this nifty ready-to-use mist utilises natural oils, including lavender and avocado to deter pests, with kelp extract and humic acid to stimulate cell growth. Suitable for use all houseplants and succulents, Plantsmith Perfecting Houseplant Care Mist is supplied in a chic amber glass 500ml spray bottle adorned with Plantsmith's beautiful botanical artwork for just £14.99. Eco refills are available separately for £10.99.
Plantsmith Invigorating Orchid Care Mist – The perfect token for any orchid lover or as a thoughtful extra when giving an orchid to someone as a gift, Plantsmith's Invigorating Orchid Care Mist makes light work of maintaining these tropical favourites. A top-performing formulation, containing 12 essential nutrients to boost orchid growth and encourage flowering, the mist also uses natural oils to protect against pests and increase plant resilience. It costs £14.99 for 500ml.
Plantsmith Nurturing Orchid Feed & Tonic – Inspired by high potash, urea-free formulations used by professional growers, Plantsmith's Nurturing Orchid Feed & Tonic encourages strong glossy leaves and longer-lasting flowers, meaning you can give the gift of great results and show-stopping flowers to an orchid lover; all wrapped up in a beautiful bottle they will enjoy using. Price £14.99 for 500ml.
Beautifying Leaf Shine Spray – this 100% plant-based spray harnesses the power of nature to revive and restore luscious leaves on houseplants, helping them to better absorb the sun's rays. Free from palm oil, parabens, and sodium benzoate, Plantsmith Beautifying Leaf Shine Spray conditions leaves with cold-pressed oils and uses grapefruit extract to provide natural anti-fungal protection. It costs £14.99 for 500ml.
Plant care products will no longer be something people want to hide away. The stylish, on-trend packaging of the Plantsmith collection, combining amber glass bottles with stunning botanical print motifs, mean houseplant enthusiasts will be more than happy to leave products out on display, instead of stashing tubs, tubes and sprays away for fear of ruining the aesthetic.
All items are available to buy direct from our shop or www.plantsmith.co.uk. The full range can also be purchased from John Lewis, and other selected retailers.