If, like me, you are not keen on seeing bare exposed soil or even gaps in your garden planting, then you need to investigate suitable plants that will help conceal these eyesores. Over the last few years of creating my garden I have found several ground cover plants that work well for me, particularly in my beach garden.
How do you use ground cover plants?
Ground cover plants are naturally low-growing plants that form attractive mounds or carpets. They cover the ground quickly, covering bare soil and tumbling out across pebbles and shingle. Luckily, they are often low-maintenance and often evergreen. As they cover the soil, they are also useful for suppressing weeds. They act like a mulch, so they can help to lock in soil moisture and nutrients. Some can even help with soil erosion on slopes, their roots holding everything together when it rains. So, what is not to like? I have very few weeds in my garden because of the tightly packed planting schemes adopted throughout.
Ground cover plants can successfully be used to fill in gaps at the front of your borders, as well as any difficult areas at the bases of shrubs that are difficult to plant. You can plant them beneath leggy shrubs allowing them to complement their flowers beautifully too. Ground cover plants work well at covering tricky sites, such as slopes, which are difficult to access and plant.
My favourite ground cover plants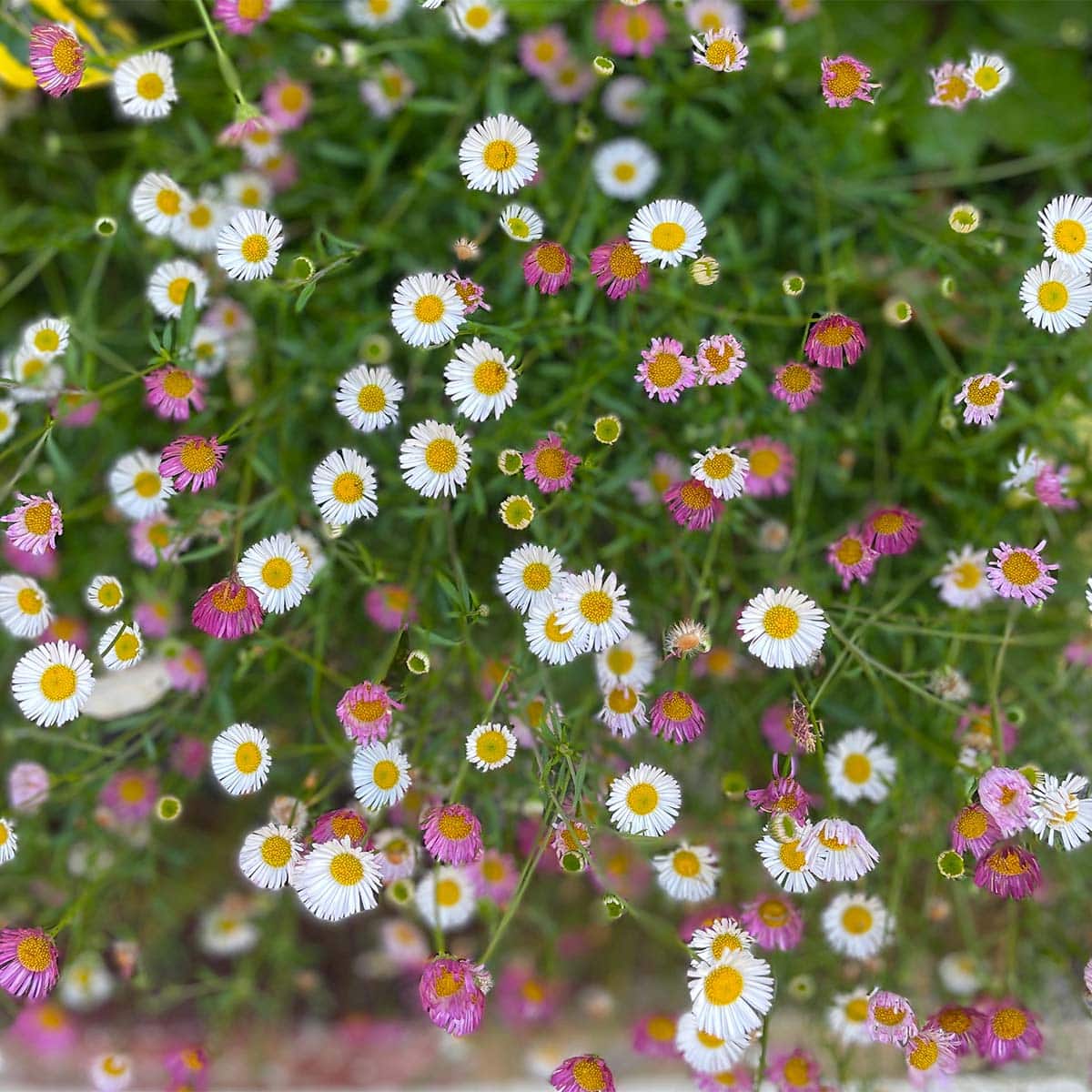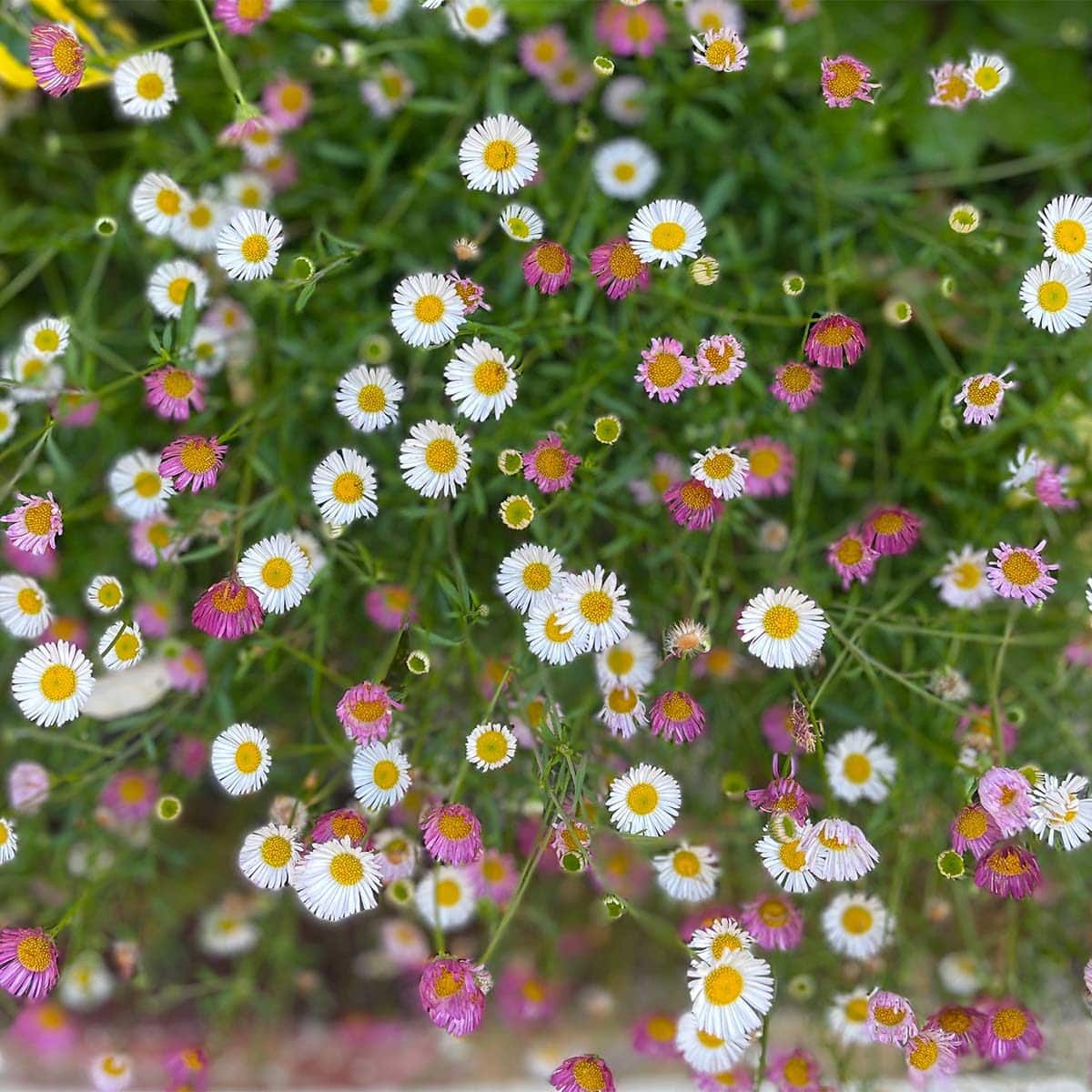 One of my favourites, by far, at Driftwood is Erigeron karvinskianus, Mexican daisy or fleabane. It is the perfect plant to hug and cover most outdoor surfaces. It may hail from Mexico but finds itself very much at home in my exposed seaside garden, where it will creep down the sides of stone or brick steps, tucks itself into wall crevices and readily establishes itself between paving slabs. It spreads slowly via its roots and it also self seeds. It flowers from May to November and is extremely low maintenance. As they age, the white daisy flowers become pink and different shades of the flower will be found on one plant. I love them.
I have several pretty, low growing plants in my beach garden but they would work equally as well in most garden styles. One that is frequently mentioned by visitors is the delicate Verbena polaris. It is a compact perennial forming dense clumps of rigid leaves. Tiny pale-lilac flowers are held in clusters on wiry, square stems from summer through to the first frosts. I planted mine back in 2012 when I created the beach garden and it has thrived very well, despite being a fairly exposed site. It looks so lovely hugging the gravel across the front of the garden.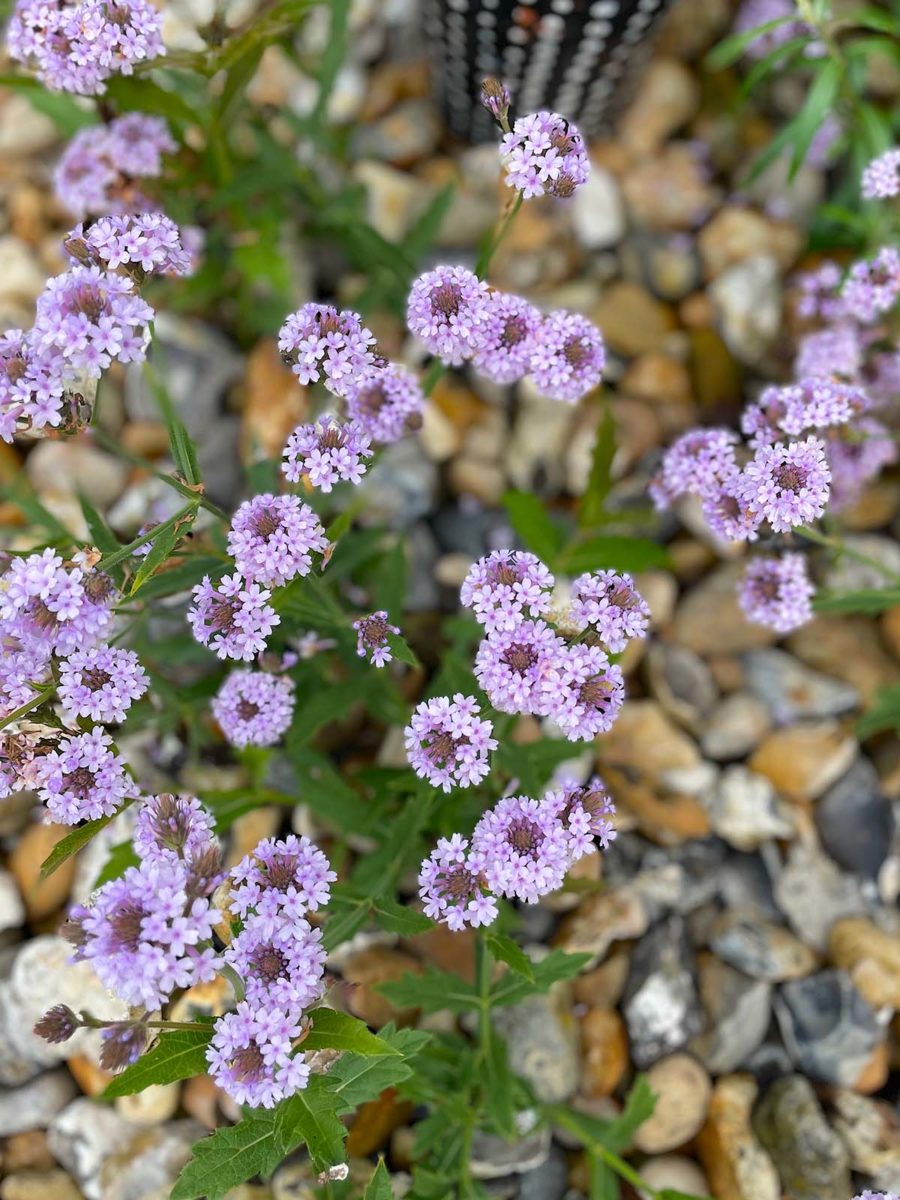 Other good ground cover plants
Bergenia (elephant's ears) are really tough plants that can quickly form dense clumps covering the ground around them quite quickly. They have large, shiny, evergreen leaves, some of which are tinged an attractive red in winter, and they produce an attractive pink or purple flower in spring. They prefer moist, well-drained soil in a shady spot but also cope well with drought. That said, I have a large clump of them that are thriving well in my south-facing beach garden where they do get a fair bit of sun through the day too. Mine are planted on chalk.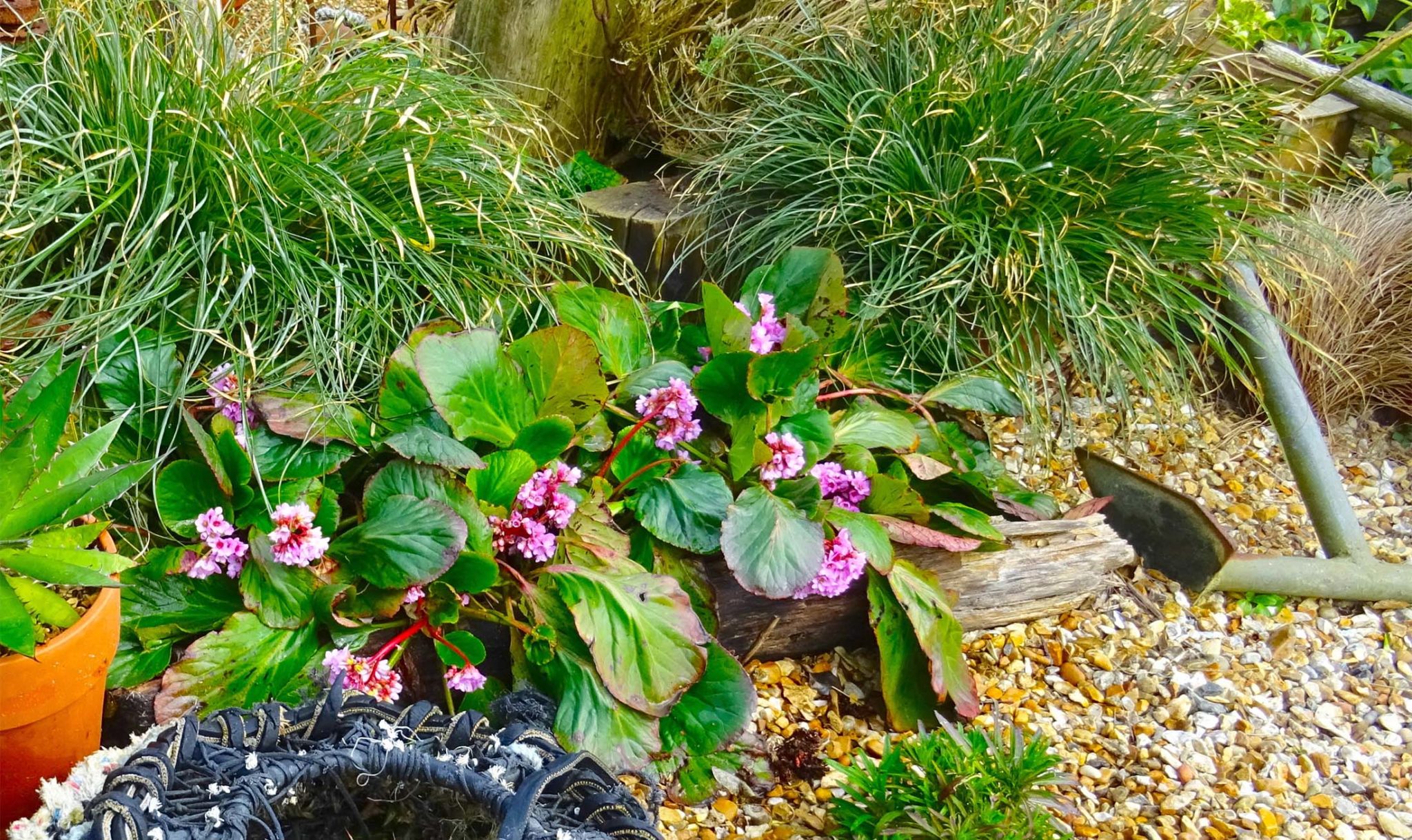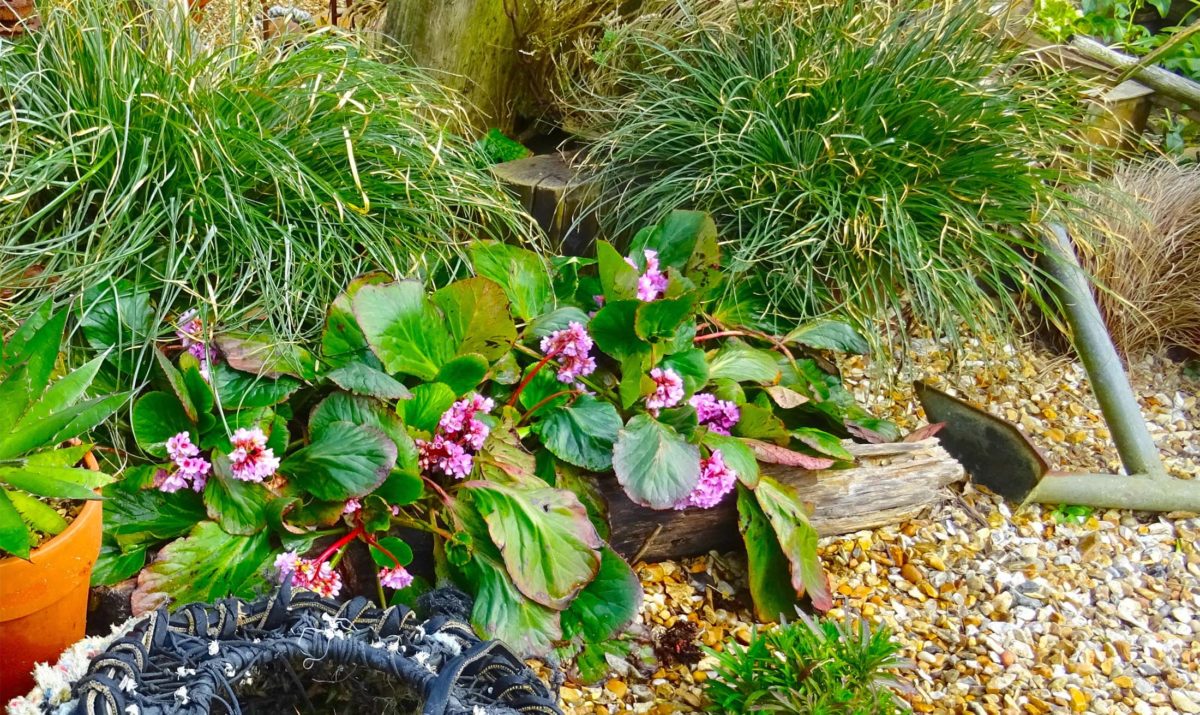 Weed smothering ground cover
Hypericum is a cheerful plant that is the perfect choice for ground, wall or sloping bank cover. Mine are located at the bottom of the drive and hug the low wall and grass bank beautifully. The large bright, yellow star-shaped flowers have prominent red-tipped anthers and make a sunny display from June to September. These fast-growing plants are extremely valuable for their weed smothering habits and long flowering season. They are the perfect addition to brightening up any garden border in even shaded areas. They are also popular to pollinators and appeal to bees. You can drastically prune stems to the ground each year improving flowering.
Drought tolerant ground cover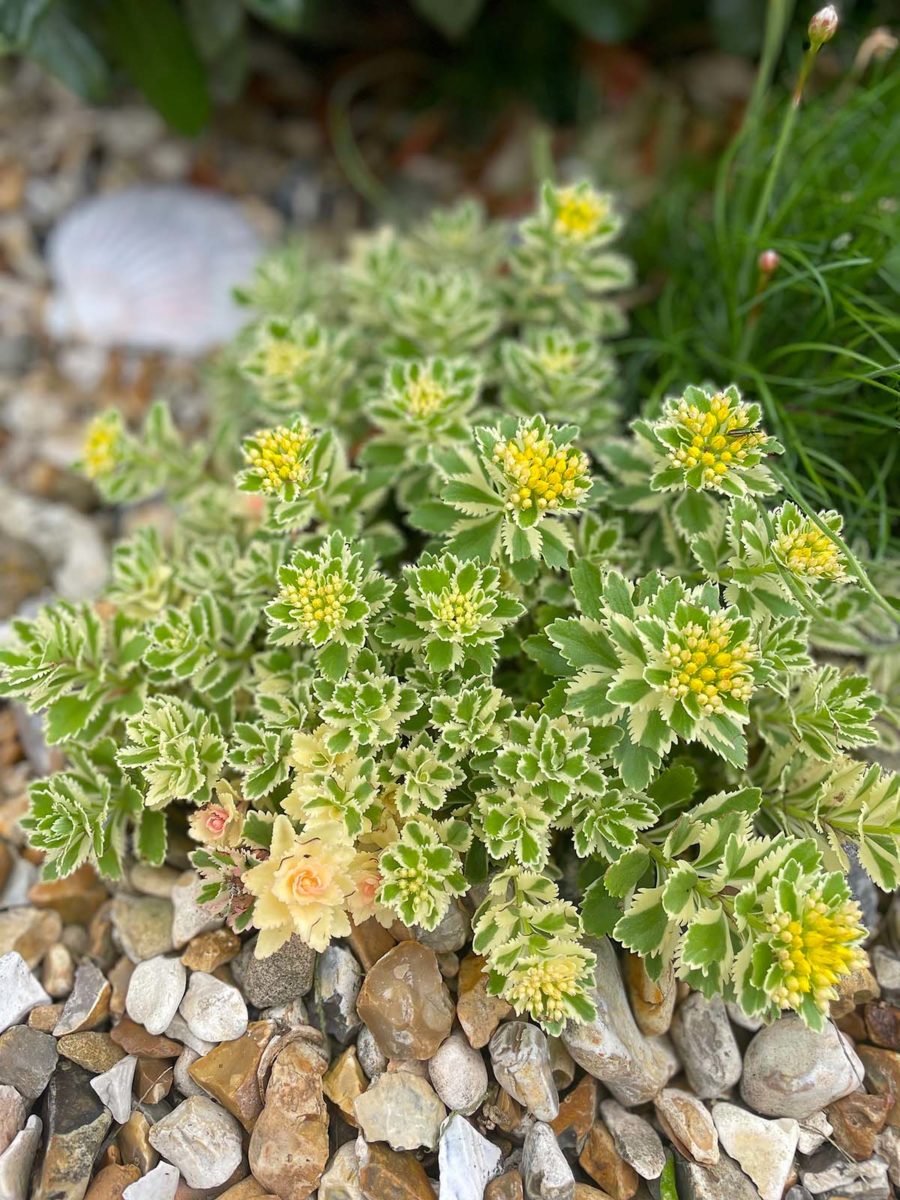 Bubbling out and hugging the gravel in the beach garden at front and back, Sedum Atlantis looks resplendent. It is drought tolerant, suitable for small spaces and attractive to bees. Its striking foliage forms rosettes of serrated green leaves with thick, creamy margins and tips that turn a pink blush in the autumn. The new leaves emerge in a beautifully creamy white, before developing into an attractive green with striking white borders and gradually forming a half metre wide cushion of drought resistant leaves. To top it off, this plant then covers itself with a foam of bee and butterfly magnet yellow flowers from July through to September. It is a very dramatic and versatile garden plant.
Ground cover for exposed gardens
Another lovely, low-growing, carpeting plant for coastal locations, or any difficult, exposed position in the garden is the beach aster or erigeron sea breeze. The lilac blooms come easily and look great tumbling over a rock wall, or growing between cracks in paving. Erigeron plants are tough and easy to establish, some may even refer to them as 'foolproof'. The Beach Aster is long-lived too, will flower right through the summer, and self-seed if you'd like it to! I've got several carpets hugging the gravel throughout the garden.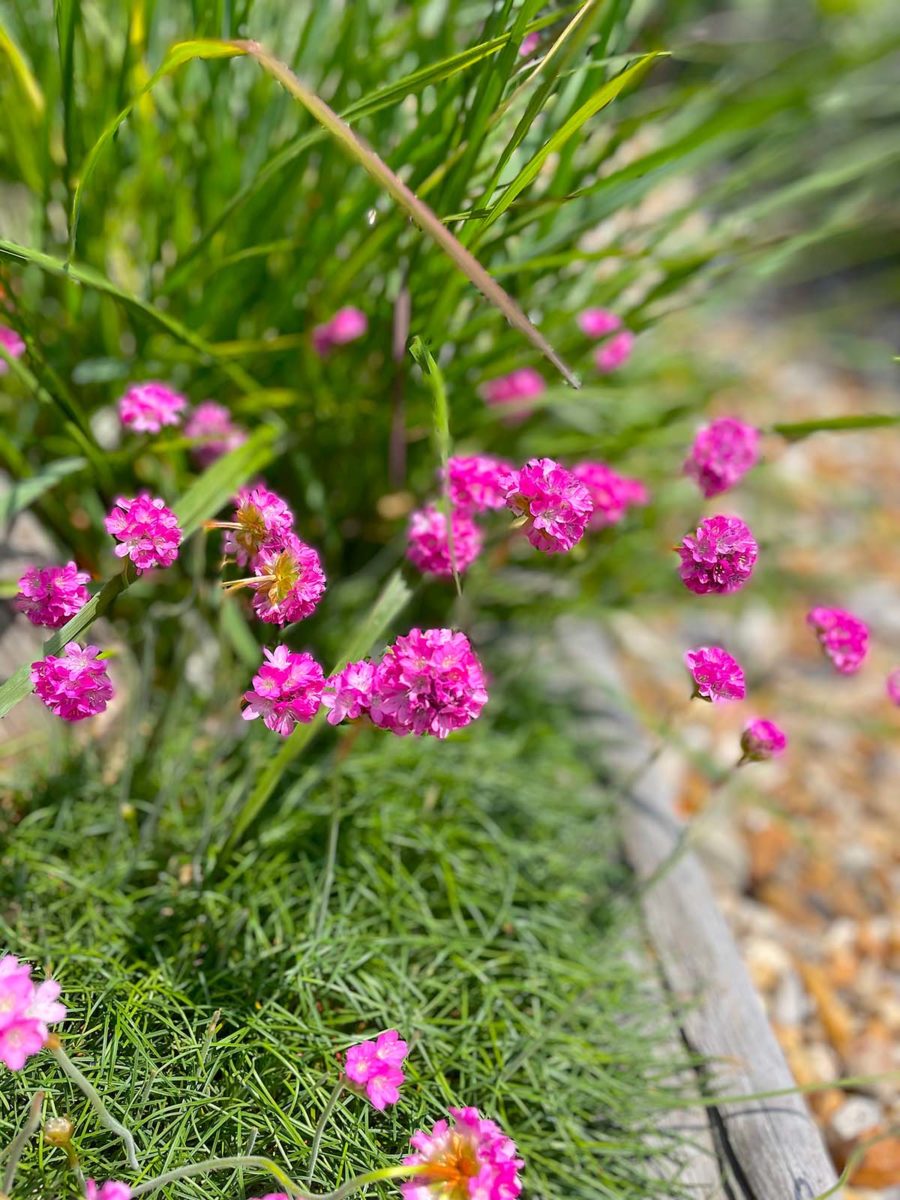 Yet another perfect carpeting plant is Sea thrift or Armeria maritima. It is typically found growing on cliffs and seashores, but also makes a pretty garden flower. A compact, evergreen perennial, it forms low clumps from which long stems of soft pink blooms emerge in summer. It's easy to grow and makes a good rockery plant. Its blooms are attractive to bees and make a pretty cut flower. Grow Armeria maritima in poor, well-drained soil in full sun. Deadhead spent blooms to prolong flowering. Mine look great with grasses and hugging pieces of driftwood.
My final offering is the Wire plant or creeping wire vine (Muehlenbeckia axillaris). It is an uncommon garden plant that can grow equally well as a houseplant, in an outdoor container, or as a mat-forming ground cover. I saw the plant a few years ago and had to have one. Wire vine is a low-growing, twining plant that originated in Australia and New Zealand. The small, dark-green leaves and reddish or brownish stems remain attractive through the winter, and the tiny white flowers appear in late spring. Unusual five-pointed white fruits follow the flowers in late summer. This plant fits in well in a rock garden, growing alongside a walkway, or cascading over a wall. You can also try growing it in a container, as I have, along with other plants of contrasting colours and heights.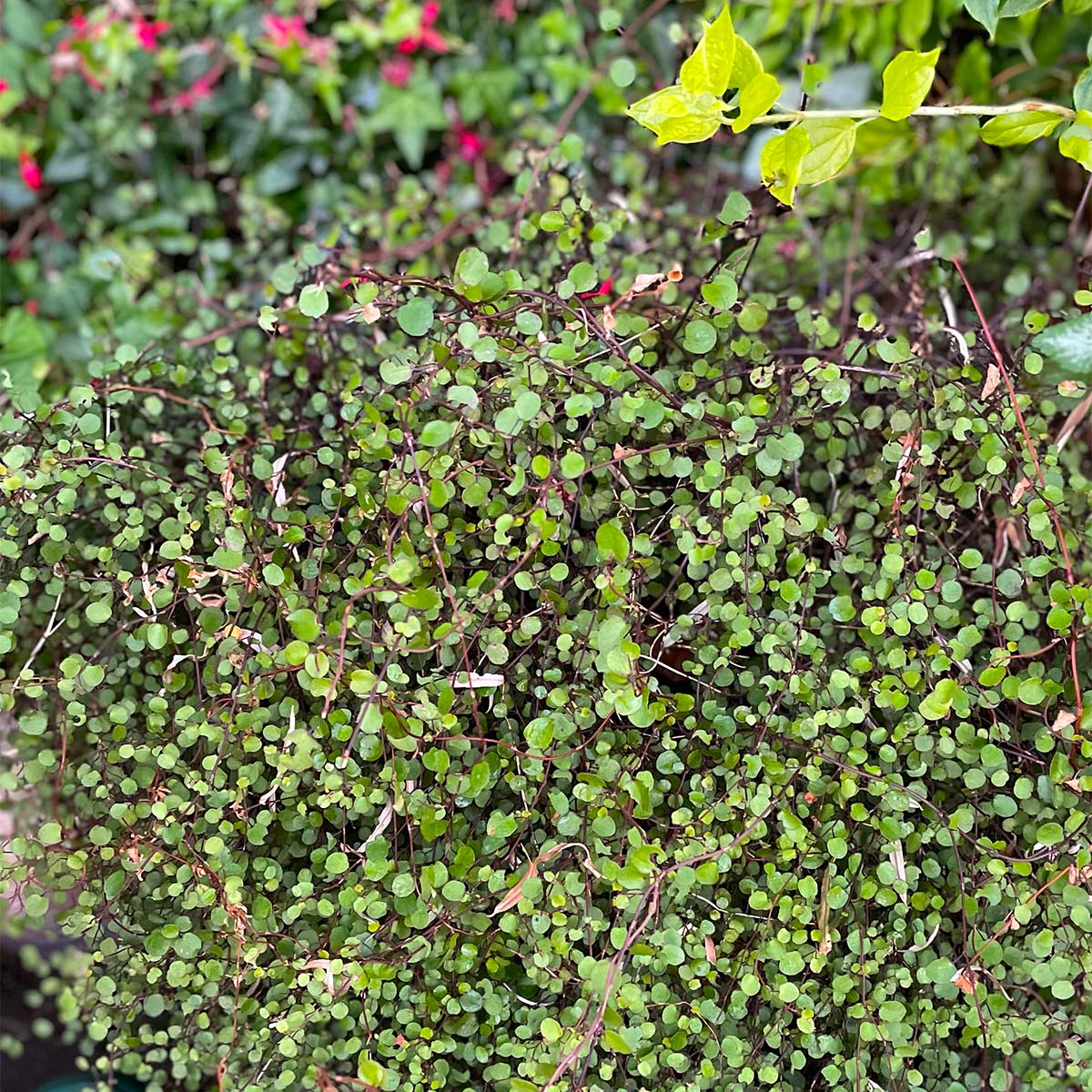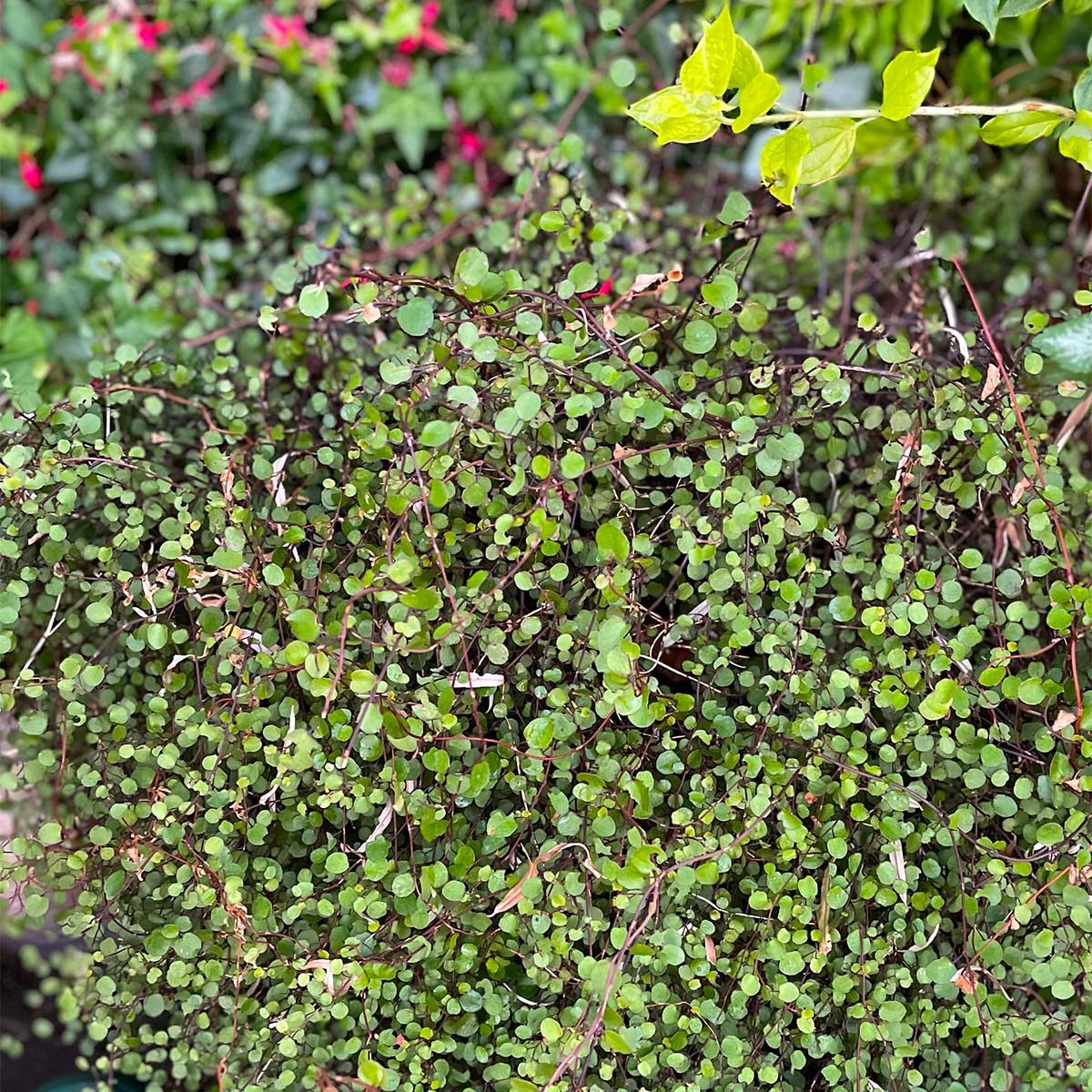 Take your pick and give them a go, you won't regret it!