Autumn could be my favourite season in the garden. Leaves and late summer flowers are my colour palette; sunset shades; warm, rich and vibrant.
We are so lucky in temperate regions that we have this changing picture as the green canopy of summer becomes the fiery mantle of fall. The light is kinder too. Gone are the harsh rays of midsummer; the lower light of autumn displays all colours, especially the sapphire blues and hot pinks of asters to the greatest advantage. The autumn garden is full of delights and surprises. Dewey grass, colourful toadstools, a colourful carpet of fallen leaves. There's nothing like the sweet smell of autumn so get out there and make the most of it.
Planting season
Any experienced gardener will tell you that autumn is nature's time for planting. That's not just a ploy to get you out there. The soil is warm and moist; newly planted trees and shrubs have got all winter to get their roots out into the ground, to establish before they have to cope with supporting leaves and flowers next summer. Chances are, if you plant now you will have less aftercare to administer next season.
Soil matters
Preparing the soil is easier too. Digging is a pleasure in autumn and after some rainfall it's not as arduous. Even those gardening on heavy clay will agree that it's better to cultivate now, rather than when that clay soil is heavy and soggy in early spring. Ground preparation is the key to successful planting. Fork in plenty of good garden compost or a shrub and tree planting compost. Alternatively use the compost from your pots and containers when you tip out that summer bedding.
Planting tips
Whatever you are planting, always water it thoroughly before you take it out of its pot. Dig a hole that's deep enough and wide enough to accommodate the rootball with plenty of space all around it.
Make sure you break up the soil in the bottom of the planting hole with a fork.
Add a slow release general fertiliser to the soil as you backfill around the rootball.
Firm the soil around the roots and water your new plant thoroughly. If you get your levels right leaving a shallow saucer shaped depression around the plant, it really helps to direct rainfall into the roots; it is easier when you water too.
My five favourites for sensational autumn colour
1. Japanese maple
The varieties of Acer palmatum are some of the finest shrubs or small trees for autumn colour. I would always choose a purple-leaved variety like 'Bloodgood' or 'Fireglow'. These give you colourful foliage through spring and summer and a splendid show in autumn. They are tougher than people think. They don't need acid soil and they do need full sun. They don't like to be too dry at the roots. They are a great choice for pots, so ideal for small gardens.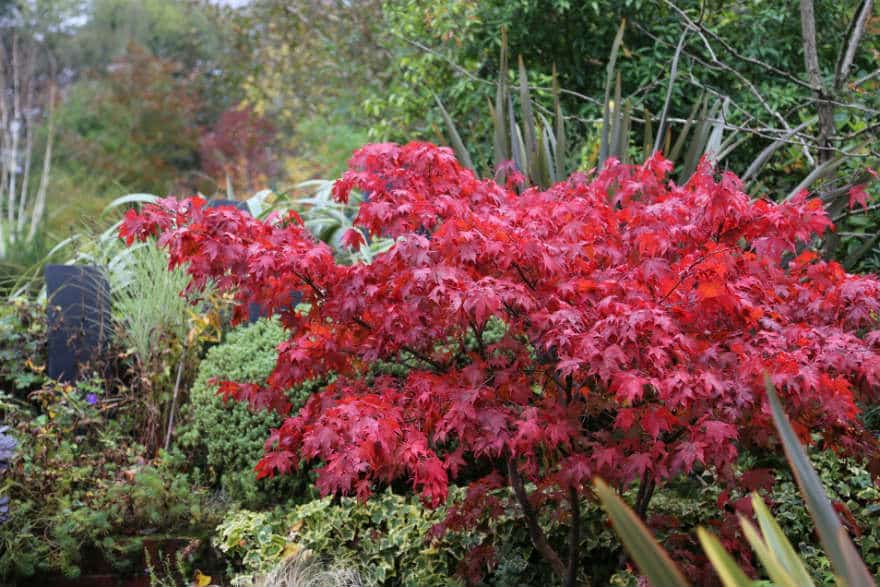 2. Berberis thunbergii
Lovely arching stems of wine red leaves suffused with salmon pink at the tips of the shoots. A great mixer with other shrubs and perennials in summer, then ablaze in autumn as the leaves turn to scarlet. Grows on any soil in an open sunny position.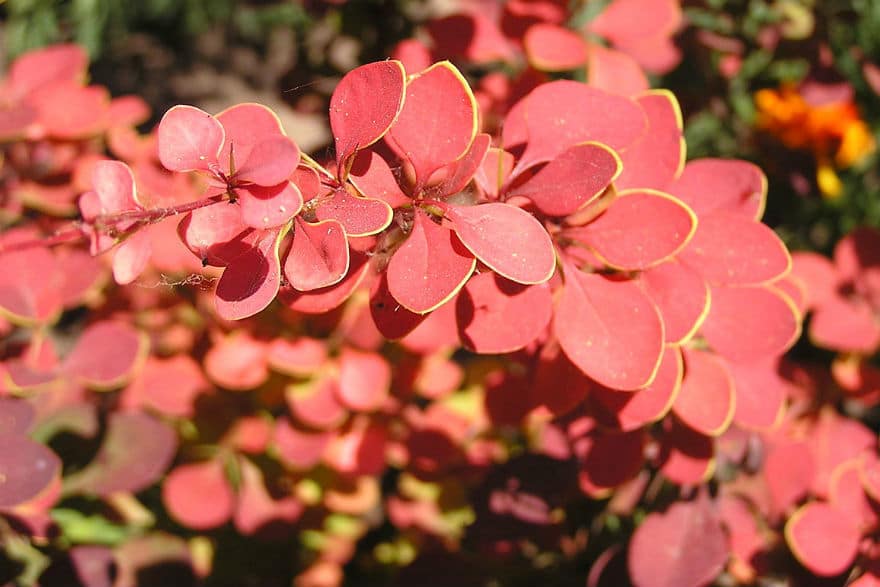 3. Smoke bush (Cotinus)
Cotinus are big growers, so they are shrubs for the back of the border, but you can restrict their size by pruning. I love the ever popular Cotinus coggygria 'Royal Purple' with its rich wine coloured, rounded leaves and fluffy flower heads in late summer. The crimson autumn colour is an added bonus; just when you thought it couldn't get any better.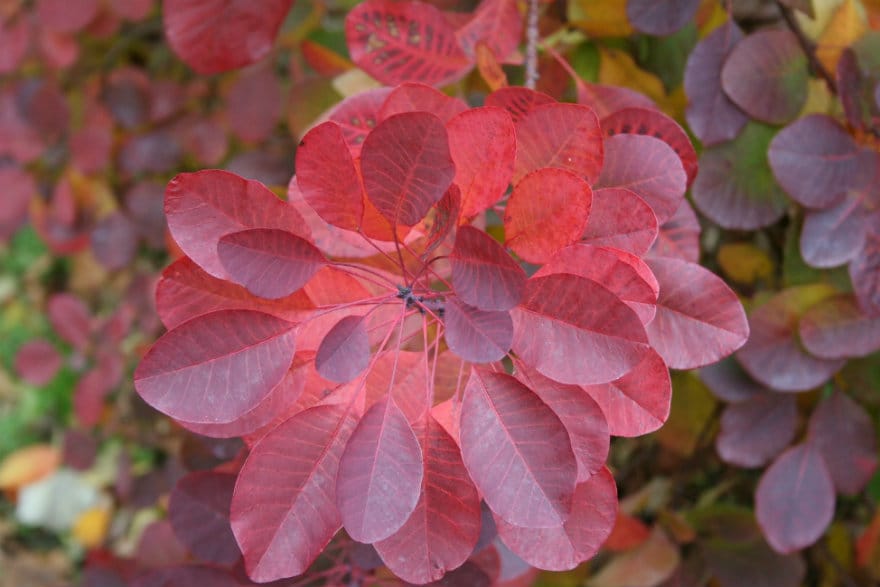 4. Dogwood
You may think of red-barked dogwoods as the shrubs you grow for their winter stems, or for their colourful variegated leaves. Cornus alba 'Sibirica Variegata' has both, and it doesn't get too big either. However its best feature for me is the amazing crimson-pink autumn colour that spreads through those pretty green and white variegated leaves. Truly a shrub for all seasons.
5. Hardy plumbago
Ceratostigma willmottianum is a small twiggy shrub with dark green pointed leaves. Planted in a sunny spot the leaves tint with flame and gold as autumn progresses, a lovely combination with the sapphire blue flowers, which are freely produced until the first hard frosts. Late butterflies love it as a source of nectar.