When it comes to grasses, there are really just two types; the evergreens and the deciduous types.
The evergreens, as their name suggests, retain their foliage all year round so that even in the depth of winter there is some colour, mostly from foliage and usually in many shades of green through to yellow or even yellow to white and green striped variegation. These evergreens are very useful in the winter garden but we should not overlook the second group; the deciduous types. These garden beauties, while going dormant in the late autumn, retain their stem structure during the winter keeping the dried stems and flowers intact. This group can have a most significant presence in the winter garden. By taking advantage of both deciduous and evergreens grasses the greatest amount of interest and variation in height and outline can be enjoyed in any winter garden.
Pheasant's tail grass/New Zealand wing grass (Anemanthele lessoniana)
This rather amazing grass is about the tallest evergreen grass available and while it grows very happily in sun, it will actually do pretty well in dry shade too. In fact the only situation it doesn't like is wet soils. At a little under a metre tall, and about as wide when happy, it offers foliage that varies in colour according to the season from greens through many shades of red, tans, oranges and yellow. Like most grasses it moves seductively in the slightest breeze and during the summer can produce cloud-like masses of soft pink flowers that can quite literally hide the foliage. While the summer flower colour will have faded by winter this grass looks lively and effective all year round. It is relatively short lived but will seed when happily established so the young plants can take over as the parent plants fade away.
Pheasant's tail grass is great in containers or used en masse, and especially good in town gardens where the combination of trees and buildings can make for difficult growing conditions.
Panicum 'Heavy Metal'
A fairly tall elegant deciduous grass, Panicum 'Heavy Metal' is full of movement. Its greyish-blue summer foliage gradually gives way to many shades of yellow and then finally beige tones for the winter period. A relation of the prairie grasses, 'Heavy Metal' is really wonderful when used in drifts along with taller more solid perennials.
Personal favourites include combining it with such stately plants as Eupatorium with its large flat heads of flower so beloved by bees and butterflies, or Veronicastrum, or even the more delicate looking Verbena bonariensis. These combinations are as beautiful in winter as they are in summer; even if the winter colours are more subtle.
Feather reed grass (Calamagrostis 'Waldenbuch')
This is another generally upright deciduous grass whose overall appearance adds great value to the winter garden. The individual stems of Calamagrostis 'Waldenbuch' are very upright, almost ramrod in appearance and just sufficiently spaced to give a light and airy, almost see through effect in the border. I have a group planted in front of the larger Persicaria polymorpha whose large leaves, white summer flowers and overall bulk is an almost perfect partner for the enchanting lighter effect of the grass. The winter combination of gently swaying grass stems and the solid bulk of the perennial is something I always enjoy.
Elephant grass (Miscanthus 'Flamingo')
Any of the elephant grasses, such as 'Malepartus', 'Ferner Osten', 'Morning Light' or 'Starlight' are all pretty wonderful winter border stalwarts with their relatively solid mass of grassy stems topped with masses of large heads of flower. Miscanthus 'Flamingo' however, is a particular favourite of mine. This is partly because it has such an elegant slightly drooping soft pink flower but also because once the initial colour has faded the flower heads are so tactile and textured that it is scarcely less effective in its winter state than when in fresh flower.
Being a larger grass it is a perfect fit with airy perennials such as Sanguisorba and Rudbeckia as well as with the more solid looking Persicaria and Eupatorium.
Fountain grass (Pennisetum 'Dark Desire')
Last on my list but by no means least in terms of winter effectiveness are the aptly named fountain grasses. Comparatively late to get going in spring, but flowering well into the autumn and only stopped by the winter cold, any of the fountain grasses are superb winter garden companions. Rather shorter than the other deciduous grasses on my list, pennisetums are great for the front of a border where they associate so perfectly with perennials such as sedum and asters. A particular favourite is 'Dark Desire', which produces, from rounded mounds of foliage, the most amazing fluffy dark flowers that seemingly double in size with the morning dews.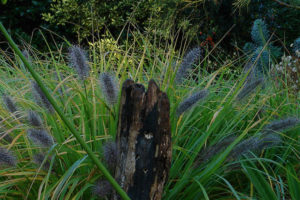 Many grasses are good at reflecting winter sunlight: none more so that the pennisetums whose flowers seem to be lit up as though connected to the mains, providing a fantastic, free light show!