Hellebores are surely the most popular and beautiful plants of winter and early spring. The open flowers are a magnet for pollinators feeding on the rich nectar within the accessible nectaries. These non-woody perennial flowering plants are mostly evergreen, but some are herbaceous dying back to a crown for the winter. Most are hardy in the UK and thrive in conditions reflecting their deciduous woodland origins.
Easy to grow
Hellebores are very tolerant and will grow in most soils from slightly acidic through to slightly alkaline, as long as the ground is not extremely dry or waterlogged. They will tolerate drier conditions in summer as long as there is some shade, but do bear in mind that too much shade all year round can reduce the number of flowers. Grow them in a position sheltered from cold winds, under the canopy of deciduous shrubs and trees that will provide plenty of light in winter and spring and some welcome shade in summer months is ideal. A useful tip to bear in mind is that, by planting your hellebores on a sloping bed, you will naturally improve the drainage and make it much easier to look into the flowers.
Hellebores may be combined with middle storey shrubs such as Witch Hazels, Ribes 'White Icicle' and Cornus officinalis, while hepaticas, cyclamen, snowdrops and other early Spring-flowering bulbs make excellent companions too. Here are five superb varieties to try, as recommended by John Massey of Ashwood Nurseries. John's exhibit of hellebores at the RHS Chelsea Flower Show in 2018 scooped a Gold Medal as well as the much-coveted President's Award.
Helleborus x hybridus Ashwood Garden Hybrids
The flowers of Ashwood Garden Hybrids are rounded, outward-facing, fully cup-shaped with good symmetry and carried on short sturdy stems; plants are robust with strong healthy foliage. Their flower colours are pure and the colour range is remarkable and varied and totally enhanced by characteristics such as spots, blotches, veining and contrasting margins on blooms (picotee).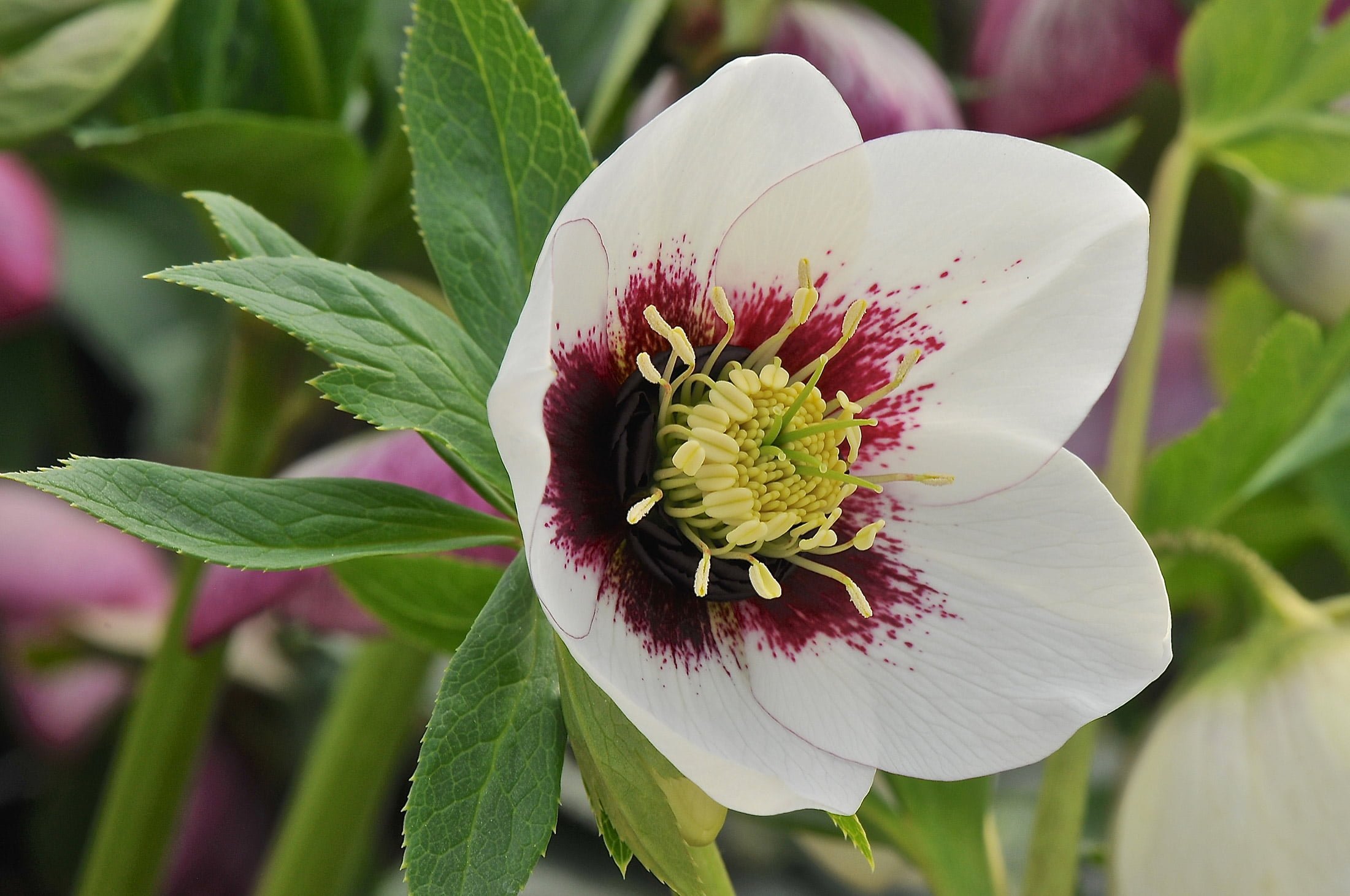 Nectaries offer great scope for additional variation with red and yellow possible, as well as the more usual green. Add to this the choice of single, double and anemone form and the possibilities are endless. Ashwood Garden Hybrids are recognised as the world's finest hellebores and are exclusive to Ashwood Nurseries. The pedigree of Ashwood Garden Hybrids is a melting pot of various species, including the popular Lenten Rose Helleborus orientalis. Grows to around 30cm tall.
Helleborus x hybridus Ashwood Evolution Group
Yellow hellebores are much sought after and this group of hybrids are exceptional. All of the exclusive Ashwood Evolution hellebores share the same characteristics as the Ashwood Garden Hybrids with the added bonus that some selections have distinctive yellow-green leaves that intensify to buttercup yellow in autumn. The plants are the result of intensive hybridisation of the finest Ashwood yellows.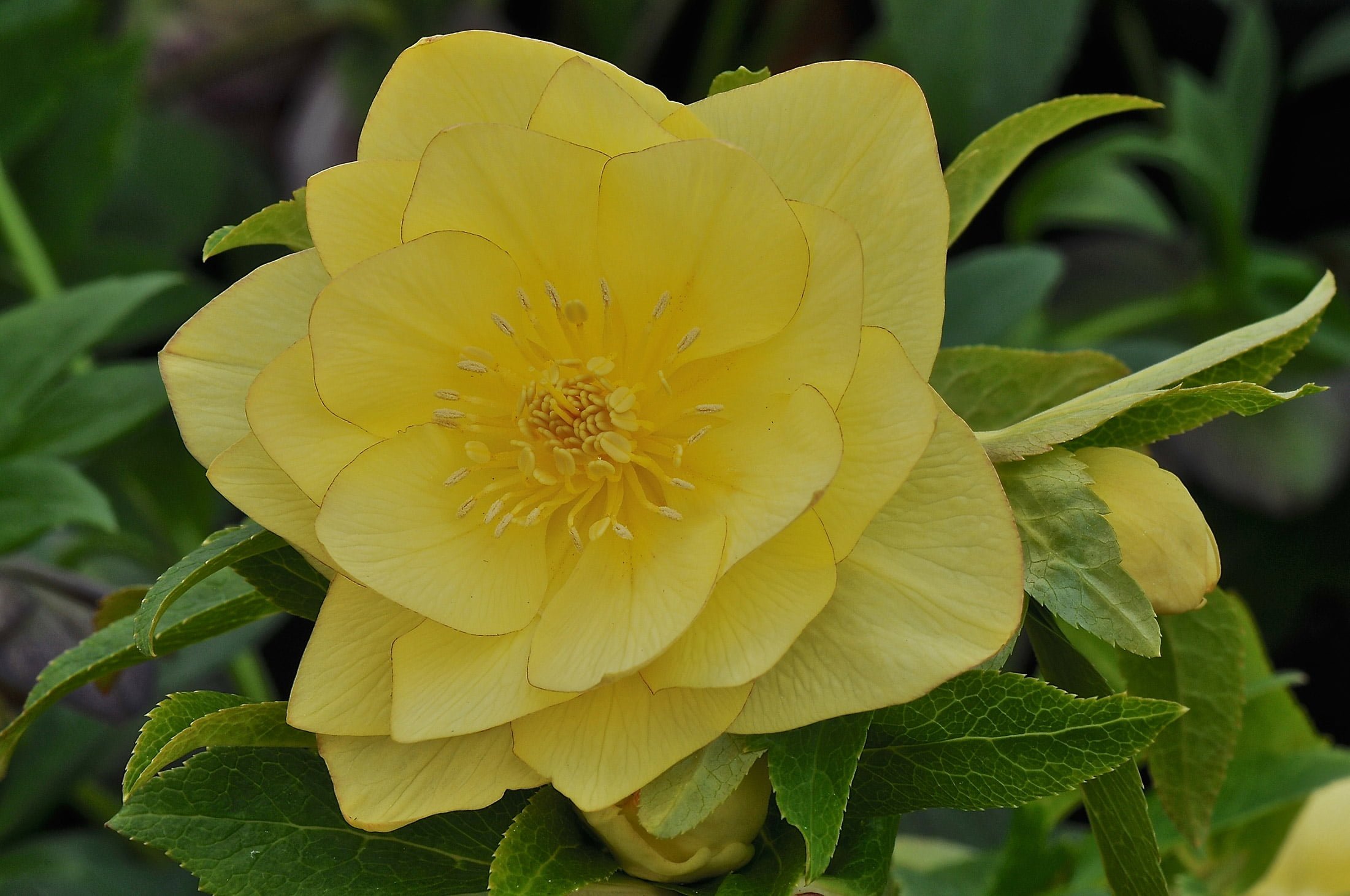 Hellebores in this group include the purest shades of golden yellow, amber, peach and apricot, some beautifully veined, suffused or delicately spotted. Nectaries vary from golden yellow to red with some enhanced by a red flush. This group includes the first true double yellow hellebore, an exquisite development that wowed the visitors at The Chelsea Flower Show 2018. Grows to around 30cm tall.
Helleborus (Rodney Davey Marbled Group) 'Anna's Red'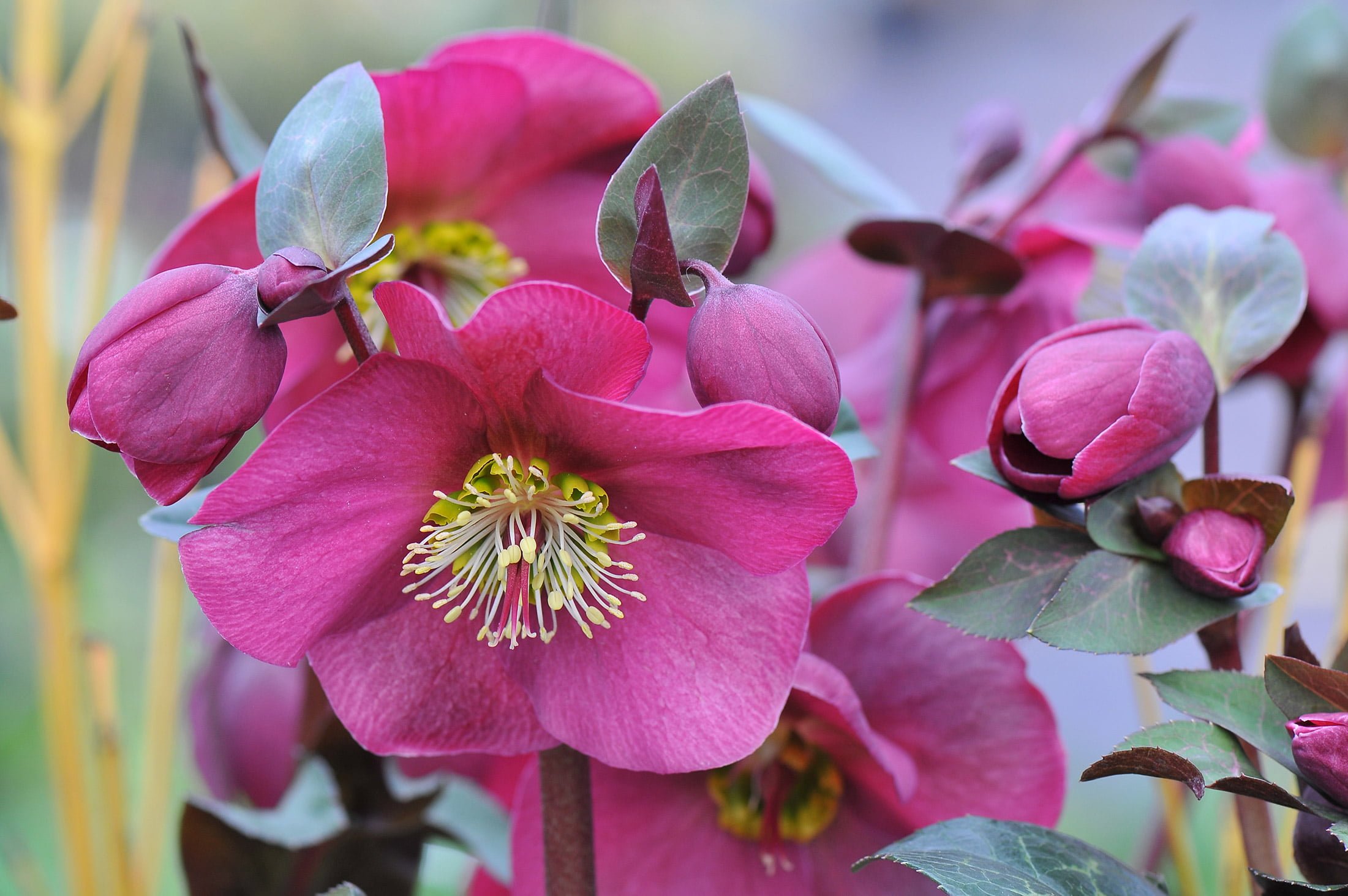 One of the best of the semi-evergreen inter-species hybrids, 'Anna's Red' bears a profusion of very large outward-facing red flowers from February to April. In spring, its attractive marbled foliage is attractively veined and flushed pink. Named after plants woman Anna Pavord and bred by Rodney Davey, this is a great plant for a pot in a lightly shaded position out of cold wind. Grows to around 30cm tall.
Helleborus argutifolius 'Janet Starnes'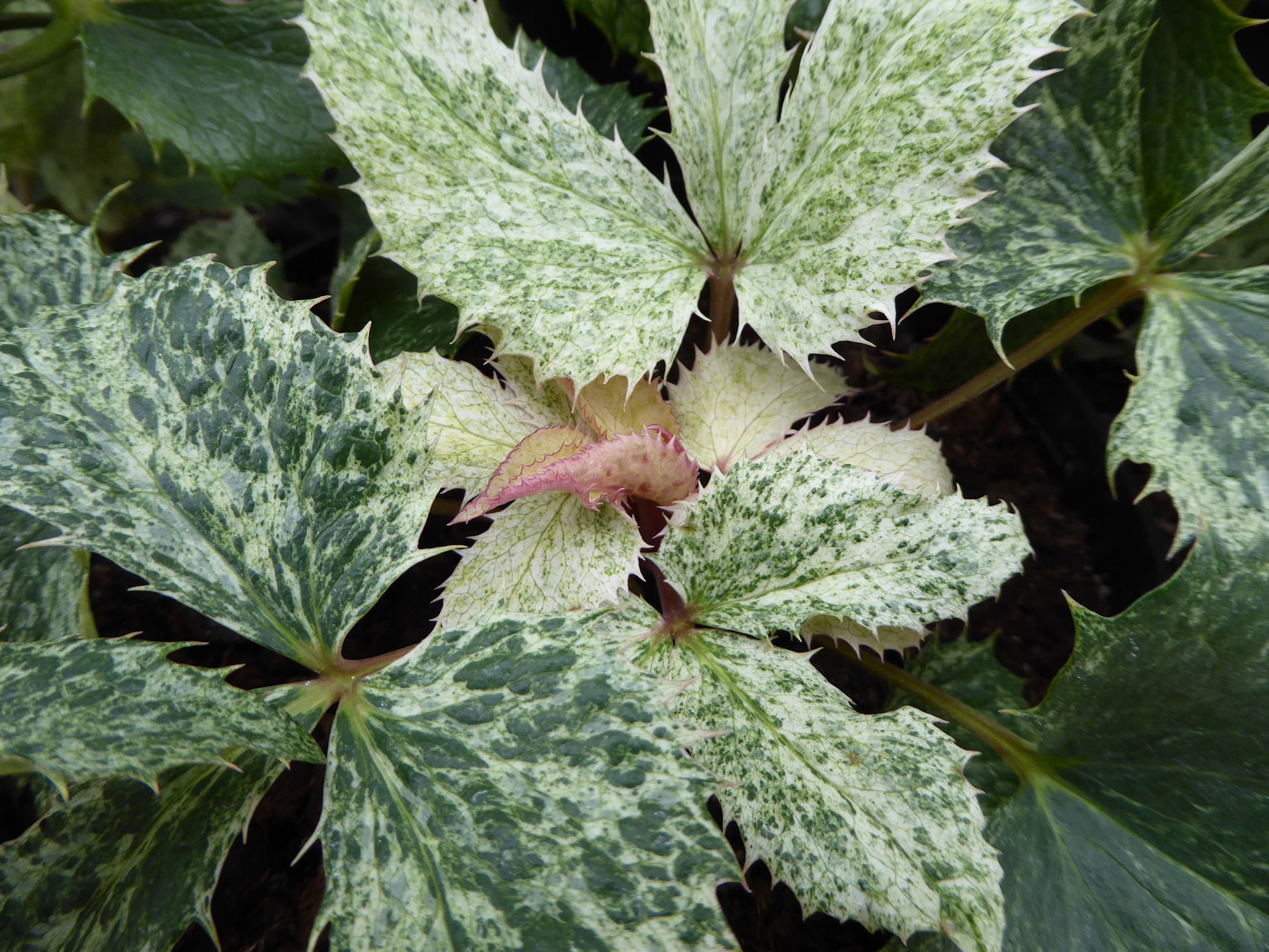 Helleborus argutifolius occurs naturally in Corsica and Sardinia and makes a very handsome, evergreen clump with good architectural presence in the garden. 'Janet Starnes' is a fine selection with attractively speckled foliage and plenty of pale green cup-like flowers. A well-drained soil is essential and, while this species enjoys more sun than most hellebores, avoid hot south-facing positions. Prune out old flowering stems in late spring to reveal fresh new growth. Grows to around 90cm tall.
Helleborus foetidus 'Ruth'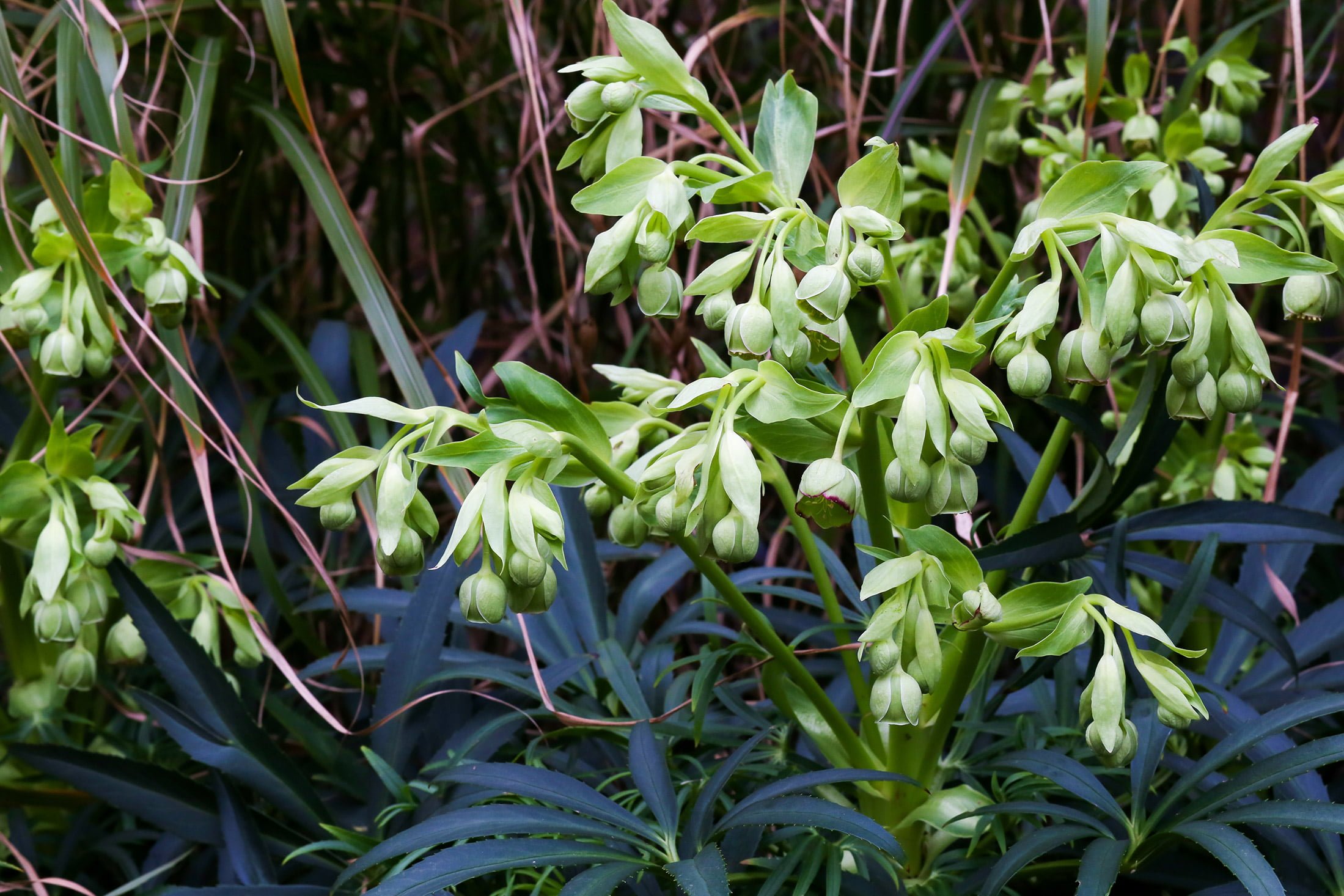 Found in the wild throughout Europe and parts of the UK, Helleborus foetidus is an architectural evergreen species with dark green leathery, divided leaves and is tough and easy to grow. It's useful for tucking at the base of a deciduous tree, shrub, hedge or shady wall and is an attractive foliage contrast to other shade-lovers such as brunneras and hostas, Clusters of hanging green flowers edged with purple-brown last from February through to June. 'Ruth' is a superb selection introduced by Will McLewin. Grows to around 45-60cm tall.