All this spring frenzy about growing from seed can be pretty scary if you are new to gardening. But you don't need to grow plants from seed to have a productive garden. Perennial plants are ones that, once planted and established, will keep growing year after year. Some of them die back to ground level for winter and you could be forgiven for thinking that they are dead (these are called herbaceous perennials). Others drop their leaves and retain a structure of stems and some actually keep their leaves all year round. If you're new to gardening, keep it simple. Choose perennial fruit plants that will produce delicious fresh fruit every year. Fruit doesn't just grow on trees. Some plants are smaller, some are shrubs and many will grow in pots and containers very happily.
Rhubarb
Rhubarb may not be top of your list for eating, but it should be. It's so very easy to grow, it's a perennial and once you've got it it will get bigger and bigger each year. Rhubarb can be used to create simply delicious concoctions in the kitchen from simple rhubarb crumble, cakes and pie to the more elaborate rose and rhubarb knickerbocker glory. Combine it with ginger for a punchy flavour, with rose water for a perfumed effect or as it is for truly scrumptious deserts. Bake it, stew it or even roast it with plenty of sugar to neutralise its acidic taste. You buy a crown of rhubarb in a pot from the garden centre. You take it out the pot and plant it. Dig a hole a bit bigger than the root ball; place the roots into the hole and infill around it with soil or compost. Keep it watered until it is established and give it a year or two to bulk up. You could grow it in a pot, but it would need to be quite a large one. It is best planted it in the ground. Then each spring as the tender pink stems burst through the ground you can cut the stems and use them in the kitchen. It's a herbaceous perennial so it will die back in winter and regrow in spring. You'll think it's died but chances are it hasn't.
Raspberries
My absolute favourite summer fruit, they are so, so easy to grow and so delicious. Eat them fresh from the canes, or warm from the summer sun with honey and clotted cream; divine. Raspberry canes are best planted in the garden soil. Once they get growing they can and will spread. But that's a good thing as you get a bigger harvest each year. The flowers are rich in nectar so the bees simply love them. The fruit is held high on the canes usually under the leaves so apart from birds helping themselves, they are pretty much pest free.
Gooseberries
How often do you see gooseberries for sale anywhere? Rarely. And to be honest many people have never even eaten them, which is a great shame. Now could that be something to do with (ancient) school dinners or frozen goosegogs? Well that's like saying you don't like beans because all you've ever eaten are frozen beans. There's nothing like freshly picked beans and freshly picked gooseberries are pretty great too. It's quite amazing what a crop you can get from just one or two gooseberry plants. They make fantastic jams and desserts and are very prolific fruiters. The flowers are rich in nectar and a favourite for bumblebees. The plants are better planted in the soil in the garden, but can be planted in containers if necessary. You really do need to make sure they are well watered in dry weather if you take that option. Just like apples, there are culinary (for cooking) and dessert (can be cooked or eaten from the bushes when ripe) varieties. Leave them all to ripen before using and they need much less sugar. Try 'Invicta' as it can be cooked or eaten fresh when ripe.
Blueberries
Blueberries are a trendy fruit. Rich in antioxidants and tasty too, you can buy tiny punnets of these purple flavour bursts in the supermarket for a pound or two. If you are blueberry fanatic, and many people are, why not grow your own? Even if your first harvest is just a handful or two to sprinkle over your cereal they are worth the effort. Keep them going and you'll have a better harvest next year. It's cumulative too, so once established you can look forward to even more fruit year on year. A much better investment for your money. The thing about blueberries is that they are what's called ericaceous, a horrible word that simply means they grow best in acid soil. The best way round this (unless you have acid soil) is to buy a large pot with drainage holes and a generous bag of ericaceous compost from the garden centre and plant your blueberries there. Choose Blueberry 'Spartan' AGM for its great taste, early fruit and large berries. If you've room for another go for Blueberry 'Darrow' it fruits a bit later and grows well in containers.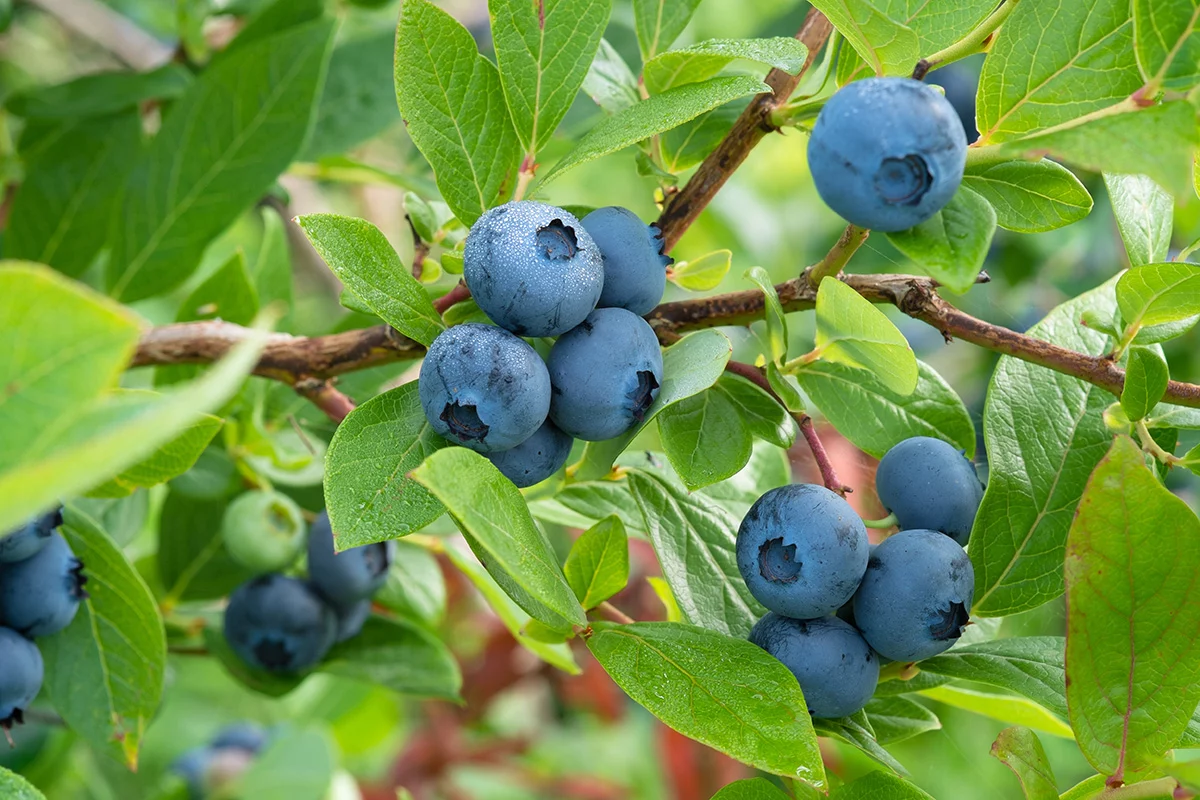 Strawberries
Everyone wants to grow strawberries and everyone can. They are delicious, easy to grow and something that the kids will love to grow in the garden. You can buy plants now at the garden centre that will fruit this summer. All they need is somewhere to grow, a little TLC by way of watering and some bees or insects to pollinate the flowers. You can plant them in hanging baskets, windowsill planters, strawberry tubs, and growing bags or in pots on the patio. Keep them watered when it hasn't rained and make sure your pots or planters have drainage. You can also grow in the garden soil, but you will need to protect the fruit from rain splash and slugs. If you can grow them raised up away from pests you can watch them develop and pick the fruit as it ripens. Eat them at room temperature for the very best flavour.