Looking for the best way to feed birds? Feeding birds brings your garden alive, adding a delightful, animated and colourful dimension to your garden, says Jean Vernon.
As the leaves start to fall and our borders die back, the garden wildlife and especially the birds are looking for food and urgently feeding up before winter. The wonderful thing about the birds in our gardens is that they become wild pets, arriving in the garden looking for food and repaying our kindness in abundance. That's because many birds eat insects and some of those are the bugs that bother our plants. Ground feeders like thrushes and blackbirds that scrabble around the leaf litter, under hedges and within the borders devour all sorts of creatures that might be overwintering, or preparing to feast on your flowers. These native insects provide a vital source of food for all kinds of wildlife and are themselves essential in many garden processes from pollination to decomposition.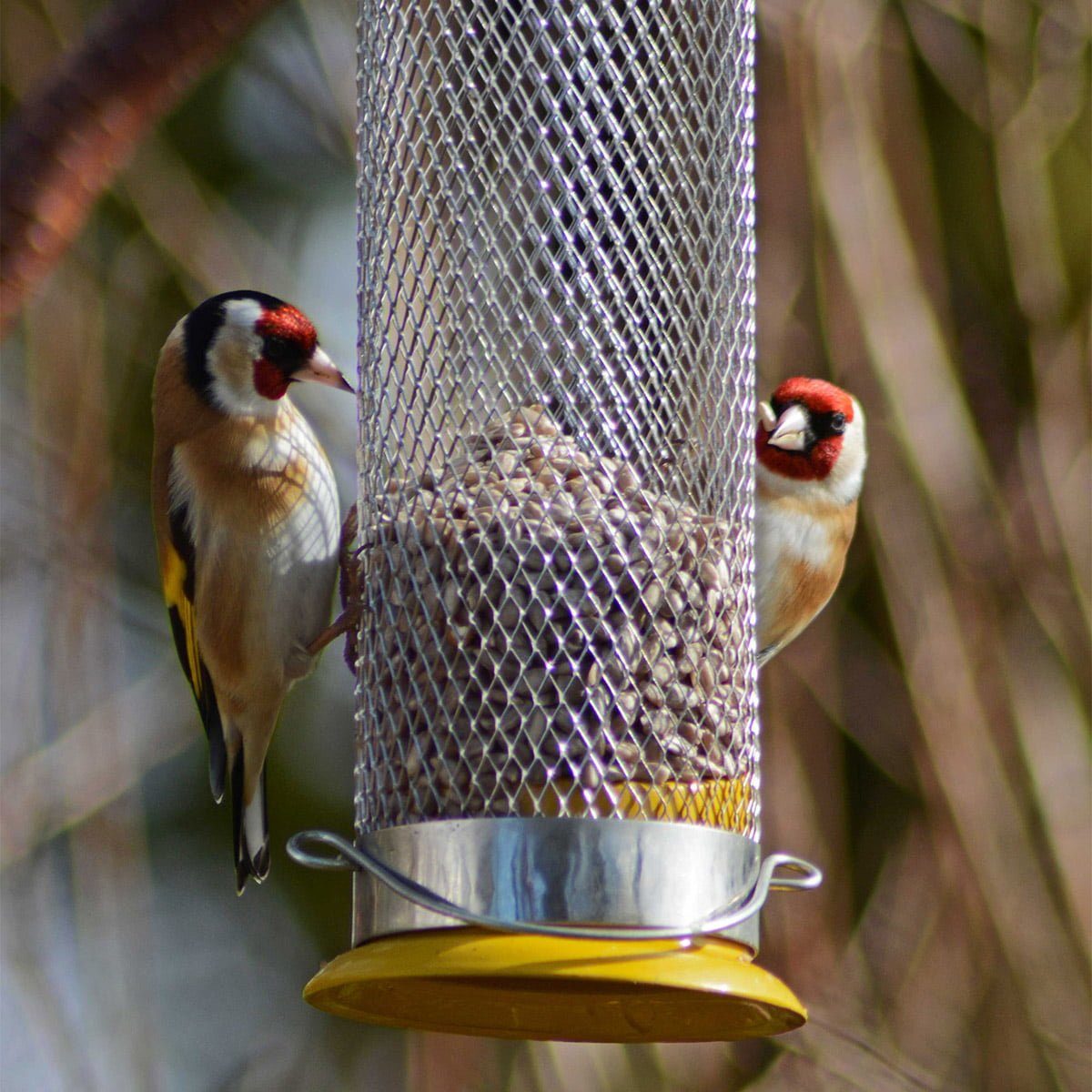 A healthy garden has a strong population of every layer of the food chain so that the cycle of life can keep turning. By working with nature you can strengthen your garden and the huge diversity of birds and other wildlife that resides there.
1. High energy bird food
Support your garden birds to keep them fit and healthy by providing the right kind of bird food. You can buy all manner of cheap, budget food, but when it comes to quality bird food you get what you pay for. A lot of budget bird food is full of cheap fillers that the birds wouldn't choose to eat. These tend to drop to the floor and germinate or rot, causing hygiene issues and attracting rodents. By investing in quality food, where every morsel counts, the birds will eat as much as they can so it doesn't fall to the floor. Quality tidbits on the floor will be eaten by ground feeding birds and you can place a tray beneath your feeder to keep the area clean and tidy. 
If you really want to offer your garden birds the very best bird food then choose Richard Jackson Premium Bird Food. It's packed with more than three times the energy of ordinary bird foods and is designed to attract a wider variety of birds to your garden and feed them better. It contains thirteen different natural ingredients to cater for different species of birds and it's free of wheat flakes; a cheap additive found in many bird foods. If you are still not convinced check out the FIVE STAR reviews on our website. For the best results present the bird food in a dedicated seed feeder or add a small amount to a ground feeder.
2. Nutrient rich suet balls
It's no surprise that suet balls are a fantastic way to provide energy rich food for the birds. They absolutely love them and will devour every morsel presented to them. But like most things there are budget suet balls, which could have all sorts of odd ingredients. Some are enveloped in netting that can trap the feet of feeding birds. Richard's Suet Balls are packed with nutritious and tasty ingredients, including dried mealworms, which are a natural food source for many birds such as robins. The high fat content keeps the balls soft so that they are easier for the birds to eat. And because of their high fat content, they are especially useful in the winter months, when natural sources of food become scarce. They'll stay softer for longer and will provide a welcome feast for your garden visitors. For the best results present your suet balls in a dedicated suet feeder or crumble onto a table or ground feeder.
Check out the FIVE STAR reviews on our website.
Look out for our new Hanging Bird Food Suet Cakes too which are a real hit for blue tits especially in cold weather.
3. Peanut butter for birds
You know how the birds flock to the peanuts as soon as you put them out? So you won't be surprised to learn that birds love eating peanut butter too.  
You can't feed the garden birds peanut butter unless it is a special salt free blend made especially for birds. And that's exactly what is now available from the Richard Jackson Garden Shop. Peanut Butter for Birds. It's a super food that contains the oils, proteins and high energy of peanuts but is much easier to eat and its salt free which is really, really important, because high levels of salt can be very dangerous for birds. This specially formulated bird food is extremely good for attracting and feeding a wide range of garden birds but especially blue tits, nuthatches, woodpeckers and robins. The jars can be placed on a bird table, or the butter can be smeared onto the trunk of a tree for woodpeckers, nuthatches and similar birds to enjoy. Or you can present the jars using the special Peanut Butter Feeder for Birds (which can be hung from a tree or mounted to a wall or fence). Simply screw the jar securely into the Feeder, and the birds are protected from the elements as they feed.
4. Seed heads 
Don't be too hasty cutting back your beds and borders. Flower seed heads are a vital source of food for seed eating birds. Gold finches, chaffinches and sparrows will feed on fallen seed and some will feed from the seed heads themselves. Flowers such as eryngiums, echinacea, sunflower, thistles and even the humble dandelion provide natural food for wild birds. You can even use some senescing flowers to present birdseed to some of the shier bird species that don't visit the feeders. Sprinkle a little seed onto the flower head so it settles in the bracts.
5. Garden berries
Fruit eating birds will relish a few berry bearing trees and shrubs, feeding on them in sequence as they ripen. Have a look at our Berries for birds article, for plenty of ideas. There are lots of lovely berry bearing plants that will add colour to your garden and offer the wild birds a fresh source of natural food. Leave them on the trees and shrubs for the birds to find and feast on and look out for some winter beauties like the wonderful waxwings and fieldfares.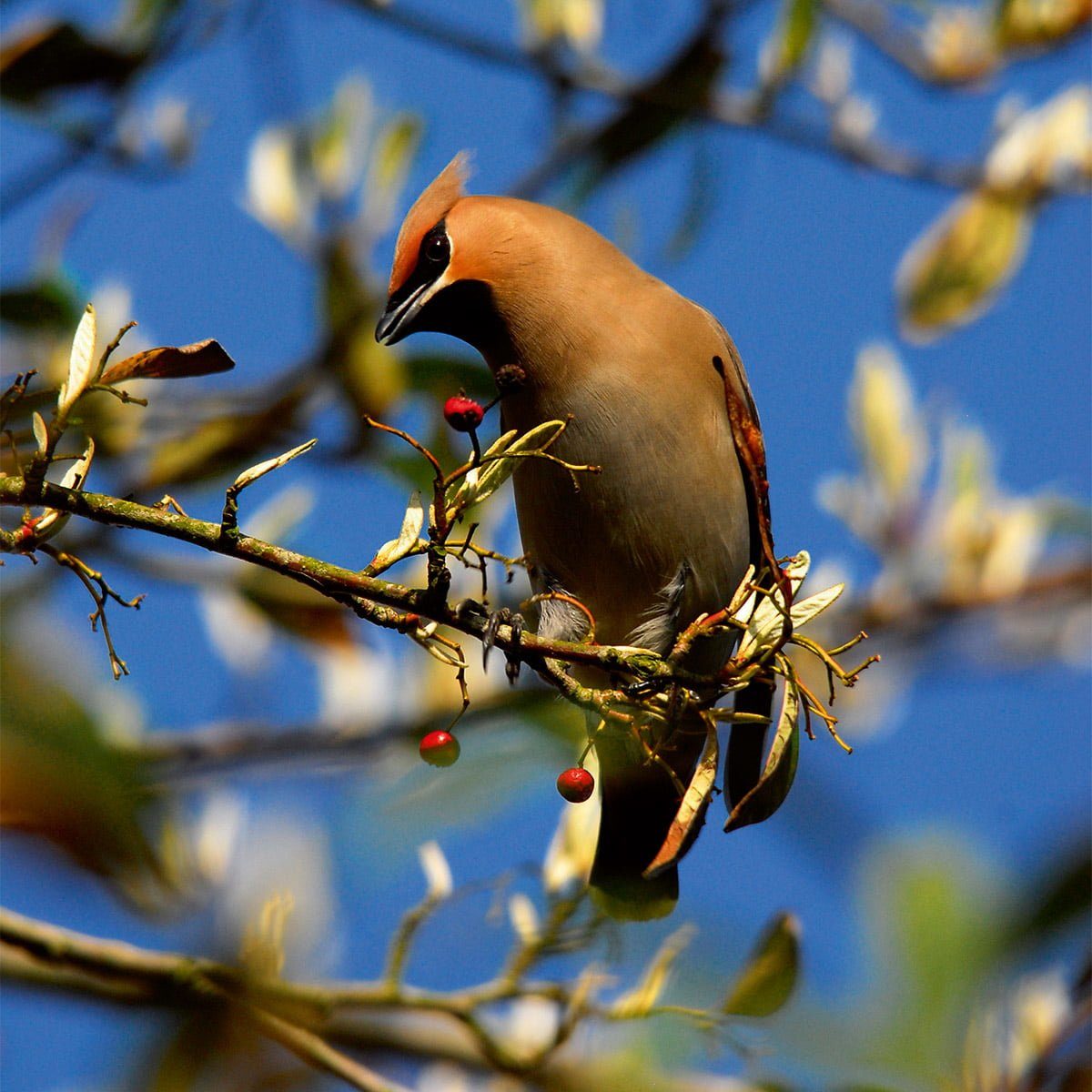 For some more bird feeding advice have a look at our What do I need to know about feeding the birds article.