We are now in autumn according to meteorologists but hopefully we'll get to enjoy some warmer weather for a little longer. Even so, temperatures over night are noticeably cooler than last month, so crack on with harvesting tomatoes, courgettes, peppers and other tender vegetables that you've been growing outside.
Ripen green tomatoes
Eating tomatoes that have been picked straight from the vine is one of life's greatest pleasures and I've been enjoying these sun-warmed, flavour filled spheres for several weeks. However, falling temperatures in autumn means tomatoes take longer to ripen and a sudden frost will wipe out any that are left.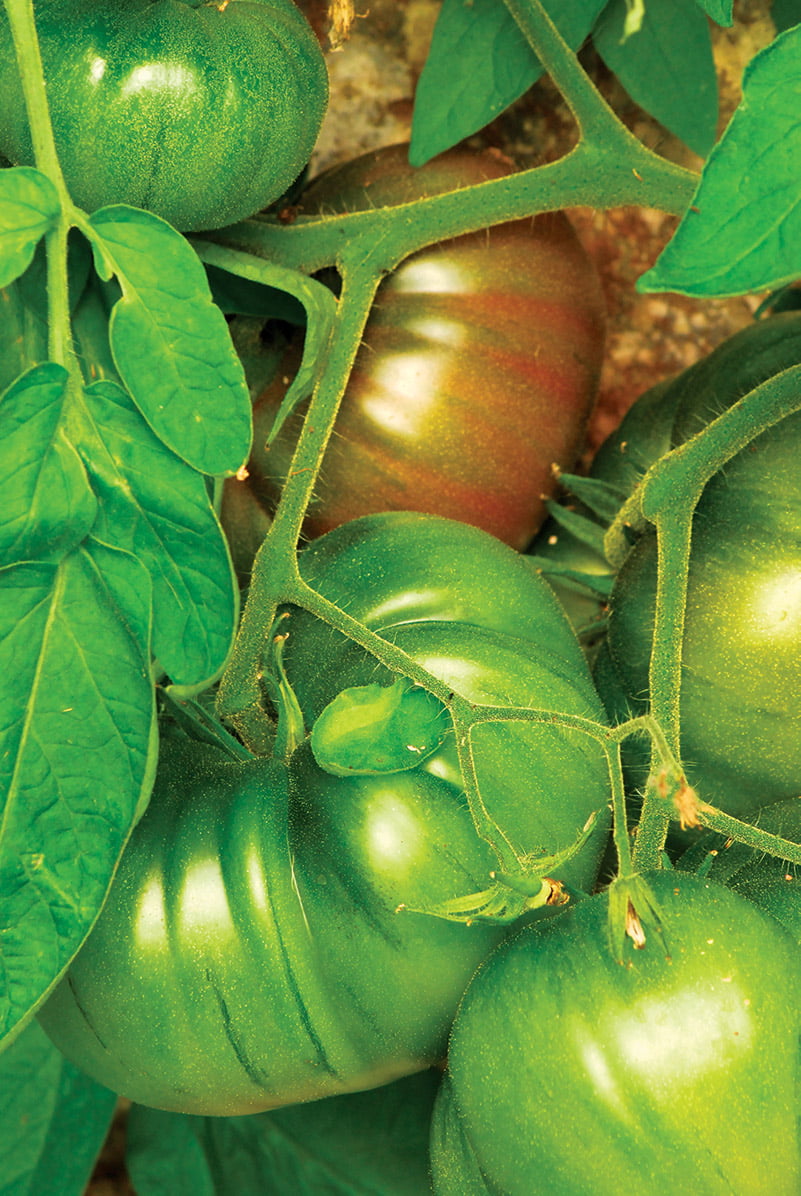 The answer is to pick off entire bunches of green tomatoes and bring them indoors. Stow the under ripe tomatoes in a plastic bag, along with a banana or apple. Put in a warm spot, out of direct sunlight. The ethylene gasses released by the piece of fruit will encourage the tomatoes to turn red in no time at all.
Keep chilli peppers going
Many gardeners consign chilli pepper plants to the compost heap when temperatures start to dip. However, I've discovered it's possible to keep them going over winter, which will result in plants that will flower and fruit earlier than those started from seeds in spring.
Before the first frosts, put plants in a warm, light place, such as a greenhouse, kitchen windowsill or front porch. Strip off any fruit and leaves, and then cut back hard to leave a stubby framework around 5-7.5cm (2-3in) tall. Keep plants damp by watering whenever the compost is almost dry. When new shoots sprouts in spring, start to water plants more regularly.
Sow winter lettuce
If you fancy crunching on a crop of your own lettuce leaves during the colder months to come, then sow some seeds now and you'll be picking your own from late autumn onwards. Not all lettuces can be grown over winter, so choose hardy varieties like 'Cassandra', 'All Year Round' and 'Marvel of Four Seasons', whose bright green leaves are flushed red. Growing them is a doddle. Simply sow seeds 1.5cm (½in) deep and 3cm (1in) apart, thinning them when they have germinated – the distance will depend on variety. To ensure plants thrive over winter, cover the young plants with a cloche to keep the worst of the weather at bay.
Harvest raspberries
You might think there's no discernible difference between raspberries but there's actually two types based on when they bear fruit – summer and autumn fruiting. Many gardeners prefer to grow summer ones but I think autumn varieties have the edge as they deliver the taste of summer all the way to the first frosts.
Raspberries are ready for harvesting when they are plump, consistently coloured and easy to remove. Ideally, pick in the morning, placing them carefully into shallow containers to prevent damage. Store them in fridge and eat within a couple of days. If you have a bumper crop, they'll last for up to a year in the freezer.
Grow festive potatoes
Loads of us plant potatoes in spring for harvesting in summer, but it's possible to plant tubers of some varieties ('Charlotte', 'Maris Peer' and 'Nicola') in early autumn for spuds that will be ready for unearthing during the festive season. Place a 40cm (15½in) pot in an unheated greenhouse, porch or cool conservatory. Add a 10cm (4in) layer of compost, place three tubers on the surface (there's no need to chit), cover with a 5cm (2in) layer of compost and add three more tubers. Cover again and water. As shoots grow, add more compost, stopping when you have almost filled the pot. Make sure you keep the compost damp, but don't over water.