When I began creating my garden in the early days, I was never too sure where things were going to go. I was buying plants but had still not really got any definitive structure. One easy solution for me was to use a variety of containers, which made the plants more flexible as I could locate them around the garden, depending on how they were looking.
Large containers can add real interest and look fabulous in a garden, providing a focal point, adding colour and texture, or making a statement. More importantly they can finish the look of a space. This looks amazing planted differently each season.
Vertical divide
One area of the garden frequently sees visitors on their knees gently poking around and trying to understand the planting arrangements. This picture shows the patio area behind the house where everything you see is in a container or terracotta pot. There are camellias, fuchsias, alstromerias, black bamboo, hydrangeas and much more filling the area between the Olearia haastii hedge and the house on the left. The wall of plants leaves them mystified, especially when I tell them that everything is growing in a pot. Regular feeding, this year with Flower Power, really guarantees a spectacular result.
One of my undoubted favourites is a pot of alstromeria, which contains the varieties 'Kaleidoscope', 'Flamingo' and 'Firecrest'.
Container carnival
My container collection includes a wooden boat full of Heuchera 'Sweet tea' and white lobelia and a metal watering can with Heuchera 'Fire Chief'. There are pots bursting over with succulents. A few years ago I made my own ceramic hanging cup planters to match the vintage china cups and saucers we serve our tea and cakes on when we open. They look fabulous with violas bursting out of them, or planted with succulents. Some planters hold special memories and meaning for me. My mother gave me the old rusted plant trough, dating back to the 1950s, which looks wonderful with the white geraniums in terracotta pots.
And for a big birthday, I was bought a pair of rusted metal urns; I've planted them with some beautiful pelargoniums: Pelargonium 'Meadowside Midnight'" and Pelargonium 'Lord Bute', with a pot of aeoniums in front. A grouped selection of pots can make a real statement in the garden.
Inspiration and ideas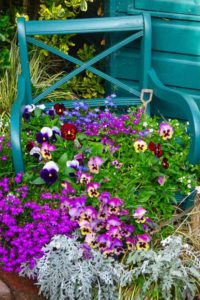 Another fun feature in the garden is an old chair I bought at the local dump for £1. I simply took out the seat pad, lined it with some pond liner and hey presto! The lobelia and the pansies, two of my favourite annuals in the garden, look simply wonderful cascading down from it. I would love to create a full table and chair piece all planted up but regret that space does not allow me to at Driftwood.
I am always asked how my hostas look so good and manage to avoid being eaten by snails and slugs. I always say it's luck, but it does help to sit their pots on an island, created by an upturned small saucer on a larger one and filling it with water. Laying gravel across the top of the soil also helps protect the plants from slug attack.
Another successful feature of the garden is the use of pots down the central steps. Visitors cannot tell how they are growing, because the area just looks one mass of interlocking woven blooms.
Without doubt, my favourite plant in a container is the stunning architectural Gunnera by the pond. Visitors are always stunned to learn you can grow them in pots! I bought mine a few years ago at Hampton Court Flower Show, I was advised by the grower that they will adapt to their growing conditions. Well, he was right, I've had it four years now and it looks incredible each year. It's left where it is over the winter, protected with bubble wrap around the pot and a couple of fleeces on top and it's thriving.
Container care
I've learnt that growing plants in containers is a great way to bring life and colour into otherwise dull spots in the garden. Patios, balconies and window boxes are all places where plants can be easily introduced in containers. Plants in containers do require more care than those in gardens, but nothing that the average gardener can't cope with. Almost any type of plant can be grown in a container but summer is the most critical period as plants can soon run short of water and nutrients so you need a watering regime. Mine can take me up to four hours a day as I have in excess of 100 pots throughout the garden.
My Auntie Margaret gave me a good tip that I've adhered to with pots. I put a piece of tin foil in the base of the pot to act as a small water reservoir, which I find helps throughout the summer months. So why not have a container bonanza in your plot this summer and see the garden alight with magnificent blooms? You can read more of the garden at www.driftwoodbysea.co.uk