Autumn is such an underrated season in the garden. Far from being a time when things wind down at the end of the year, this can be the most colourful season and it is one when shrubs excel; that is if you choose the right ones. I'm not just talking about autumn leaf colour either, as spectacular as it can be, I'm also talking long lasting displays of flowers and glowing fruits. Ask any gardener what he or she is looking for in a garden and nearly always colour will be at the top of the list. The autumn shrub palette delivers reliable colour more effectively than the planting palette of any other season.
In my book, The Creative Shrub Garden, I have put together simple planting combinations that create different moods and styles in gardens of any size from a small balcony or courtyard to a large country garden. Autumn conjures mellow and glowing and indulgent moods, warm colours that instil a feeling of wellbeing in the soft, warm light of fall. These are the colours of sunset, vibrant earth tones, brick, terracotta and fire alongside strong pinks and purples. Blues come into their own as they shine and contrast adding a gem-like quality. Cream and lime is present too in that autumn palette lifting the shade and adding a note of calm.
My favourite shrubs for autumn interest
When you think about it there are plenty of shrubs to plant for autumn colour and interest. Here are my recommendations. I've chosen them for their reliability and they are all are easy to grow on any reasonably fertile well – drained soil. Most would fit into any garden, even if you only have a small plot and none of them are what I call a 'three week wonder', in other words a brief display and then dull green and boring for the rest of the year.
Abelia x grandiflora 'Kaleidescope' will deliver a little autumn colour throughout the year but the hues become more intense as the year draws on. Shining gold and green evergreen leaves shaded orange and flame. This small shrub,, which would fit into any garden is sprinkled with dainty pink flowers in autumn.
Ceratostigma willmottianum produces the most vibrant sapphire flowers from late summer throughout autumn. It can be pruned hard in winter, almost to the ground if you want to keep it compact. The deep green leaves display sunset shades late in the year; stunning as a backdrop to the vivid blue flowers.
Cornus alba 'Sibirica Variegata' is truly a shrub for all seasons this variegated dogwood grows to only 90cm (3ft)so is the best for gardens of all sizes. Dark red stems in winter, attractive green and white leaves in summer that blush deep pink in autumn. Lovely with deep blue asters or late hydrangeas.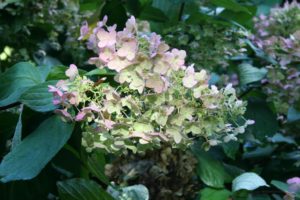 Hydrangea paniculata 'Unique' is a stunning hydrangea for semi-shade with huge, lilac-like panicles of creamy flowers that flush deep pink and green as they age. The flower heads are wonderful, even in winter when they turn to parchment. A superb choice for the back of a bed or border 'Unique' is best pruned hard in late winter, which controls its size.
The red-purple leaves of Berberis thunbergii 'Rose Glow' are suffused pink at the tips of the shoots. In autumn the foliage turns scarlet and the shrub certainly glows as small scarlet fruits develop for the birds to enjoy in winter. This shrub is a good mixer, adding dramatic foliage colour throughout the season and a spectacular autumn finale.


Euonymus alatus is a plain green shrub from spring through to late summer. However the foliage is light and pretty and the horizontal branches give attractive structure. The leaves start to flush cerise-red, becoming vivid crimson for several weeks. The fall foliage effect is truly stunning, especially in an open, sunny position.
Clerodendrum trichotomum 'Carnival' is the one to look out for. Soft heart-shaped cream, sage green and deep green variegated leaves are at their best in late summer and autumn. The flower clusters are carried above the leaves: white blooms with purple pink calyces, lovely against the leaves. Plant it with the cornus and the hydrangea for an interesting autumn highlight.
Tto find out how to make the most of them and create stunning planting combinations take a look at my book: The Creative Shrub Garden by Andrew McIndoe. Publisher: Timber Press – ISBN 978-1-60469-434-5
Or join me on my online course on shrubs at MyGardenSchool