Add some exotic colour to your pots and planters this season with a fabulous agapanthus plant.
Plant agapanthus in your garden for an exotic look this summer. These fabulous plants shout summer, elegance and beauty as they start to flower.
In recent years there have been some incredible new varieties of agapanthus bred for gardeners. This year Richard has secured limited stocks of four fantastic RHS AGM winning varieties that will flower for weeks and transform your summer garden. What's more as long as you can keep them protected over the cold winter months, these fabulous plants will establish into larger clumps, with many more flowers year after year.
Amazing agapanthus
Agapanthus are also called African lilies. These plants are brilliant for bringing exotic colour to gardens in summer thanks to their vibrant sprays of flowers held above strap-like foliage. Agapanthus are slightly tender perennials that flower for months on end through the summer and often into autumn. The large, colourful, trumpet-shaped flowers are held aloft above rich green strap-shaped leaves. These plants are sun loving and just perfect for sunny beds, borders and containers.
Agapanthus 'Fireworks'
This award winning variety is a real beauty with its colour changing flowers. Agapanthus 'Fireworks' is a compact African lily, boasting large, densely packed trumpet flowers that change from a beautiful dark, violet blue at the throat to pure white on the petal edges. It's hardier than many other agapanthus varieties, its evergreen foliage withstanding temperatures of -10C.
RHS AGM. Grows to a height of 60cm (24in) and a spread of 60cm (24in).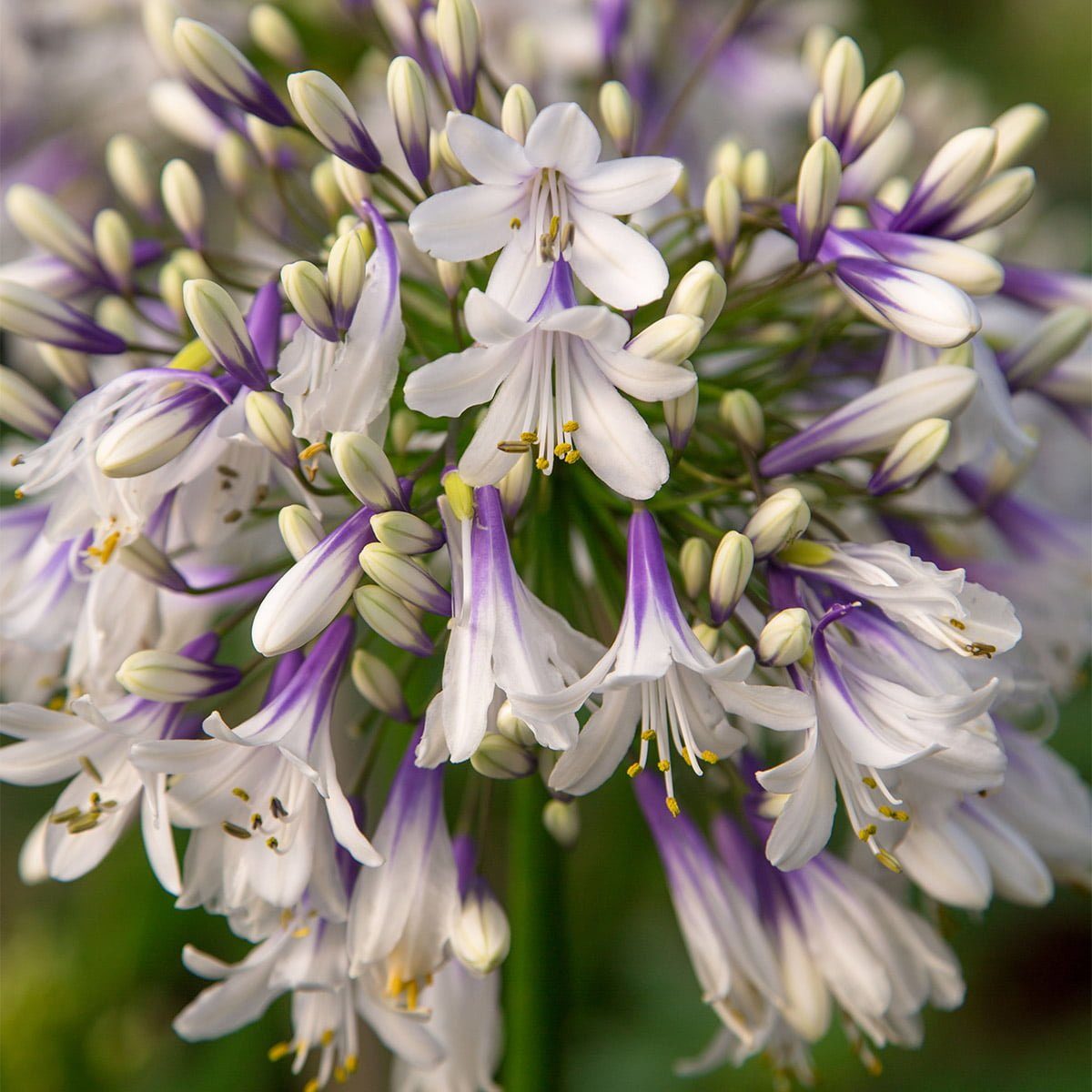 Agapanthus 'Flower of Love'
This beautiful agapanthus bears large exotic intensely-coloured, purple-blue flowers on tall stems over lush, deep green leaves. It has a long flowering period and is a great choice for beds, borders, pots and containers.
RHS AGM. Grows to a height of 60cm (24in) and a spread of 60cm (24in).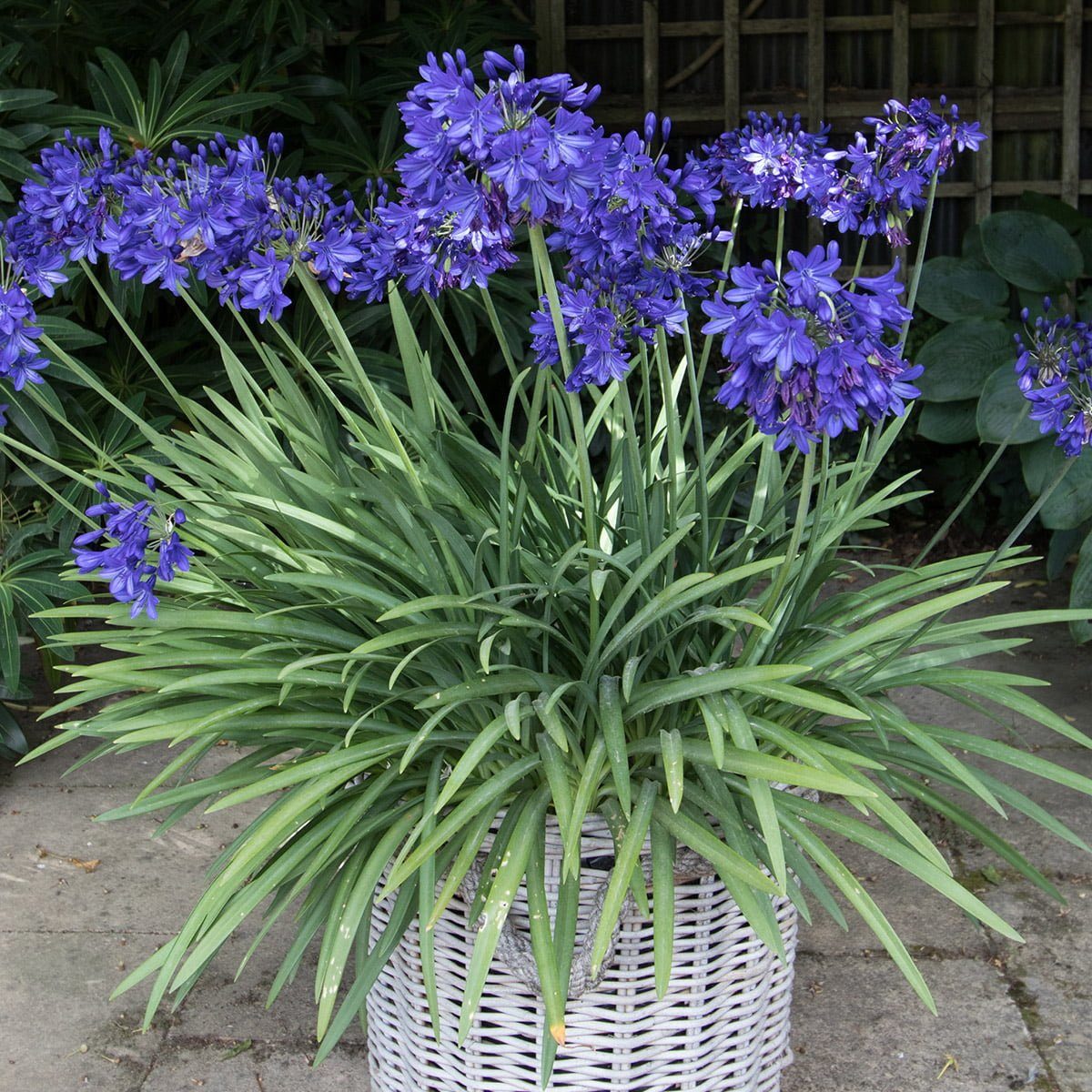 Agapanthus 'Purple Delight'
This gorgeous variety boasts exquisite rich purple flowers held on tall stems above evergreen foliage, creating a splash of vivid colour from mid-summer to early autumn. It's a perfect partner for white agapanthus like 'Snow Crystal'.
RHS AGM. Grows to a height of 90cm (36in), and spread of 50cm (20in).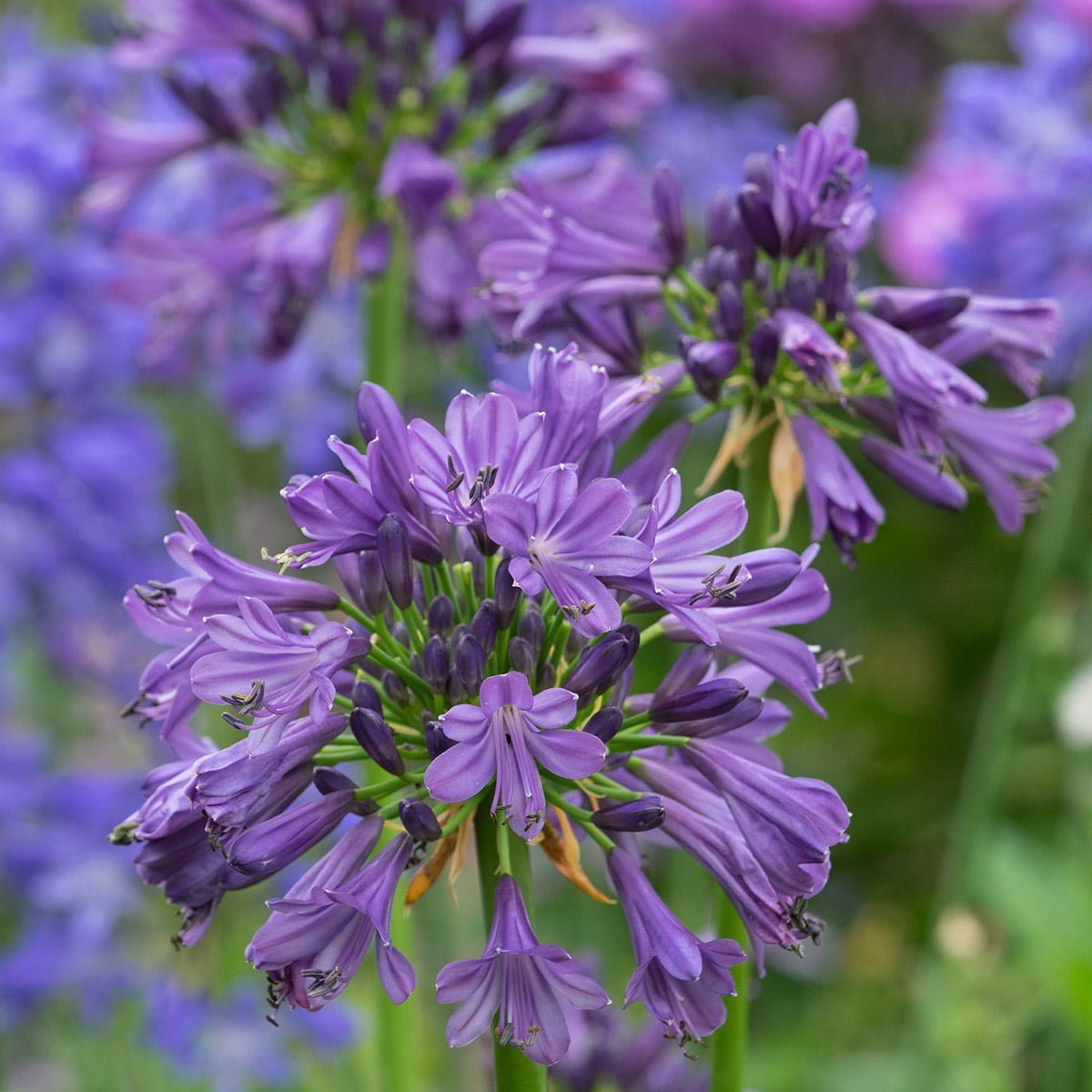 Agapanthus 'Snow Crystal'
As its name suggests, this exotic beauty has large heads of pure white trumpet-shaped flowers that form on upright stems from mid- to late summer above semi-evergreen foliage. Agapanthus 'Snow Crystal' is the perfect partner for 'Purple Delight'.
RHS AGM. Grows to a height of 80cm (32in) and spread of 60cm (24in).