Don't confuse this gorgeous pink hydrangea with those you see in your neighbours' gardens.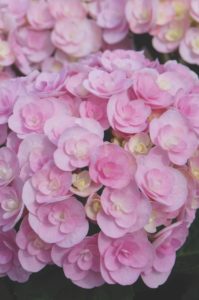 Hydrangea 'Love' far outperforms the common or garden hydrangea in terms of flower shape, colour and more. It's been painstakingly bred to be a garden stunner and there are a limited number of these beautiful plants available this season.
Hydrangea 'Love' is a new introduction from a small Japanese breeder who has been working on the hydrangea family for many years. A previous introduction, 'Miss Saori' became the RHS Plant of the Year at Chelsea Flower show in 2014 and Hydrangea 'Love' is from the same stable, so it comes with an excellent pedigree.
Sugary pink flowers
The large, elegant flower heads are a light limey green in bud and open into soft sugary pink, double flowers, in several layers so that the flower heads last for longer too. Hydrangea 'Love' keeps flowering for longer than standard hydrangeas, right through the summer months of July, August and September and so it is great for adding colour and interest to a summer border or the patio.
Thompson & Morgan's New Product Development Manager Michael Perry is a bit of a plant hunter, scouring the globe for new and innovative plants and products and has been instrumental in introducing many exclusive new varieties. He jumped at the chance to offer this fabulous hydrangea to other plant enthusiasts.
"I've always been a fan of hydrangeas, and when this variety came along, I had to make sure we could offer some to our customers right away." He's possibly got a little carried away with his adoration of Hydrangea 'Love', " I even have a tattoo of it on my elbow!" he admits. " It gave the breeder quite a surprise!"
Hydrangea care tips
Hydrangea can be very thirsty plants, so make sure you water them regularly. However, it also means they are brilliant for difficult, damp shady corners of the garden, where the sparkly blooms will delight.
Mulch around your plants after planting to hold the moisture around the root ball, but be sure to water thoroughly.
Feed with Flower Power through the season to keep it flowering and making flower buds for the next season.
Remove the dead flowers in the spring when all danger of frost has past, the flower heads protect next year's buds from the frost.