When you want flower power in your pots and planters, choose petunia garden flowers. These fabulous plants will create an amazing display all summer long.
Petunia garden flowers are the must have plants for creating the wow factor in your garden. They are easy to grow and quick to start flowering, filling window boxes, hanging baskets and patio pots with fabulous colour all summer long.
There has been a lot of plant breeding and interest in petunia garden flowers that have resulted in some fantabulous selections. Look out for these amazing plants and get your order in place to secure these plants for your garden.
This season petunias are on-trend and there are three amazing groups to look out for; Surfinias with their flower power brilliance, the tumbling Tumbelinas and the new, amazing Beauticals.
Award winning Surfinia petunias
It's not surprising that Surfinias are the top selling trailing petunias in the world. Their long trailing stems and large brilliantly coloured flowers will delight you with an amazing display, all summer, whatever the weather. Surfinia petunias offer fantastic flower power all summer. The flower filled stems cascade to 90cm (3ft), filling hanging baskets and window boxes with colour. They have superb weather resistance, so look great even if it rains, perfect for our British summers. The plants are very easy to grow, vigorous, disease- and weather- resistant.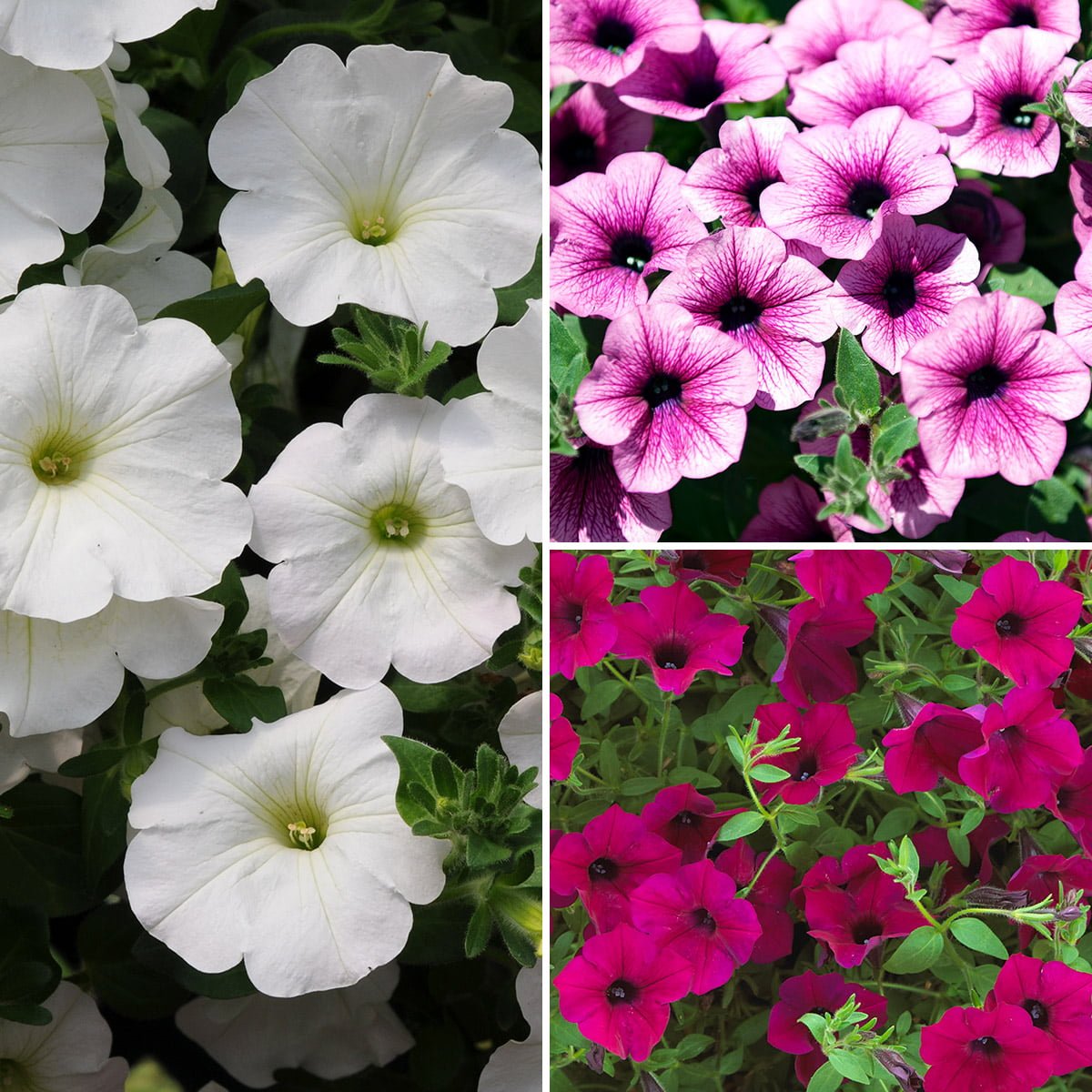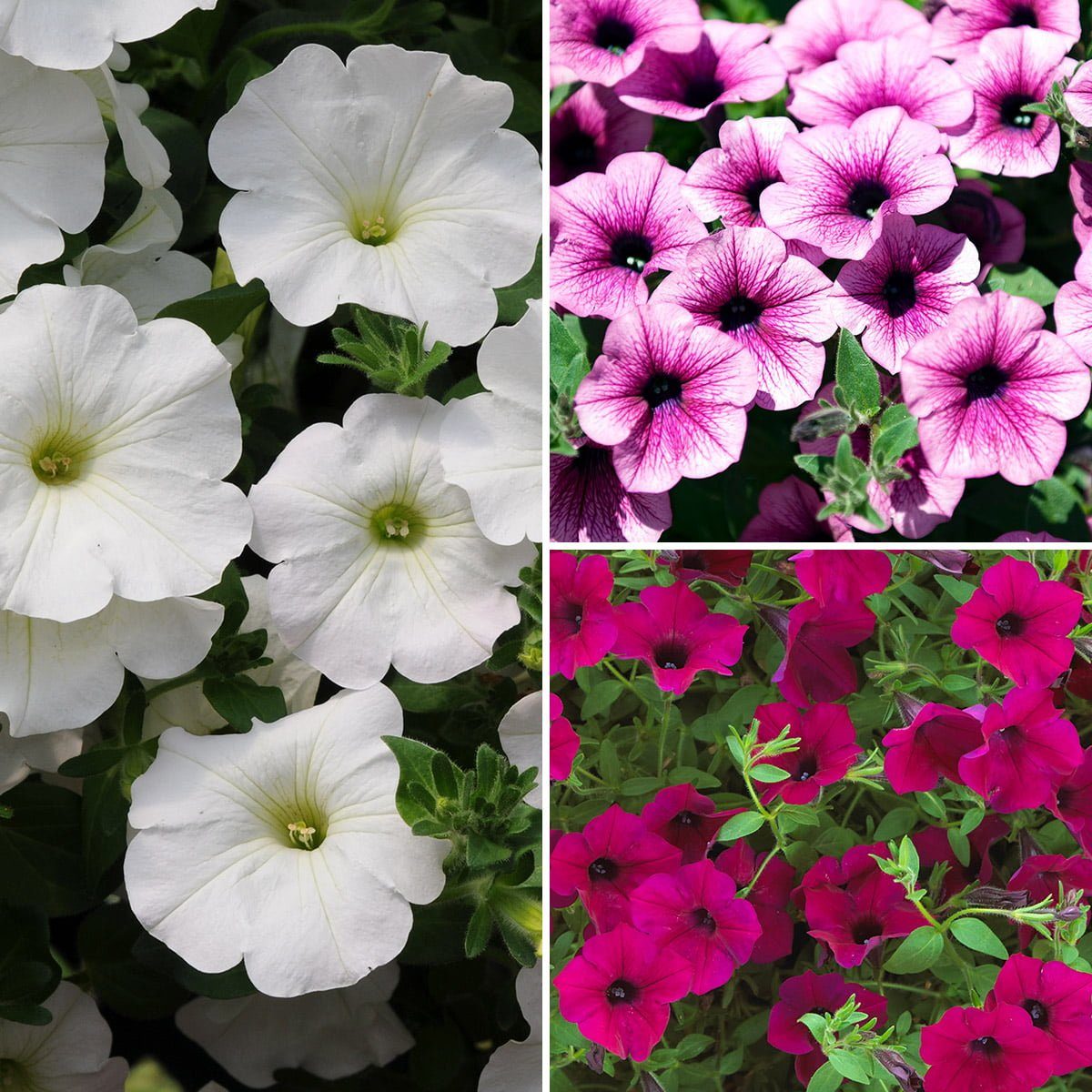 These trailing Surfinia petunias are simply fabulous. Their long trailing stems cascade over the sides of hanging baskets and window boxes, producing a waterfall of colour throughout summer and well into autumn. They're so good and so reliable that many gardeners buy them every single year. Some colours grow better than others, and only a very few have the coveted RHS Award of Garden Merit. Look out for these because they are the very best varieties; Surfinia Purple, Surfinia Pink Vein and Surfinia White.
Tumbling Tumbelina petunias
Tumbelina petunias are the most charming trailing petunias that you can grow. These fabulous trailing and tumbling petunias have the most beautiful, scented, double flowers produced on long trailing stems all summer long.
Tumbelina trailing petunias really are exceptional and absolutely outstanding – the best double-flowered trailing petunia you can grow. These pretty trailing petunias fill patio pots and baskets with colour and fragrance. Some trailing petunias can grow long and straggly, but these don't. They have a very neat habit and hug the sides of the container and look a picture all summer. And they smell as beautiful as they look. These are the best double-flowered trailing petunias you can grow and have been proven to thrive in all summer weathers, flowering from June to the first frosts. Bred by our gardening friends, the Kerley family, near Cambridge, they flourish whatever the weather. They've been bred, trialled, tested and proven to thrive in our summer climate, whatever the weather. Look out for these three fabulous varieties:
Tumbelina Priscilla (an AGM winner), whose flowers are a soft lavender in colour. Tumbelina Anna, which is a pink and white bicolour mix and Tumbelina Superstar, a brand new variety for 2021, which is deep crimson-rose with a white rim.
Plants trail up to 35cm (14in).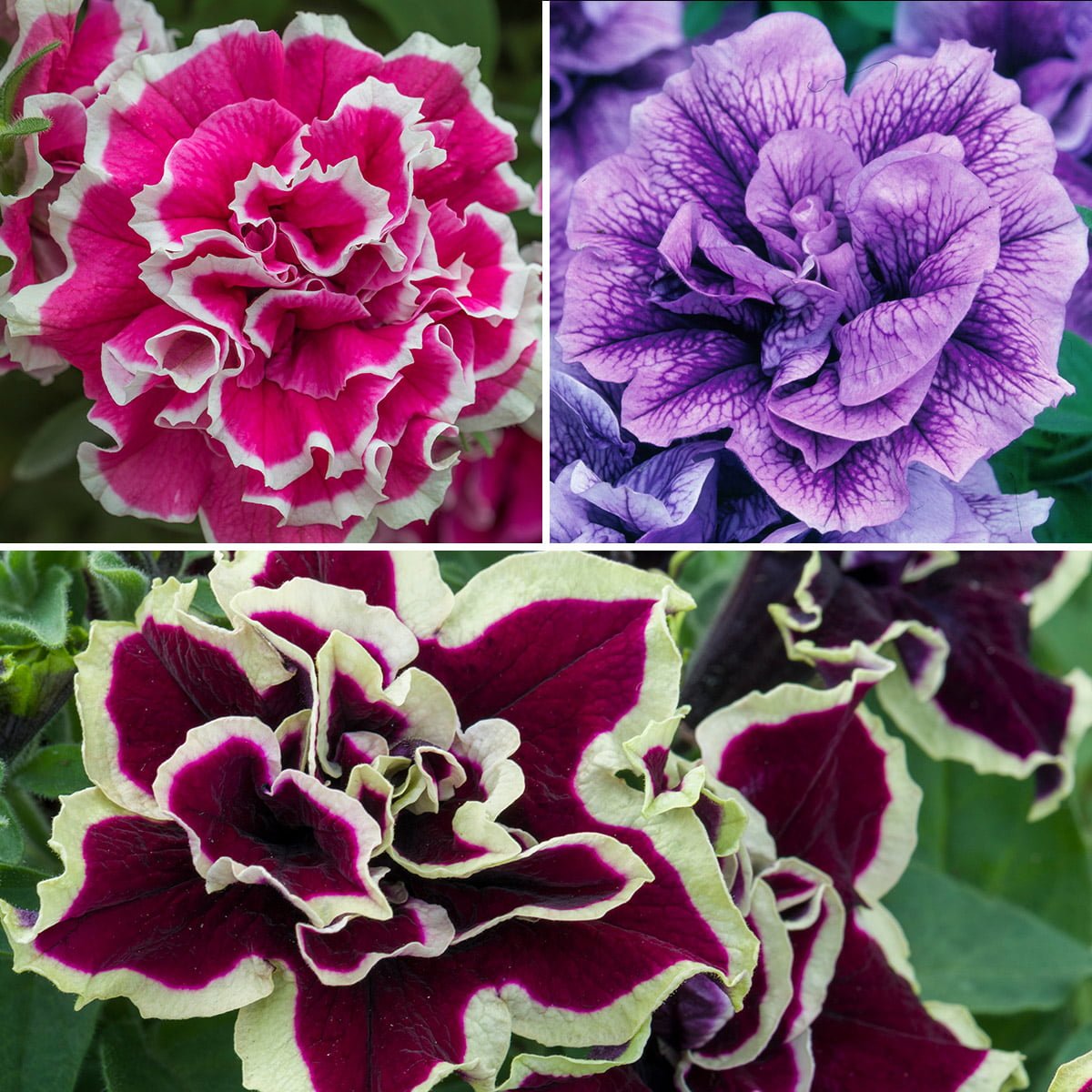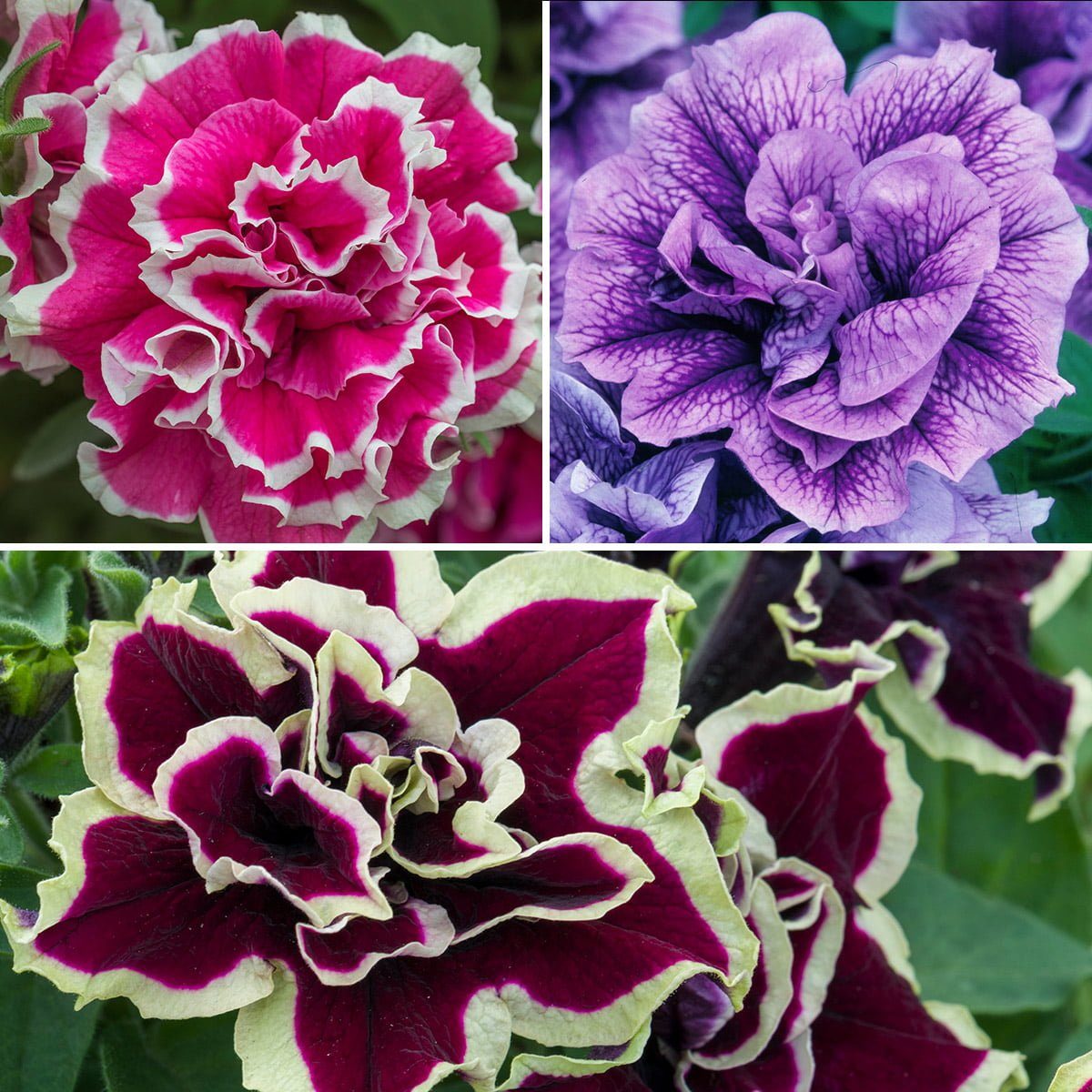 Beautiful Beauticals
Beauticals are astonishing new generation petunias. They combine the size and beauty of petunia flowers with the mass flowering and superb weather resistance of their cousins, the calibrachoas. So you get the best of both worlds. These are fabulous rain and weatherproof petunias that put on a brilliant display, whatever the weather. The neat mounding plants are covered with so many flowers you can't see the leaves and they keep flowering happily from June through to October.
If you don't like the slightly sticky foliage of 'normal' petunias, then you will love these because they have non-sticky foliage
Beauticals are often referred to as super petunias and even petchoas, as they're a cross between petunias and their closely related cousins, the calibrachoas. Richard has fallen in love with these plants and is so impressed by them he thinks that they are one of the finest new bedding plants of the past few years. "Every gardener I've met who has grown them loves them. They've got incredible flower power but they are also tough, weather tolerant and easy to grow." The flowers have wonderfully rich colours and are produced all summer long on plants that grow into neat mounds, covered with blooms, and growing up to 30cm (12in) high and up to 40cm (16in) wide. Look out for these three amazing varieties in rich spicy shades.
Beautical Caramel Orange has golden yellow bloom with caramel centres. Beautical Cinnamon is sunset orange, turning to copper shades. Beautical Sunray Pink has pink petals, with darker veins marking the lovely yellow centre. It is absolutely superb.