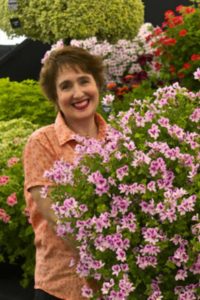 This blog post comes from Helen Bainbridge. Helen has bred and shown pelargoniums since 1992, in that time her company Fir Tree Nursery has won seven Chelsea Gold Medals and over 100 Gold Medals from other RHS shows. After her nursery closed in 2014 she has concentrated on being an RHS judge.
Pelargoniums are one of the best kept secrets in gardening. They're very easy to grow, even for beginners, and they'll reward you with a stunning display all summer long. For the best results, here are my top tips for success.
Re-pot plants into a pot about 1 inch larger than the pot they are in about every six to eight weeks through the growing season (April – September). If your pelargoniums are planted into a mixed container for the summer this does not apply.
Pinch out the growing tips leaving the flower buds to keep the plant in a nice rounded shape, and to encourage bushiness, do this throughout the growing season.
Feed with a high potash feed such as Flower Power at least once a week or every time you water throughout the growing season. Allow pelargoniums to dry out for a short time between waterings.
Dead head as blooms fade to prolong flowering.
Trim back pelargoniums in October to three leaf joints above the old wood, so that the plants are in a neat rounded shape and manageable to bring in for the winter. Keep somewhere frost free and light. A heated greenhouse, conservatory or windowsill are ideal. Keep watering the plants during the winter months as they continue growing slowly. Use plain water approximately every two weeks or when plants are dry.