Plants in pots and containers make up parts of most gardens, but they can be used to plant larger areas too, giving you lots of options in terms of plant choice and design.
This year Geoff Stonebank's blogs have been on the subject of containers, but one area we have not covered is the use of pots and planters for a variety of purposes in your garden.
I suppose you could call these my design tips, although to be honest my own garden has just developed organically year on year rather than through any grand design plan.
Room dividers
The first of these tips might be the use of containers in the creation of garden boundaries or a room dividers. Regular readers will know I use containers for virtually all aspects of my gardening at Driftwood. As I've said before, using so many pots in your garden provides you with the perfect opportunity to move them around each season and create a different look or ambience. On the patio near my green folly door, I have 3 largish, concrete containers that contain a hedge!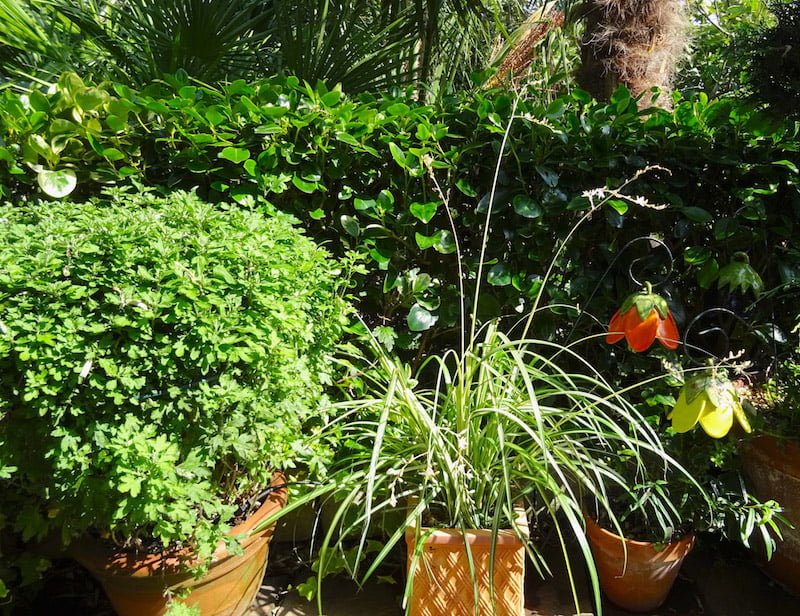 They are planted up with 6 Griselinia littoralis, a great seaside shrub. They are also known as New Zealand Privet or New Zealand Broadleaf, Griselinia makes a great evergreen hedge plant that has become very popular in recent years. It has a naturally upright yet bushy growth habit that is perfectly suited as a hedge, with regular trimming they can be kept comparatively narrow like mine, saving valuable space where it is at a premium, perfect for mobile hedging! Perfect too to separate this small patio from a jungle area.
Room to room
Containers can also make a great impression lining steps. I use this principle on both my sets of steps at Driftwood in the back garden. The steps up to the summer house patio have a large standard olive tree either side at the base and then 2 small oleanders on one of the steps, topped off with 2 small standard bay trees at the top. Edging through the head-high olives on the way up, gives the feel of moving from one room to another.
River of colour
I do think though that the most impressive use of containers I've got this year, is on the central steps. Once you glimpse the dense and colourful planting, as you turn up the central path, you are immediately drawn right up to the length of the corridor and swiftly sucked up to the green folly door in the background.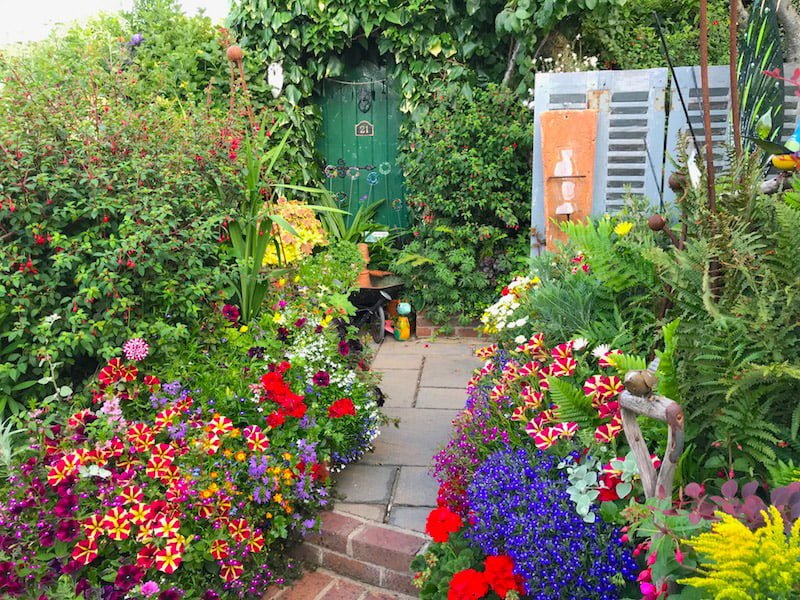 Believe me, everything you see in this photo looking up the steps is in a container, except the fern on the right and the fuchsia magellicana on the left. The dense planting ensures the containers get covered and completes the illusion.
Trees in pots
Another great tip is to plant a small tree in a large container. I've got a Cryptomeria japonica planted on a corner in a terracotta pot. It has grown beautifully in recent years but I do tend to fleece it in the winter to protect it from the harsh salt winds. This year, as you see I've put it on the corner of the central path and grouped other containers around it.
In the foreground a standard holly, in a cubed container, underplanted with some stunning Verbena 'Empress Flair Peach', add to that the terracotta urn, the spirea in the ground and the Himalayan honeysuckle or Leycesteria formosa in a pot behind all create a perfect division leading into a narow patio behind the house. Equally it could provide a perfect piece of screening from a neighbours garden too or a focal point to break up a large patio.
Hidden Planters
For me, it is not possible to underestimate the value some well-chosen containers and plants can have on your ability to create your own designer plot. More importantly, if you plant like me on the central steps, you don't need expensive, good looking containers either, as no one can see them once the blooms tumble over them.