The chance to escape from the office and go out and visit a garden or two is a real treat and not always possible for me in the peak of the season. But I'll let you into a little secret; I actually prefer visiting gardens out of season and in the autumn.
So when the Garden Media Guild orchestrated not just an autumnal chance to visit the amazing plant collection at the Sir Harold Hillier Gardens, but also the opportunity to be escorted and educated by plantsman Roy Lancaster CBE, I jumped at the chance.
Storyteller
Anyone who has spent a moment or two in the company of Roy will know that every plant has a story and he generously offers detailed, fascinating and informative insights, anecdotes and stories into the magical world of plants. A tour by Roy was going to be a real treat and we weren't disappointed.
Our visit coincided with the beginning of autumn and the trees were just starting to change their cloaks from summer florals and spectacular foliage to fiery shades of blazing orange, reds and golden yellows. What a treat. Every morsel of knowledge was absorbed and slowly digested by the privileged few that joined the throng, the sun shone and the trees and plants that led the way became new found friends, rich in intrigue and flamboyance as Roy introduced each as a well-loved friend and shared his anecdotes and historical tales. It was slow absorbing progress, but I didn't want it to end as we stopped and looked and listened, enthralled with his captivating insights into everything botanical. The garden is a treat at any time, but Roy's lively narrative brought every aspect into full and amazing Technicolor. We toured the gardens in a scratch and sniff meander, stopping to literally smell the roses and admire both new and established plantings. From the Valley of Fire emblazoned in autumn hues to the newly planted herbaceous borders still full of flowers and structure.
We learned more about Roy's time as curator of the gardens and gleaned some personal insights into the real character of Sir Harold and his love of trees and plants. It was a truly magical opportunity and one that will be ingrained in my memory forever.
Golden grasses
The following day, I took a little detour across the plains of the New Forest to a little garden in Dorset. Knoll Gardens is renowned for its grasses, but there is much more to this garden than monocots and blades. And it's much more than a grass garden too. An afternoon spent with Neil Lucas, the acclaimed conductor of an orchestral movement of shimmering fronds, glorious glades and spectacular hues is a rare treat.
His Gold Medal winning techniques know no boundaries and have created a plant collection that is not just unique and completely breath taking, but also one that satisfies the curious, the botanist and the garden dabbler. Disguised as a Master Class in grasses, in fact it was a meeting with unknown friends as we meandered through the myriad of trees, shrubs and perennials for an insight into the personalities of the plants. We marvelled at the autumnal shades, admired the dramatic stands of carefully rhythmic perennials and learned just a little about grasses. Seasoned with insights into the naturalistic value of this dreamy plot, we found hornet nests, bee holes and all manner of evidence of the true importance of this nature-tuned style. We learned maintenance techniques for perennials and grasses, good grasses for difficult conditions and pairing grasses with herbaceous. And then we ate cake under the enveloping cover of a garden gazebo that marks the spot of the newly agreed schoolroom and workshop. A hairdresser in a former life, Neil demonstrated his short back and side's technique of cutting grasses back to the ground and shared his humour, knowledge and friendship with all. It was a master class of magnificence, composed by a master with the acquired confidence of a leading light in horticulture and a persona of excellence and kindness. Another wonderful day.
The great escape
For the next few weeks the magnet of the computer and deadlines drew me back to the office. A book manuscript to finish and a deadline for the RHS and Telegraph Gardening beckoned. And then a much needed week off. The weather was unkind. Very unkind. But the destination more than made up for the vagaries of early winter. It rained, a lot. But the one garden visit planned still went ahead. The Eden Project.
Just its name conjures images of grandeur and it doesn't disappoint. The great biomes have multiplied since my last visit and now encompass a Western Australian Garden and vast swaths of botanical wonders to enthral and inspire.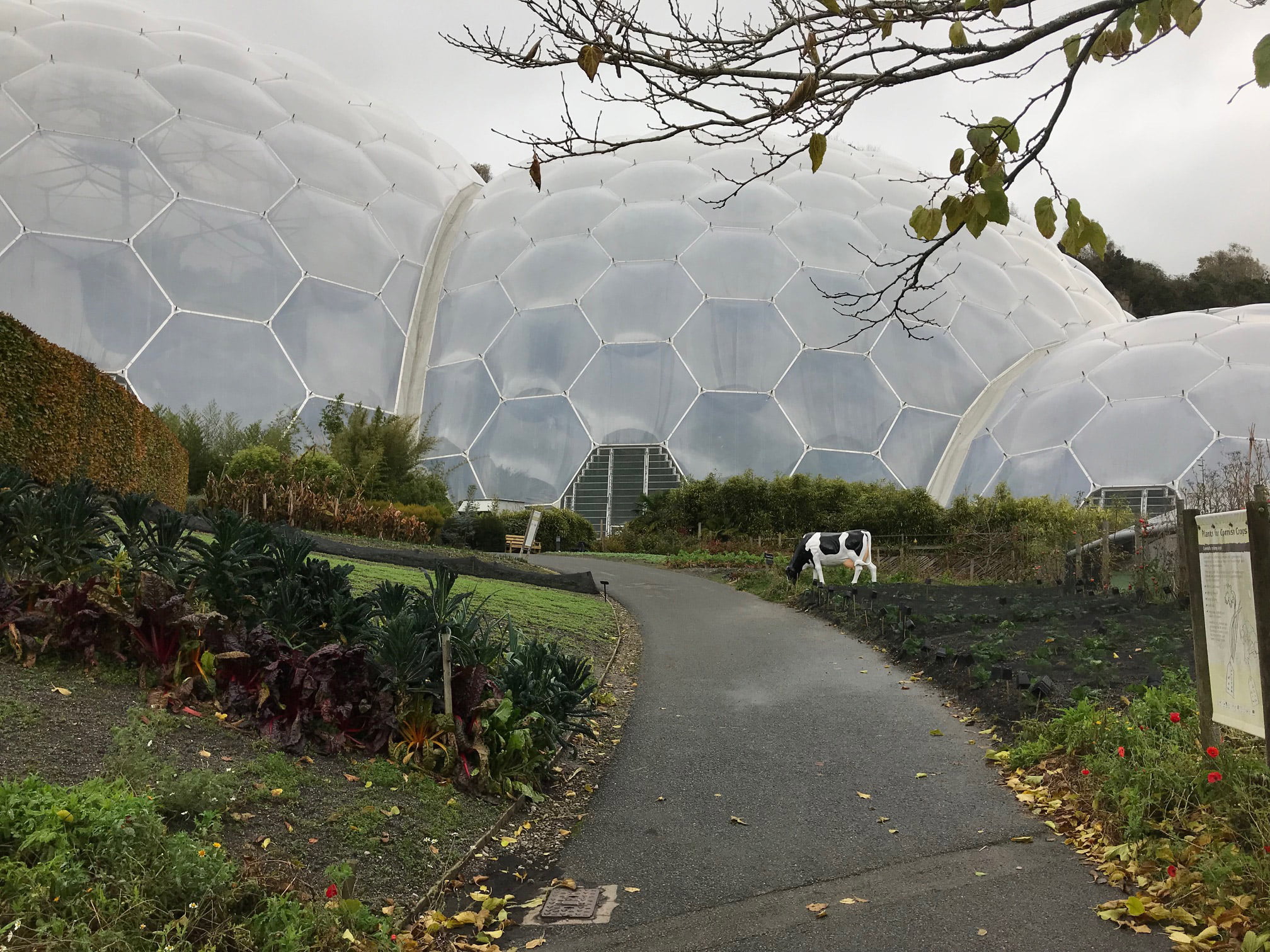 It's grown a lot and the outside planting was magnificent though sadly mostly obscured with sheets of rain. A pollinator garden featuring a large bee sculpture was a fabulous addition with beds packed full of bee good plants, some still flowering in November.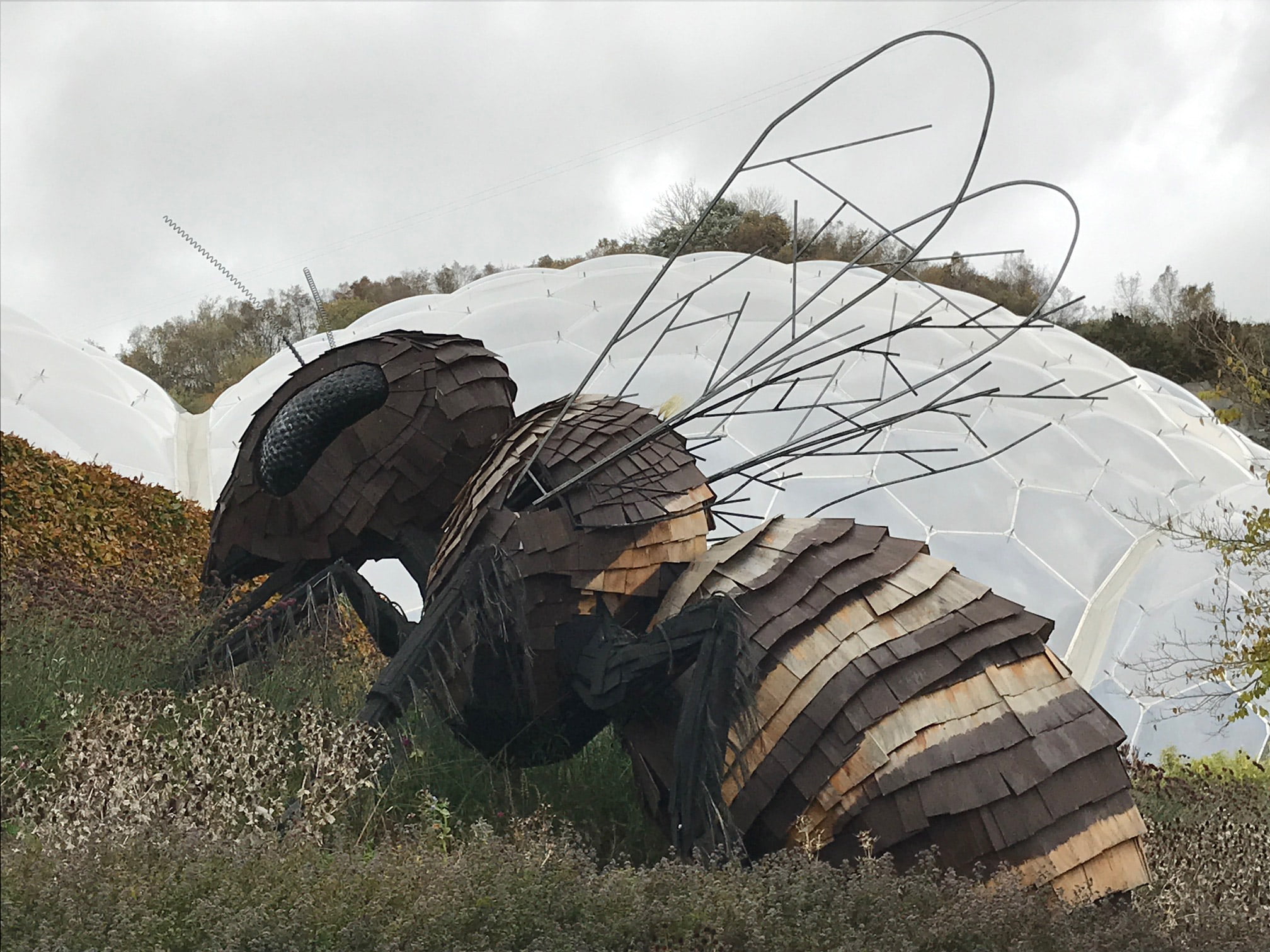 The Core, an interesting architectural creation based on the structure of a sunflower, nestling within the landscape houses an invisible world exhibition of fungi, microbes and more. On the ground floor we were wowed by a huge ceramic sculpture that rises to the roof and puffs vapour rings into the air. It's homage to the cyanobacteria and other invisible life forms that produce the oxygen in the air that we breathe. Sadly rain stopped play and we retreated back to the dry, safe cottage to dry out. The Eden Project is a good place to visit on a wet day but to make the most of the landscaping and external gardens choose a day that has windows of brighter weather. We didn't dress for the monsoonal downpours and missed out on a lot this remarkable destination has to offer.