Tree peonies are native to China where they have been cultivated for years. Tree peonies are ideal for borders, beds and large containers and the flowers are excellent for cutting. Individual plants make spectacular garden features with large showy blooms with a rose-like fragrance. There are lots of fantastic varieties to choose from, look out for:
'Dao Jin' – which has large red and white bi-colour double flowers.
'Hai Huang' – with its unique rich golden yellow peony flowers
'Hu Hong' – with its ruffled rose-type flowers in a soft pink with an exquisite fragrance.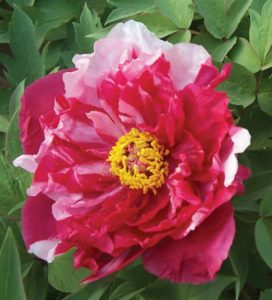 Cultivation tips
For the very best value seek out bare root plants that can be planted while dormant into their growing position.
Tree peonies are adaptable, hardy and very resilient, tolerating most garden conditions as long as they have good drainage.
Give them plenty of space to mature; plants will reach up to 5ft (1.5m) in spread and in height.
Once established your plants will bloom year after year, in early to mid summer, from May until June.
Feed your plants with Richard Jackson's Flower Power Plant Food to guarantee the very best display possible.