Sometimes gardeners give things complicated names. Plants are the perfect example; botanical names can seem like an alien language and heaven help us when the botanists reclassify them into something else entirely. Gardening terms and techniques can seem baffling but it's just like starting any hobby you quickly get used to the quirks and the language and the labels. Biological control is simply a different name for nature stabilizing the natural balance of the garden. It's the purest, kindest and most eco friendly way to keep your garden healthy and makes your garden a safer place for pets, children and wildlife while at the same time minimizing the effect of some garden dilemmas.
Nature matters
Garden Biological control in its simplest form is using the power of nature to keep everything in balance rather than resorting to chemicals and pesticides. Often pest explosions coincide with the emergence or the hatching of the predators that feed on them. So it's important not to panic. Once you understand the way nature works you start to notice it more. The blue tits raising their chicks are looking for food just as there are lots of caterpillars in the garden. The garden wasps are also searching for wild food as they feed their offspring in their nests. Even the hedgehogs are doing their bit as they emerge from hibernation looking for grubs and bugs to fuel their lives. Biological control is a technical term for something that is already going on in and around your garden and in nature right now.
Probably the most obvious example would be ladybirds and hoverflies devouring the garden aphids. It's not just the adult ladybirds that feed on greenfly and blackfly, the juvenile ladybird larvae eat even more. You can boost your garden population of ladybirds with a special pack of Organic Aphid Control Ladybird Larvae. This releases a fresh population of aphid eating larvae into the garden, which will feast on the aphids and then mature into adult ladybirds and then start the cycle again. Once you've increased the ladybird population in the garden they will build up and remain active in your garden for years to come. But it's important to resist using pesticides alongside your natural allies as you may inadvertently kill off the very creatures you want present for future pest control.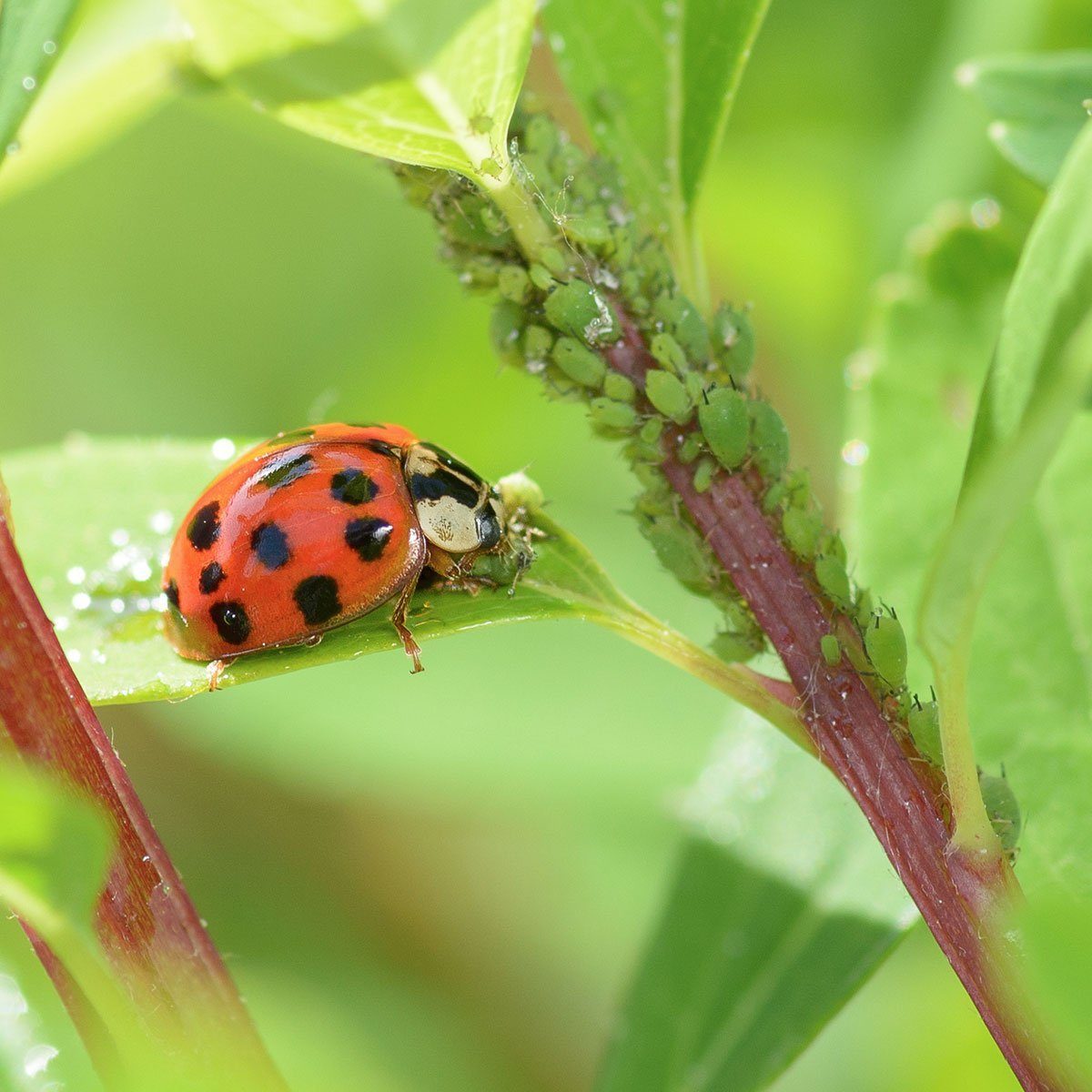 Garden Biological Control – A Concentrated effort
These days you can buy specific natural controls for all manner of garden issues. Out in the garden, you might find simply supporting the wildlife and feeding the birds is enough to keep your garden healthy and pest free. But when you are battling more voracious plant munchers you might want to up the ante. For example large numbers of slugs and snails can be controlled by watering a special nematode rich solution onto the spring soil. This releases an army of slug busting nematodes into the garden which will silently and very discretely deal with a slug explosion and remain active in the moist soil to deal with any peaks in slug activity. And in a similar way a different species of nematodes is used to water garden pots and planters affected by vine weevils.
These naturally occurring nematodes are then present in a concentrated amount and can work quickly resolving the immediate problem and leaving a residue of natural predators in the soil to keep working to control future issues.
You can't contain these nematodes or control where they go, so once you've watered them onto the soil they will start to work wherever they find their target host whether that is the garden slugs or the vine weevils. There are several different species of nematodes that are employed in this way against different garden problems, including leather jackets, and even ants.
The great thing about these products is that they have no effect on children, pets and wildlife and create a long lasting and very safe way to control garden problems with no impact on the environment. And they remain active in and around the garden as long as there are host species to complete their lifecycle.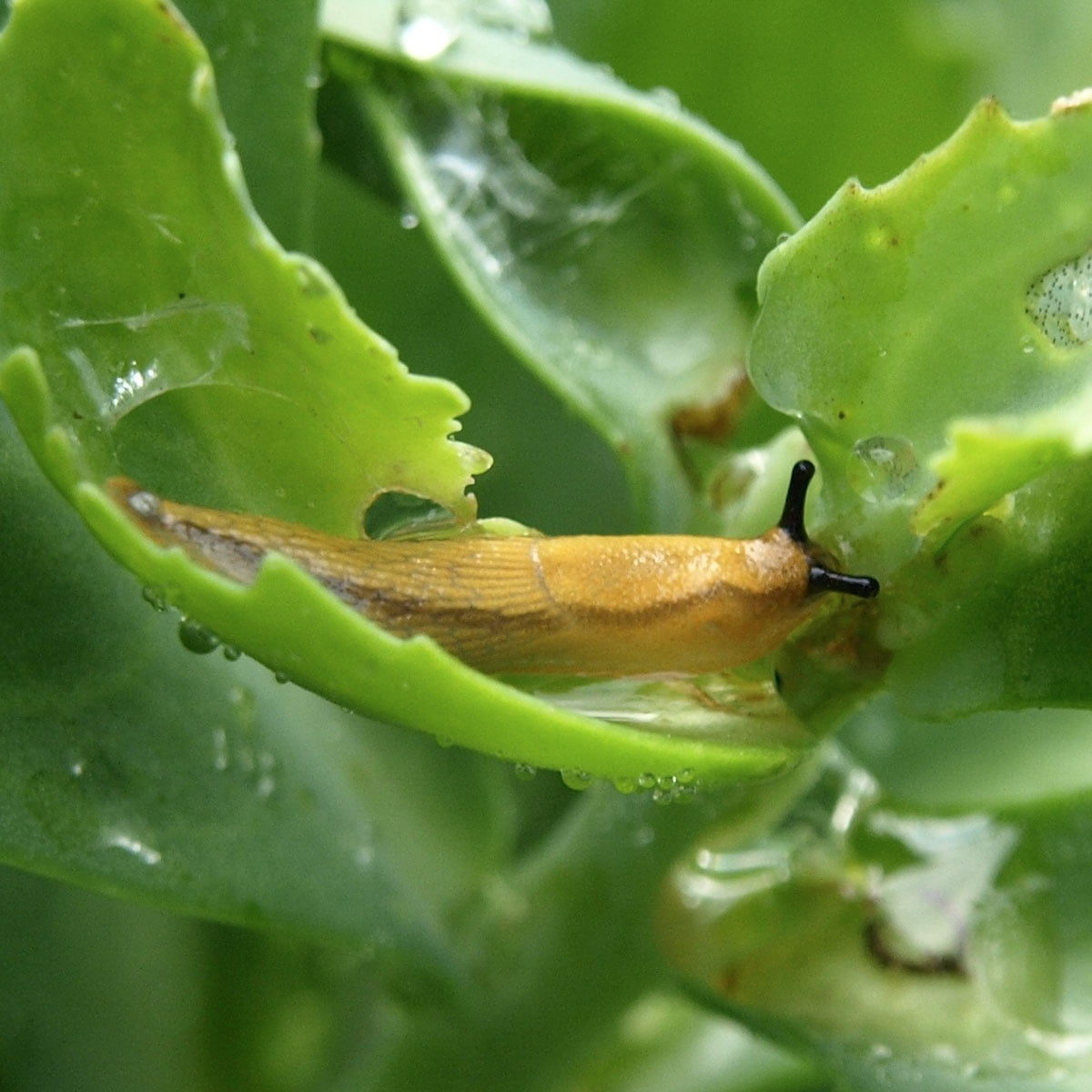 Dealing with greenhouse dilemmas
If you've got a garden greenhouse then it can upset the general predator and prey balance because the glass walls prevent the movement of insects and predators in and out of the glasshouse. So an explosion of say aphids in the garden is the perfect meal for the long tailed tits or the ladybirds, but in the greenhouse where the birds and insects can't access, a similar aphid explosion could get out of hand. That's where biological control wins and it's the perfect choice for edible crops, like greenhouse tomatoes and salads that you don't want dressing in pesticides. The greenhouse mostly contains the predators so that they stay inside and work on the problem.
These days biological control is the favoured method of pest control for many greenhouse owners both amateur and professional. It's a simple but effective system that exactly targets the pest problem in the greenhouse with the correct predator or parasite that needs that bug for its own lifecycle and kills it in the process. These predators are naturally occurring in your garden, just in smaller numbers, so all you are doing is bringing in a concentration to deal with a problem, when the problem has gone the predator or parasite will die back.
The secret is to identify the pest and employ the correct control. But there are rules too, you cannot use pesticides in your greenhouse while you are using biological controls because the insecticides aren't selective and will kill all the bugs present, even the good ones. And if you have already used powerful systemic insecticides in the greenhouse this season, these will affect any bio controls you then introduce, so you need to be careful and decide which route of pest control you intend to use. You can't really mix them up. There are a couple of exceptions where you can knock down a pest epidemic using a contact spray containing soft soap and then after a few days introduce bio control, but it's best to get proper expert advice on that.