Strawberries are one of the most popular plants for gardeners to grow, offering pretty, open flowers that are a magnet for pollinators, followed by plump, tasty fruit that just about everyone loves.
They are easy to grow, even in the smallest space, and can be grown in pots, containers and window boxes producing flowers and fruits over the summer months.
Breeding breakthrough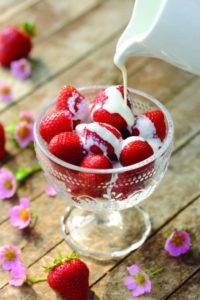 Now meet the very latest in strawberry plant breeding. After 8 years of intensive development work Thompson & Morgan is introducing the brand new variety called strawberry 'Just Add Cream™' (Fragaria x ananassa).
These fabulous, decorative strawberry plants have masses of pretty pink flowers making them a very attractive ornamental strawberry and really earning their place in your garden. They form fruits early, when strawberries are at their highest price in the shops (think Wimbledon prices) and the plants keep cropping from early May right up until the first frosts (usually in October in the UK).
Fabulous flavour
There's no point growing lame tasting strawberries and this variety has a truly magnificent flavour. It boasts a unique sweet flavour and aroma unlike any commercial strawberry, with the very special and taste of the wild woodland or alpine strawberry that is highly sought after by discerning chefs. In fact its flavour is actually stronger and more stable over the season than varieties with a similar aroma note, like 'Mara des Bois' and 'Charlotte'.
Ideal choice
Strawberry 'Just Add Cream™ looks stunning cascading from hanging baskets and patio pots. The plants are hardy perennials that will die back over winter and regrow into a cushion shaped plant with a height of around 30cm (12in) and a spread of 50cm (20in). Each plant will mature year on year and your delicious harvest of fruit will just get bigger each season.
Strawberry 'Just Add Cream™ is the ideal choice for the patio or kitchen garden. Your plants will produce pretty pink flowers from May until August, followed by delicious, fragrant strawberry red fruit. Just add cream to make these exquisite fruit a summer dessert like no other.
Growing tips
For the best value, buy bare root strawberry plants that you can pot up and grow on before planting into containers or your strawberry patch.
Pot them up into small 9cm pots using a quality potting compost. Allow the roots to fill the pots and then plant out into containers to allow them to establish before placing outside.
Prepare your containers and baskets before planting. Use Richard Jackson's Premium Multi Purpose Compost for the best possible results. It enhances drainage and root development and is enriched with Flower Power nutrients, extra wetting agent, Root Booster humates and seaweed extract to give your plants a great start to the season.
Feed regularly throughout the growing season with Flower Power to get the very best from your plants and masses more flowers and fruit.
Strawberries are sun-loving plants that are usually grown as perennials so your plants will establish and the harvest will grow year on year. Choose a sunny place to grow them for the best results.
Keep them well watered in hot sunny weather, but don't overwater when the weather is cooler.
Keep the fruit off the ground where possible by mulching around the plants with clean straw or use special strawberry mats.
Protect from slugs using controls methods that are safe for pets, children and wildlife such as nematodes, barriers, traps or Richard Jackson's Advanced Formula Slug and Snail Control.