If you've got a gardener left on your shopping list, we've got all angles covered for some amazing festive presents for your gardening friends, family and neighbours. Anyone with a garden will love one of these great ideas.
Grow your own butterfly garden
Here's a lovely idea for young and old. Everyone loves butterflies. They are the ethereal fairies of the flower garden, wafting from flower to flower as they feed on nectar. Butterflies are vital pollinators and need our garden feeding stations to fuel their adult life stage. Make your garden butterfly friendly with our fabulous Grow Your Own Butterfly Garden, or give it as a gift. It's perfect for the kids, or as a family present for anyone with a love of nature. At just £12.99 it won't break the bank and it looks like you've chosen something really special. We did it for you to save you time and we think it really shows. Each kit contains easy to grow flower seeds to feed your butterfly buddies, two packs of Richard's amazing Fizzy Flower Power Plant Food Tablets and a pair of our favourite mini flower snips.
For the bird-lover
This is a real winner when it comes to giving this Christmas, a gift hamper with a difference, a hamper for the birds. Not only is this a great value gift, it actually looks like you've spent much more than you have, but also it will help keep some of your garden birds alive this winter. Our High Energy Bird Food Hamper will literally save lives. And it might just get someone else interested in the birds and begin a new and exciting hobby for them. Wouldn't that be lovely? Richard's High Energy Kit has been specially formulated for small birds and especially the lovely blue tits. During winter, small birds like Blue Tits need to eat as much as 30% of their body weight every day to help survive the long cold nights. That's why high-energy food is so important and why we put a lot of time and effort into formulating our own bird food products. Our NEW high-energy kit contains a pack of our five star bird food; three hanging suet tubs and a suet and mealworm filled hanging coconut. It's a steal at just £14.99 and saves you £6.50 off the price on the individual items plus the hanging coconut is FREE.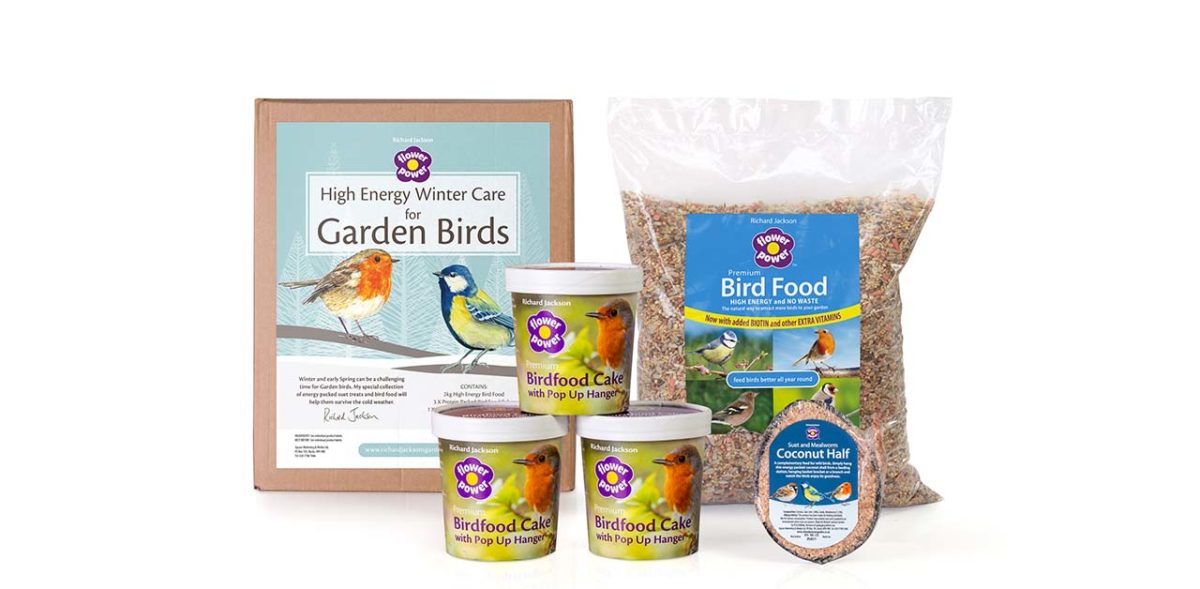 For the wildlife gardener
If you've got someone who is tricky to buy for, we've got the perfect present. This lovely Shenstone Theatre Bird Bath and Drinker is simply beautiful in its own right. It's the perfect water station for not just birds, but other wildlife and even for pollinators too. It's a lovely design and features a stepped, terraced amphitheatre hollow that allows any creature to drink safely and exit easily from the water. It's made from recycled products and is engraved with a lovely verse from a poem by W H Davies – "What is this life if, full of care, we have no time to stop and stare." Anyone that loves the garden birds or wants to help nature would simply love this as a gift. It costs £32.99.
Flowers from the garden
Everyone loves garden flowers. But our Anemone Mistral corms grow into something rather special. Renowned by florists the world over, these exquisite flowers will bring colour and vibrancy to your garden or home. Our special gift packs are the perfect stocking filler for anyone who loves growing flowers. Each pack contains a handful of the claw-like corms that will grow into fabulous floral beauties, the envy of florists and to adorn your home. At just £4.99 you won't be disappointed.
Flower & Fruit Snip
Here's a great idea for the budding gardener in your family or even your gardening mentor. The RHS Endorsed Flower & Fruit Snip, is a lovely compact pair of useful garden snips for all those little garden jobs. These are the ideal present for houseplant parents, new homeowners with a balcony to tend, or someone who just finds large bulky secateurs too much. These are perfect to use around the house, or for picking herbs and flowers, deadheading, or other light pruning tasks. They are light to use and comfortable to hold. At just £9.99 you could pop them into a stocking, add them to a Christmas hamper or give them as a little thank you gift to a friend or neighbour.
Our last order date for guaranteed Christmas delivery is Thursday 16th December. Merry Christmas!