Fuchsias really earn their space in the garden, with masses of fabulous flowers, all summer long. But when you choose varieties that are blessed with gigantic blooms and virtually turbo-charged too the combination is phenomenal, creating a carnival of colour for your pots and containers.
The flowers form from June to the first frosts (usually in October) that are trailing in habit, creating a soft effect ideal for baskets at eye level and each ruffled, colourful flower is up to 10cm (4in) across.
Each plant will grow to around 30-45cm (12-18 in) with a trailing, hanging habit. They create massive colourful impact when planted in hanging baskets hung at eye level or around the edge of summer containers and are the perfect choice for dramatic displays for garden open days, village events and exhibitions.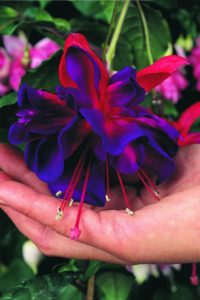 Growing tips
For the best value, buy small, plug plants that you can grow on in a frost-free place to establish before they are ready to plant outside.
Pot them up into small 9cm pots using a quality potting compost. Keep them frost free, ideally in a greenhouse until they are ready to plant outside.
Allow the roots to fill the pots and then plant out into containers to allow them to establish before placing outside.
Prepare your containers and baskets before planting. Use Richard Jackson's Premium Multi Purpose Compost for the best possible results. It enhances drainage and root development and is enriched with Flower Power nutrients, extra wetting agent, Root Booster humates and seaweed extract to give your plants a great start to the season.
Feed regularly throughout the growing season with Flower Power to get the very best from your plants and masses more flowers.
Keep them well watered in hot sunny weather, but don't overwater when the weather is cooler.
Great varieties to grow
There are lots of varieties of giant trailing fuchsias now available. Look out for some of these to fill your pots and containers with colour all summer:
Fuchsia 'Bella Rosella' – Double blooms in shades of pink.
Fuchsia 'Cecile' – Wide double flowers up to 2.5 inches (6cm) across in shades of pink and lavender.
Fuchsia 'Quasar' – Double mauve blooms with pure white sepals.
Fuchsia 'Seventh Heaven' – Bold flamingo pink flowers with contrasting pale pink sepals.
Fuchsia 'Voodoo' – Dark and mysterious double blooms, with fold upon fold of rich purple petals.
Fuchsia 'Deep Purple' – fully double, with lavish purple ruffles
Fuchsia 'Moody Blues' – white sepals and a blue/lilac corolla.
Fuchsia 'Blaze Away' – pink and orange-pink double large blooms.
Fuchsia 'Peachy' – fully double delightful peachy coloured blooms.
Fuchsia 'Blue Angel' – double light blue and white blooms.