Cosmos are one of the easiest, most rewarding flowers you can grow in your garden. Their simple, open flowers have a friendly, smiley, summery demeanor and can be planted in beds, borders, pots and containers all around your garden with simply stunning results. Cosmos are beautiful. They have masses of attractive flowers. They flower for months and they make fantastic cut flowers. Cosmos are great for pollinators, providing a rich source of pollen and nectar from single, open faced flowers that form perfect dining tables for our nimble footed pollinators, including, hoverflies, butterflies and bees.
Cosmos are really easy to grow from seed, or you can buy young plants mail order or from the garden centres and nurseries in late spring. Cosmos have few pest issues and are pretty disease resistant too, so what's not to like?
Cut flowers
If you love having bunches of flowers in the home, cosmos are a great plant to grow. The taller varieties generally have longer flower stems, but even the compact types are good for posies. Grow them from seed and plant them out all over the garden to pick the flowers all summer long. The more you pick the flowers and remove any spent flowers, the more flowers your plants will produce.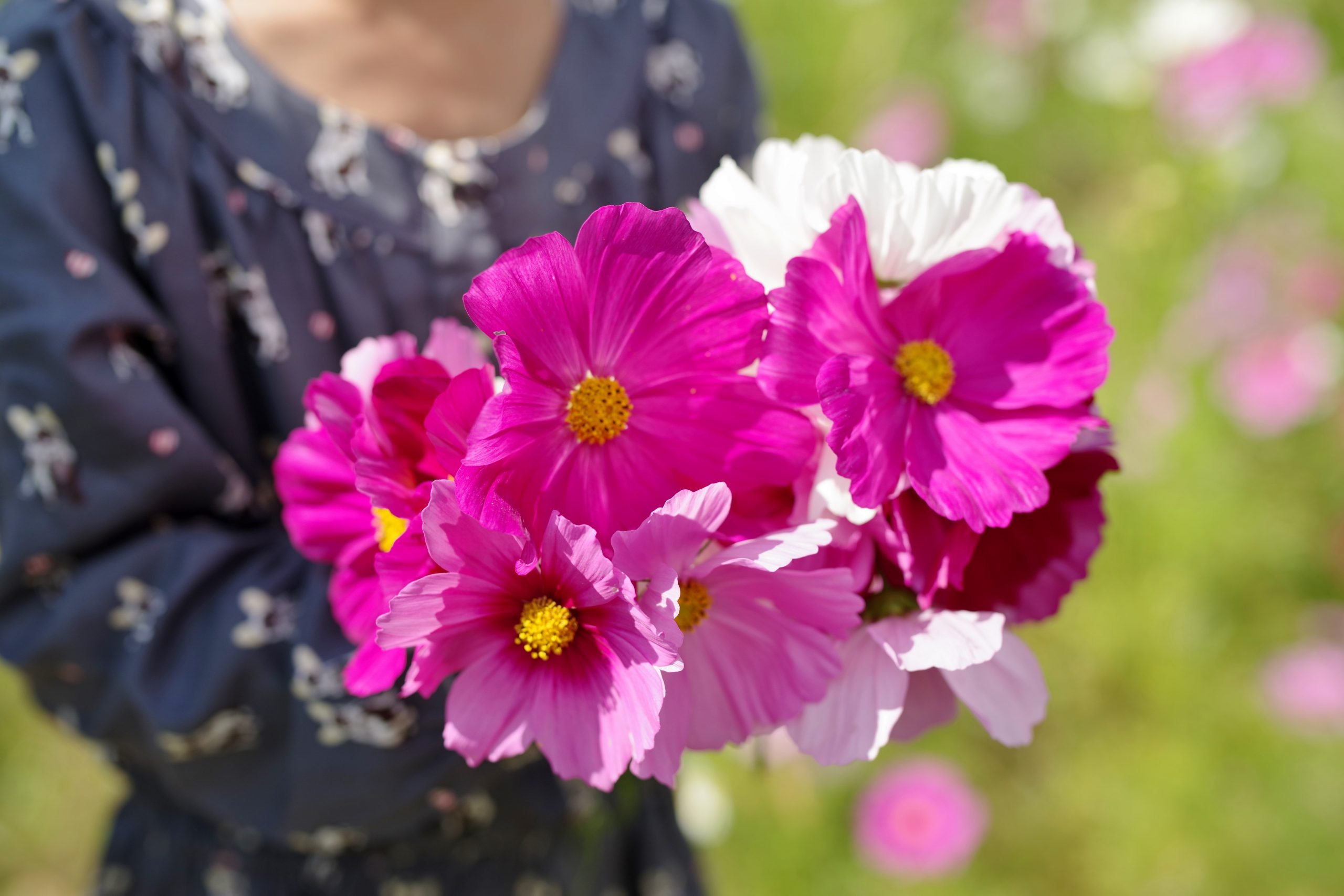 Mix cut cosmos flowers with roses and lady's mantle, the feathery cosmos foliage helps to fill the arrangement with texture and soft hues of green, so you need very little extra greenery and have a charming bouquet, prefect for the lunch table or an impromptu gift for a friend. One plant can quickly fill a gap in the border and will flower for weeks on end. The flowers are perfect for posies or for infilling larger arrangements, the flowers of this cottage garden favourite can be cut and cut again for weeks of pretty, informal bunches of flowers to decorate your home.
Place vases of fading blooms back outside for pollinators to make the most of the pollen and any traces of nectar and replace with fresh blooms indoors. By regularly picking the flowers and most importantly by deadheading your plants you enhance and accelerate flower production to keep your plants blooming.
Choosing cosmos
A handful of cosmos plants in your garden will provide an endless supply of attractive, delicate and pretty flowers, most commonly in shades of pinks and white, though there are yellow, orange and red varieties too. There are three main types of cosmos. The most common are the annuals that grow from seed. If you are new to gardening look out for mail order plug plant offers. You can pot them up into individual pots of good multi-purpose compost and plant them outside in pots containers, beds and borders from around June when the last risk of frost has passed.
Cosmos bipinnatus are the tall cottage garden favourites, available in shades of pink and white, usually with single daisy-like flowers and delicate ferny foliage.
For the minimalist look, grow pure, single colours such as the fabulous, white flowered 'Purity'.
If you need some height then opt for the tall and pretty Cosmos 'Sensation Mixed' that grow to about 1.2m.
Most cosmos flowers are single and perfect for pollinators, but look out for the fluted petalled varieties such as 'Cup Cakes' and 'Sea Shells' and the frilly doubles to provide a bit of variety, especially for cut flowers.
For compact plants that are ideal for containers, look out for plants in the 'Sonata' group which grow to about 60cm.
Cosmos with red, tangerine and yellow flowers belong to the Cosmos sulphureus group and there are several varieties with single and semi double flowers. 'Ladybird Lemon' is a dwarf yellow cosmos with masses of small, vibrant yellow flowers all summer until the first frosts.
Look out for the recently introduced soft yellow flowered 'Xanthos' variety that grows to 60cm, ideal for borders, pots and containers.
The perennial cosmos is commonly called Chocolate Cosmos, as it smells very chocolaty. This is Cosmos atrosanguineus, a tuberous perennial that dies back in the winter and grows back in spring. It's a hardy perennial, but it likes a sunny, open site.