Today I cut my first bunch of mistletoe – a bunch so large that it almost filled the boot of my car. It is now hanging up in my son's school ready for the Christmas fair. A very generous offering you might think, until I reveal that I live a few miles from Tenbury Wells in Worcestershire. This idyllic market town was once referred to as 'my little town in the orchard' by Queen Victoria. It is here that mistletoe auctions have been held for well over 150 years.
Those who garden in Herefordshire or Worcestershire will no doubt have a bunch or three of Viscum album hanging from an apple, poplar or hawthorn tree in their garden. This parasitic plant is abundant in both counties. It's from this part of the country that most of the mistletoe you see at Covent Garden and other Christmas markets springs.
Love birds!
For centuries mistletoe has been treated as a sacred plant and hung in the entrance of a home to ward off evil spirits. Most of us have experienced a kiss or two under the mistletoe, but the word mistle is far from a rosy description for the plant associated with Christmas love. Mistle in Anglo-Saxon translates to 'dung' and mistletoe to 'dung on a twig' – not so romantic! This far from glamourous name is thanks to the fact that new plants tend to form where the mistle thrush deposit its 'dung' on a branch. This bird is the number one propagator of the plant, and many believe that the seed only germinates once it has passed through the bird. However, this is not true.
Growing from seed
If you're keen to experience the delights of growing your own mistletoe, then your journey starts this Christmas. Buy yourself a bunch of mistletoe, hang it in a cool room and after the festivities pull off a few berries. Seed germination is most successful in February, so until then store berries in a dish in a light room. They should not be put in the fridge or in the dark. In my experience an apple tree is the host plant that offers the most success. Choose a branch about 1m from the ground that is as thick as your wrist. Using a penknife cut a small flap in the bark on the top side of the branch. Then, simply squeeze the seed out of the berry and push it under the bark. To hold the seed in place and allow you to mark the spot I like to wrap a piece of garden moss around the branch over the seed and tie it in place with string. Some gardeners simply push the seed onto the bark and leave it uncovered. They are sticky seeds so should hold firm. Try both techniques and see which works best in your garden. Either way you'll have to wait for up to two years to see if the seed has germinated.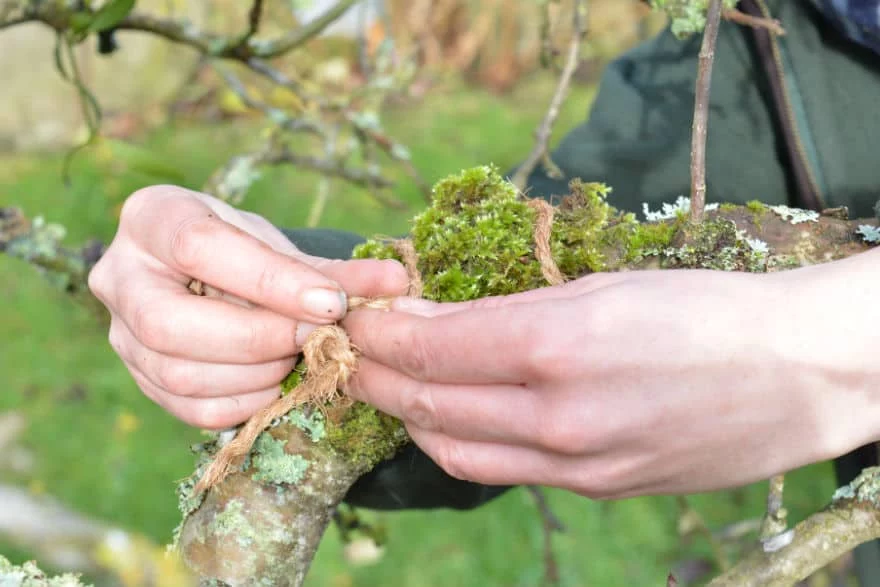 Controlling mistletoe
If, like me you have branches weighed down with mistletoe should you be worried for the host plant? Mistletoe does rely on its host for support, water and nutrients but a couple of bunches shouldn't cause you concern. Trees carrying a serious weight in mistletoe will become stressed in time. To reduce the burden, simply harvest the mistletoe and spread the love by giving little bunches to friends and loved ones. Happy Christmas.