When it comes to planters you can let your imagination run wild! There are so many pots and receptacles on the market to house every size and variety of plant but in this age of reuse, reduce, recycle why not get creative and adapt some found objects into quirky, unusual planters and save some old and neglected items from landfill. Here are some of my favourites I have come across on my gardening travels.
Pet bricks
Many people will have a brick or breeze block in the garden somewhere, but rather than piling them up in a corner, put them to work! Sempervivum's or 'houseleeks' have become incredibly popular and it is no surprise as they are very easy to grow. Bricks make ideal planters for these hardy succulents. The cherished rosettes are used to surviving at altitude between mountainous rocks with minimal gritty soil in their natural habitat. They are also perfectly adapted for drought and adverse temperatures, so if you do not have much time to spare then planting sempervivum's in a brick could be for you – they look after themselves and look great!
Spare tyres
If you live near a farm or garage then chances are you will see a spare tractor tyre or two lying around. What better way than to make use of these large discarded objects than to grow food or flowers in them; they make perfect planters. The large circumference provides ample sowing space and the open base naturally offers drainage.
Salad crops and herbs work very well in tyres as they do not require a great depth of soil. If gardening with children, they can even sit on the edge of the tyre to sow or plant – seat and planter in one!
Funky boots
Welly, walking and even ski boots can be put to good use once their stomping days are done. Drill some drainage holes in the soles or if too hard to drill then fill your boots with gravel to allow excess water to run into and help prevent roots rotting. You are then all set for a real show stopping, original display that is fully portable.
Well-drained colander
Was there ever a more appropriate unusual planter than a colander? Already perforated with drainage holes this shiny vessel would look smart in any garden but if you do not have a spare one they could be easily picked up at charity shop. The only addition is attaching a chain and then you are ready to go with this rather cool homemade hanging basket.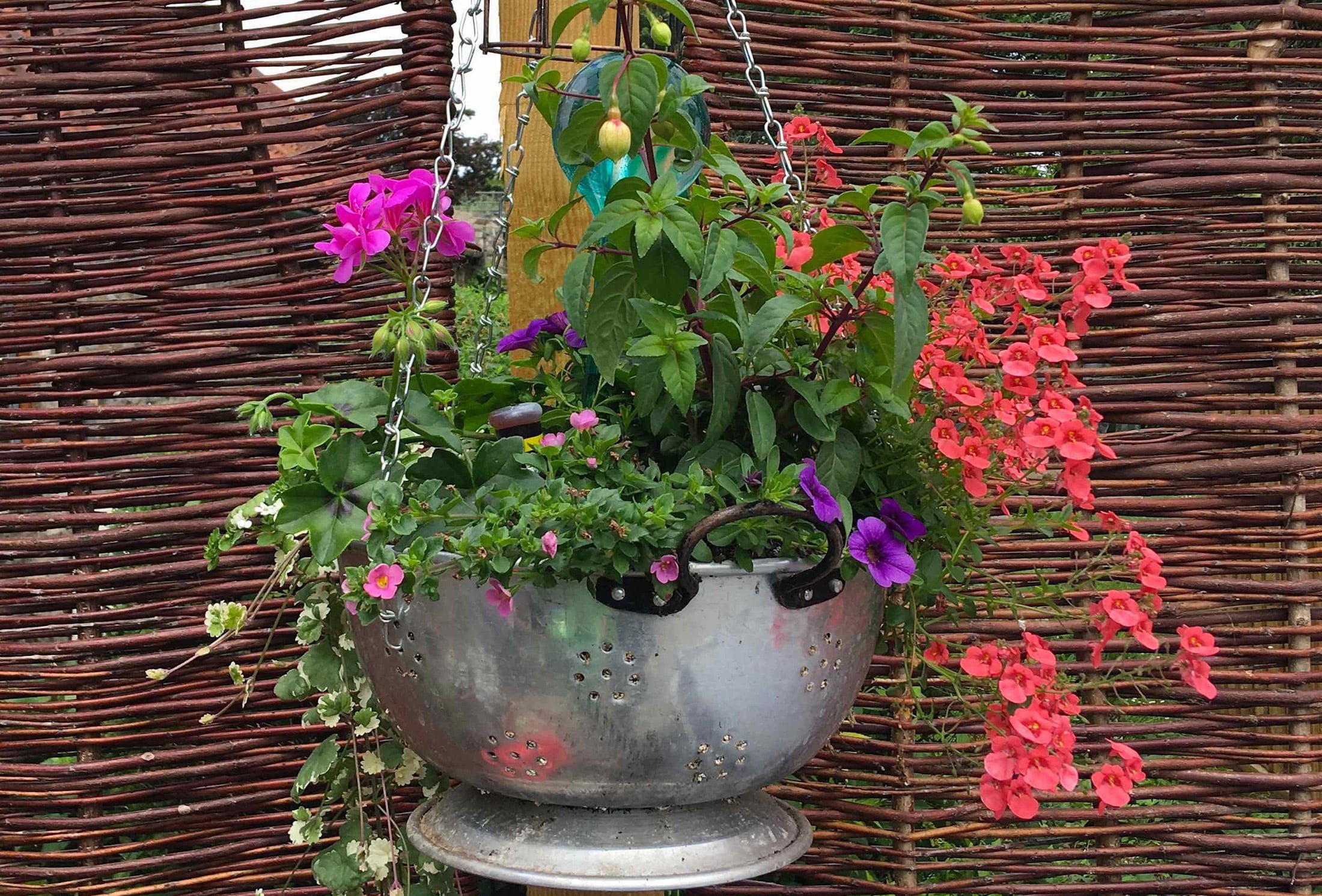 Shell house

Air plants (Tillandsia) have enjoyed a meteoric climb to fame in the past couple of years and I find shells are an attractive and natural way to display them. This lightweight portable planter provides a handy hole for your air plant to perch in. Shells are a trendy addition to any room, particularly the bathroom to add an air of beach life ambience and remind you of holidays past. No soil required so this really is the ultimate tidy, low maintenance planter.
Wheelbarrow wonder

Wheelbarrows are jolly handy to gardeners but more and more frequently I see them used not just to as a mode of transportation for compost and tools but as large planters. Many annual national garden shows have wheelbarrow planter competitions with local schools. So if your wheelbarrow has seen better days, perhaps the metal has corroded, is puckered with holes or it has a flat tyre then this is an ideal way to bring it back to life again; you could even add a lick of paint to turn it into a bold garden feature.
Think big

Unlikely but just for fun, if you had a spare telephone box or old car hanging round… transform it into a fabulous growing space. The interior can be racked up with window boxes and the glass panes removed so that plants can thrive outside.
And if you really want to make a statement… plant up a vehicle destined for the scrappers yard. It certainly provides a talking point and is a novel idea that proves anything goes!
So get rummaging in your loft and shed, scour the local charity shops and boot sales. Get creative. Transform an everyday object into an unusual planter and get gardening! We'd love to see your photos.