There's a lot of nonsense talked about sowing seeds. About how you need a heated greenhouse, special soil to sow the seeds in and special chemicals to stop them rotting. Well no, not really. It's true that some flower seeds are very fussy, but you can buy most of those varieties as plants from the garden centre.
Here are five flowers whose seeds you can throw in your beds and borders and which will come up with little or no attention. Just rake the soil lightly with rake or hand fork to loosen it, scatter the seeds, and rake again to cover them. Even if the slugs get some – or most – of the plants, there should be plenty left to flower. Or you can even forget the raking and just fling!
Look for packets with plenty of seed inside (they always tell you on the packet). Fifty seeds? No thanks. Five hundred? That's more like it.
Foxgloves (Digitalis)
These native wild flowers with tall slender towers of tubular flowers now come in plenty of purple and pink shades, as well as a lovely white, usually prettily spotted in the throat. Sow the seed in summer and the plants will flower in early summer the following year. Choose a place that's shady for part of the day.
Foxgloves make a rosette of rough leaves in their first year. If, in the autumn, the plants are so close to each other that the leaves touch you can dig some up and plant them somewhere else.
They grow to 90cm-1.5m tall.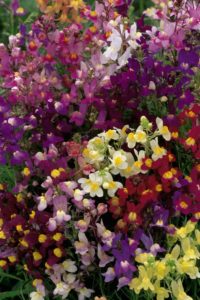 Toadflax (Linaria)
Toadflax is like a snapdragon with smaller, prettier flowers. The whole plant is more slender and much more delicate looking. The spikes of dainty two-lipped flowers come in a vast variety of colours and bicolours (two colours on the same flower). And they're actually much easier to grow than snapdragons.
Scatter the seeds in spring and the plants will flower in summer; scatter them in late summer or early autumn and they'll flower earlier the following summer. Bees love them and you can cut them for posies as well. They flower best in a sunny site.
They grow to 20-40cm tall.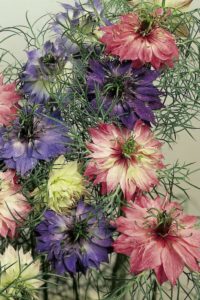 Love-in-a-mist (Nigella)
The cottage garden favourite love-in-a-mist has three attractions. Its blue, plummy or white summer flowers, which are good for cutting, are an unusual starry shape, as they look right up at you. The finely cut lacy leaves show the flowers off well, and the interesting seedpods can be dried for the winter.
Scatter the seeds in a sunny place in spring or autumn; the spring-sown seeds will flower in summer, autumn sown seeds will flower earlier the following summer. Once you have it, new love-in-a-mist plants will pop up year after year.
They grow to 30-45cm tall.
Poppies (Papaver)
Poppies are the best fling-and-forget flowers, especially as one packet may contain several thousand seeds. And they're not just red. They now come in some lovely pastel colours as well as brighter shades and even the packets of the gorgeous double flowered types, with fuller flowers packed with more petals, are filled with plenty of seeds.
Again, sow in spring for summer flowers, but sow in early autumn for bigger plants that flower for longer. They'll also drop their own seeds so once you've grown them you'll always have them. Always best in the sun.
They grow to 60-90cm tall.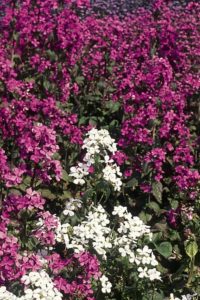 Sweet rocket (Hesperis)
If what you're looking for is colour combined with fragrance, look no further. Sweet rocket is another cottage garden favourite whose seeds can be scattered in sun or shade in late spring or summer. The tall narrow spikes are filled with purple or white flowers with a lovely sweet evening scent.
Sweet rocket is ideal to add scent to parts of the garden where you have no fragrant flowers and around the patio where you sit out on summer evenings. Again, once you have it, seeds will usually come up year after year.
They grow to 60-90cm tall.