Some vegetables can be a bit fussy and some do need the right sort of care and attention at the right time. But there also some that are not so fussy, that we can all grow. Veg, with the right kind of care at the right time will provide tasty food that you've grown yourself, without spending half your weekend doing it.
These five crops need the minimum of special treatment – just give them some sun.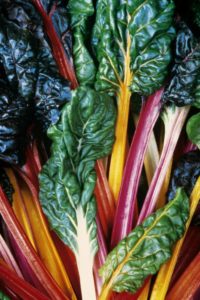 Chard
This is like a very classy, very colourful spinach – just as nutritious, but better looking. Chard has large puckered leaves up to 30cm long, and they're sometimes tinted in red. But what stands out are the stems which run up the centres of the leaves: they can brightly coloured in red, orange, yellow, purple or white or a mixture of all of these. They're so colourful you can even grow them with your flowers.
The plants last for months, even over the winter, just snap off the leaves as you need them. Steam the leaves, sauté the stems. Don't grow spinach, grow chard it's so much easier. Buy as plants, or sow seeds.
Plants grow to 38-45cm tall.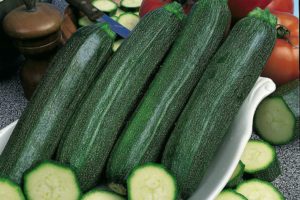 Courgette
Courgette plants have big rough jagged leaves on thick stalks that all arise from the centre of a plant which might eventually reach 1m across if it's happy. And what makes it happy is sunshine, never being dry and a dose of plant food once in a while.
Once it's growing you'll see yellow flowers at the base of the leaf stems, that quickly develop into green or yellow or even striped courgettes. Pick them as soon as they're big enough: if you leave them on the plant, they will turn into marrows. You can also eat the flowers. Buy plants, plant them in June.
Plants grow to 60cm tall.
Lettuce
We all know what a lettuce looks like, and there are far more different kinds than we see in the supermarket. You can buy some of them as plants from the garden centre and you can grow them all from seed. Just make sure that they're never parched or they won't make fat leafy plants.
If you buy plants, don't buy more than a pack of six at a time and check the label for advice on how far apart to space them. If you buy seeds, be sure to check the info on the back of the packet – and don't ignore it! Sow them a few each week or so for a constant supply of lettuce, or choose lettuce leaf mixes.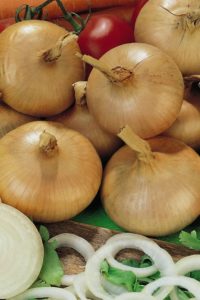 Onions
Onions can be grown in two ways. Garden centres and websites sell seed – don't buy it, it's a tricky way to grow onions. They also sell baby onion bulbs, known as sets, which usually come in a plastic net bag – buy these. Sets are really easy to grow.
In spring, you plant the sets. In summer you dig up the onions. It's that simple. The label will tell you how far apart to plant them and you plant them really shallowly, with the tips peeping out. So it's easy.
Two things to remember, though. Always plant them in sun. Never plant them in the same place two years running.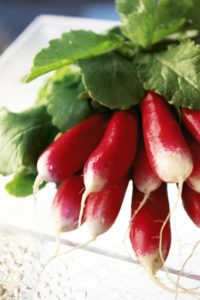 Radish
Round red radishes are about the quickest veg you can grow. Ready in a month. Not everyone likes them, though, but even a few slender spicy slices helps spark up a salad.
Never buy plants; they don't always develop into good radishes. Always buy seeds. Seeds are easy to handle, just pop them in the soil 2-3cm apart in a sunny place and don't let them get more than 2-3cm wide or they'll be too chewy. And when you can buy 1000 seeds (that's the possibility of 1000 radishes!) for £1.30 – why wouldn't you give them a go?