Sometimes you visit a place that etches its presence on your memory forever. One of the highlights of my month has to be a visit to the fabulous Petersham Nurseries in Richmond. If you've never been then you simply must put it on your 'to do' list; lunch at Petersham Nurseries is an essential experience.
The  stylish Petersham Café is housed in a vintage glasshouse and simply exudes exquisite charm and style. This is 'shabby chic' at its finest, a sort of crumbling splendour complete with sandy earth floor, seasoned with glass vases of garden grown flowers, real crystal chandeliers and gorgeous but eclectic mismatched bare wood antique furniture that oozes elegance and magic. It's a hidden treasure well worth seeking out.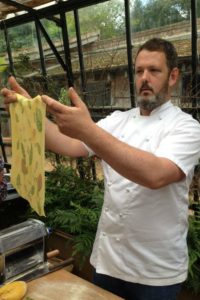 The cuisine is a perfect marriage of flavours and ingredients, colour and contrast, the menu reflecting not just the seasons, but the spectacular exuberance of the garden too. It's true field-to-fork here with the productive kitchen garden fuelling the menu. There's a gentle balance of tastes and textures in every dish. New chef Damian Clisby responds instantly to what is growing and flowering in the adjacent kitchen garden to create a weekly changing menu of ingredient led cooking.
I joined a fabulous workshop with Damian, designed around edible flowers, where we were introduced to some interesting edible flowers, such as the petals from dahlias and sunflowers and then learned how to make pasta embellished with the flower petals; a virtual floral wallpaper that looked fabulous and tasted amazing too.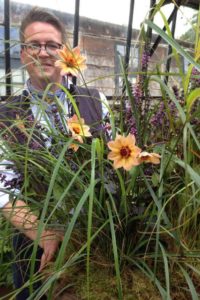 Head of Horticulture, Thomas Broom-Hughes planted an autumn container using an antique garden urn (with an eye-watering price tag) filled with grasses, dahlias and flowering basils and then we were treated to a superb lunch of floral overtones, culminating in an ice-cold copper pan filled with ice-cream flavoured with scented geranium leaf. Put it on your 'bucket list' – the nursery is a sumptuous harmony of horticultural wonders, and the menu is divine.
www.petershamnurseries.com; 020 8940 5230.
The garden industry
Every year as the autumn equinox approaches I set off on a pilgrimage to what is one of my favourite garden shows. This is no Chelsea flower show, even though there are some plants displayed on site. Enveloped within the industrial walls of the NEC in Birmingham, the Garden Leisure Exhibition, GLEE is a trade show for the garden industry. It's where suppliers and manufacturers and growers showcase their wares for their customers, so it's a great chance for me to get a glimpse of the trends and new products that may reach the garden centres and horticultural specialists for 2016.
It's a show I work hard, usually for three days, as I want to find as many new and exciting products and trends to feature in my work for not just the Richard Jackson's Garden website, but also the several magazines and newspapers that I write for. I'm looking for new and innovative product introductions as well as redesigns of garden classics and a few secrets as well if I can find them. Everyone always asks me what exciting things I have found? Well that would be telling! Watch this website for a flavour of what's new in garden products for 2016, I'll be featuring some of them on here.
Anti-flu remedy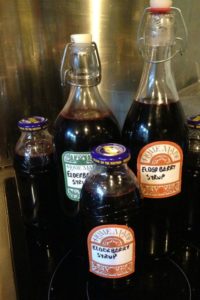 The hedgerows are bursting with berries. Some consider this to be a sign of an imminent hard winter. I prefer to stay optimistic and look at the bounty and rich resource of natural food for the birds and other wildlife and remind myself it's time to restock the larder and medicine chest with a few winter essentials.
Elderberries are a powerful weapon in the fight against flu. Some consider them to be more effective than the expensive pharmaceutical drugs designed to treat this virus. What I do know is that syrup made from elderberries and fortified with spices such as cinnamon and cloves not only makes a great hot winter drink, but also helps me to stave off the lurgy. I've made it now for several years and always top up my resistance with several days of intensive 'treatment' before embarking on social events or using public transport or visiting anywhere else that these bugs and lurgies seem to proliferate. The only time I have been struck down with the dreaded lurgy has been when I have travelled without a jar of this precious concoction. So this month I've been gathering the berries from the hedgerows and boiling up great cauldrons of their essence, preserved with kilos of sugar and bottled into sterilised bottles and jars, trusting that this year it will help me to avoid the debilitating colds and flus with my homemade, powerful anti-flu brew.