Well, the greatest flower show on earth has been trumped. This year feels like a particularly good vintage. With 13 Show Gardens at this year's show, visitors are sure to be wowed by them all. The judges have voted, the results are in, but what are your favourites and why??
Here are five of our favourites from this year's show to whet your appetite.
Morris & Co 322*
This spectacular garden blends two designs from the iconic archive of William Morris. His 1862 design, Trellis is reflected in the pathways and the overall layout, while Willow Boughs from 1887 forms the basis of the pavilion, and water channels. But it is the planting that really brings it alive, blending all the elements into a magical country garden tapestry of earthy reds, apricot and shades of blue. The textures in the border are simply divine, a mix of blue agastache, mountain cornflowers and irises, apricot geums and rusty orange verbascum, with the soft grey leaves of stachys and cardoons.
This garden was awarded a coveted RHS GOLD medal.
Designed by Ruth Wilmott (Link ruthwilmott.com)
The RNLI Garden 321*
Celebrating the history and modernity of the RNLI this stunning garden marries stylish whispers from the charity's Georgian heritage with contemporary style to represent the past, present and the future of this remarkable charity. A meandering path, made of Purbeck stone leads to a striking, classically inspired green oak pavilion; the focal point at the back of the garden. But again it is the inspired planting that holds the design together and creates a celebration of texture, form and rich, lush foliage interspersed with hundreds of fabulous flowering perennials. The planting uses a soft, fresh palette of colours, plenty of green with white peonies, soft blue grey foliage, blue irises, and highlights of purple salvias and rich red cirsium.
This garden was awarded a coveted RHS GOLD medal.
Designed by Chris Beardshaw (chrisbeardshaw.com)
The Alder Hey Urban Foraging Station 288*
This garden is a delight; not only championing the essential work of the Alder Hey Children's Hospital, but also leading by example to inspire healthy, active and pleasurable lives and satisfy the inquisitive nature of youth.
The space is infused with a treasure trove of plants just ripe for discovery. A magic carpet of precast concrete strands represents a woven picnic blanket interplanted with edible herbs encouraging engagement, exploration and healthy eating.
The magical space is held together within rampant blossoming hedgerows that lead into an orchard meadow where the picnic blanket covers the undulating landscape.
But it's the dressing of this garden that really completes the story. A rustic shelter, with a shade sail creates a working space. There's a cabinet of foraged fruits fermenting inside glass jars and the garden is seasoned with woven trugs, and wooden supports that add to the ambience. It's a beautiful concept that offers so many stories and points of interest.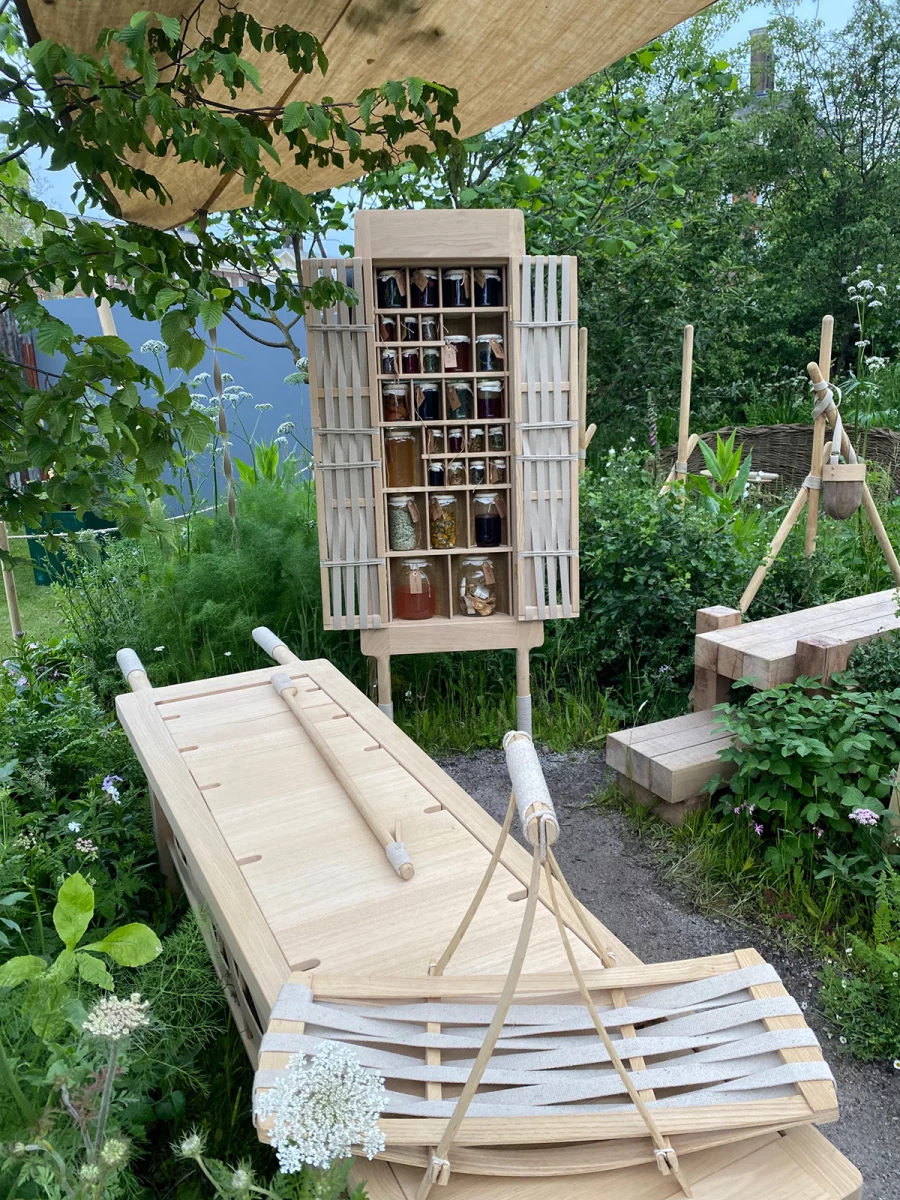 This garden was awarded an RHS Silver-gilt medal.
Designed by Howard and Hugh Miller (hmillerbros.co.uk)
Medite Smartply Building The Future 320
Don't miss this fabulous show garden, it's quite remarkable. You are instantly transported into its edge of forest atmosphere, created by the cascading waterfall and the dense but rich planting. The focal point is a feature building made using Medite Smartply wood panel recreating a vertical rock strata topped with a green roof. The water crashes down into a central pool planted with damp loving, exotic and rare wild flower species, chosen for their importance in the fight against climate change. Its sustainable message is powerful and timely and portrayed with power, by its presence and vibrancy.
This garden was awarded a coveted RHS GOLD medal.
Designed by Sarah Eberle (sarah-eberle.com)
The Perennial Garden 'With Love' 325*
Gardens are a gift and this one is just lovely. In a way it's a classic Chelsea Show Garden featuring a long water rill that divides the garden elegantly and flanked with lush borders and neatly clipped hawthorn trees. But it exudes style and beauty and showcases different aspects of horticulture from the diverse sectors of the industry that this charity represents. The soft planting in whites and greens has a gentle tone evoking calm and beauty and a true sense of love. It's a great place to stop, breathe and tune in to the atmosphere and restore your sense of balance and calm. Just lovely.
This garden was awarded an RHS Silver medal.
Designed by Richard Miers (richardmiers.com)
*The numbers relate to the showground plan for visitors