There's always so much to see when you visit a flower show, and you don't always get to see the detail and every aspect of the show. We've spent a full day at this year's RHS Chelsea Flower Show and here are our five highlights of things not to miss.
The RAF Benevolent Fund Garden 289*
The sculpture in this RHS Chelsea Show Garden is so striking and so poignant it stopped me in my tracks. A young pilot looking skyward, watching the sky perhaps filled with dogfights unfolding aloft, but waiting for his call to return to his Spitfire and the Battle of Britain.
His poise and his presence say everything. And the story that this sculpture tells is simply inspirational, reflecting the impossibly young men who became instant, but inexperienced pilots fighting for the fate of our nation. Many were straight out of school and with sparse flying experience, sent into the skies to protect our island.
Designed by John Everiss (johneverissdesign.com)
BBC Studios Our Green Planet and RHS Bee Garden 329*
This is the feature Garden at RHS Chelsea and its focus in on planting for bees, encouraging people to consider the power of plants to help our pollinators. And it was alive with bees. Mostly honeybees, with a seasoning of bumblebees. But if it helps to spread the message and get people thinking about how their gardens can support pollinators then great. The garden has been designed around water with a bee wing platform and is richly planted with good pollinator magnets in a diversity of flower shapes and colours to support our varied garden bees and biodiversity.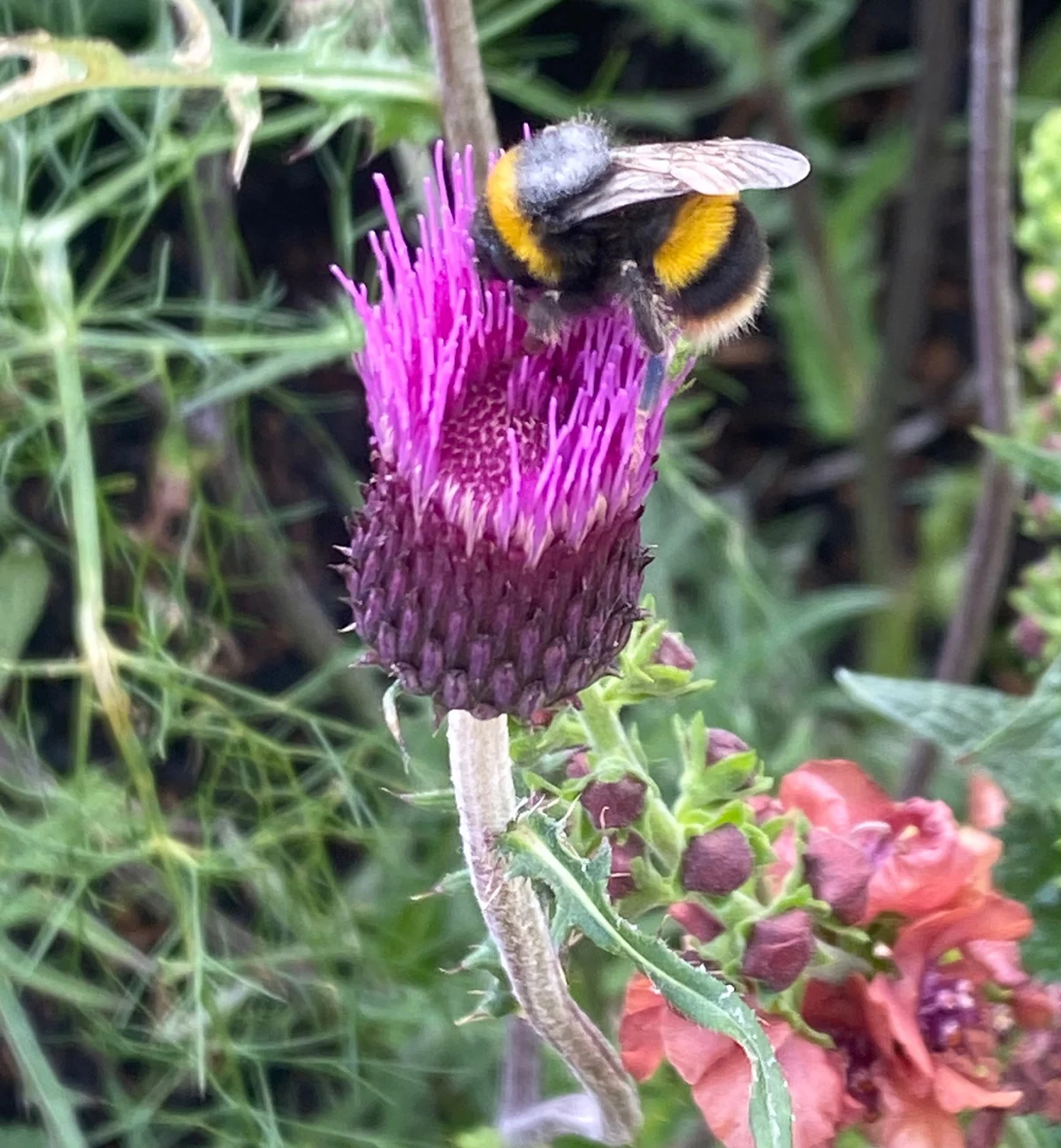 Designed by Joe Swift (modular-london)
The Plantman's Ice Garden 565*
A block of ice at Chelsea was a surprise, but two blocks of ice was impressive. Not only that but they didn't actually melt away, despite the heat on Sunday. But it's the message within this garden that is remarkable. Since 1994 28 trillion tonnes of ice have melted and disappeared from the surface of the planet earth and summer ice is expected to completely disappear within the next 20 years. The melting ice releases its carbon bank of decomposed organic matter, but it also has huge value as a deep freeze record of botanical treasures. In 2012 scientists recovered silene seeds thought to be 30,000 years old and germinated them. The smaller block of ice contains plants and seeds that represent this considerable discovery.
Designed by John Warland (senselessactsofbeauty.com)
A piece of peat bog 105*
The discovery zone at RHS Chelsea is just that. A place to discover and learn about incredible ways plants and horticulture shape our world. Tucked in the corner of the great pavilion is an extraordinary exhibit featuring a very very rare landscape. A real slice of Cumbrian bog; a genuine slice of peat land borrowed and carefully moved to show visitors what all the fuss is about. Peat is still used in garden compost and horticulture, but this brown organic matter bears little resemblance to the magical environment it supports. Peat bogs are vital to not only our climate but also to the huge diversity of plants and animals that depend on it. It's a living organism so in tune with itself that it literally breathes beauty and life. While at the show this precious slice of life even grew some wild sundew plants on the stand. Please go and see this extraordinary exhibit to learn why our peat lands are so important.
Celebrating Peter Seabrook 198* and 225*
The late Peter Seabrook was a regular visitor, supporter and champion of not just RHS Chelsea but also of British Horticulture. It was very strange to be at the show and not see him deep in conversation with exhibitors and visitors.
Within the RHS Experience zone in the Great Pavilion is a tribute to this amazing man and his work. It was a poignant reminder of his incredible role within our industry and tells some of the highlights of his life.