The biggest buzz at RHS Chelsea was created by the amazing Houseplant Studios. Tucked away behind Eastern Avenue and near the Container Garden displays are six spectacular studios decked out with houseplants that would and could literally blow your mind. It's a breath of fresh air and designed to acknowledge the on-trend passion for houseplants that has taken the industry by storm and surprise. It is great to see the RHS embracing the houseplant movement in such a powerful modern move, that may yet bring millennials and instagrammers to the show in droves, or maybe next year. These plant packed pockets are staged in small rooms to give the feel of a room, a studio or even a small bedsit, but beware there's not much room for guests. Here are five of our favorites.
Celebrate Autumn with Houseplants
If you are looking for pumpkins and autumnal hues at this year's show then seek out this season inspired creation from N1 Garden Centre. Housed inside a Malvern Garden Building, it's designed inside and out to inspire a plant-styling refresh in your home. The setting embraces a comforting autumnal palette that exudes a feeling of warmth and comfort and shows how mindful immersion in nature can have a soothing impact on our wellbeing. Pumpkin light garlands hang across the entrance; crates of strelitzia and terracotta pots of Chinese lanterns surround a rattan armchair. Orange pumpkins and autumnal fruits add highlights to the whole effect. It's awash with succulents, from spiky agaves to the rounder heads of Aeoniums and everything in between. Designer N1 Garden Centre. This installation was awarded a Gold Medal.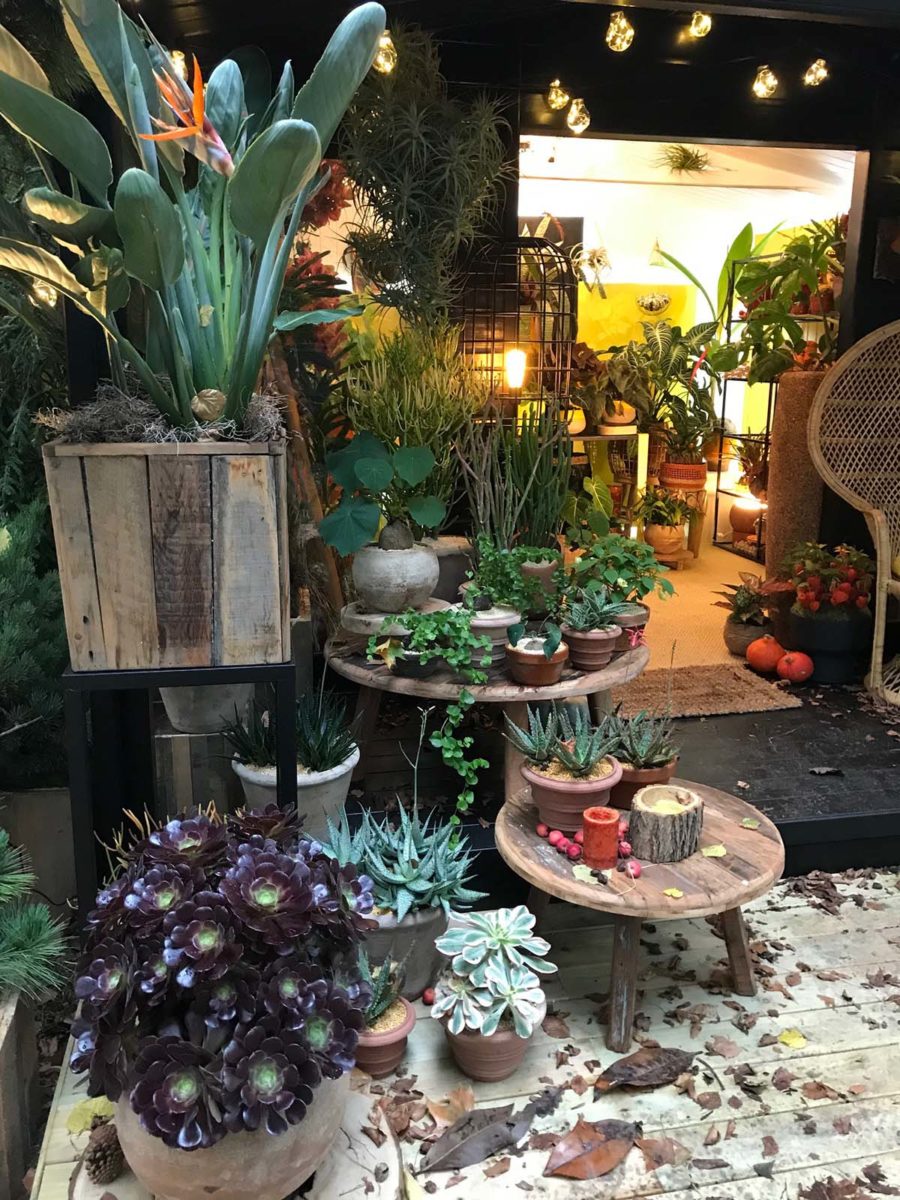 Pharmacy of Houseplants
If you haven't yet got the message that plants and gardens are good for our mental health and our soul then have a look at this Houseplant Studio at RHS Chelsea 2021. It explores the benefits of houseplants and the vital role that they play in our wellbeing. Just having plants indoors or spending time in the garden raises our spirits and connects us with nature. We may not even be aware that it is happening but subconsciously plants gently impart mood-enhancing vibes. Inside the Pharmacy of houseplants are clean, minimalist glass and mirrored shelving displaying white jar like pots containing houseplants galore. Its cool, lush green look calms the spirit and entices the enquiring mind. It's a divine display that could be recreated in miniature in a modern home. Designer The Edible Bus Stop. This installation was awarded a Silver Gilt Medal.
Green Bathroom Retreat
OMG this space is amazing. It's a jungle of giants that envelop a bathroom with such style and passion you could be forgiven for thinking it's a theatrical setting. It's a bit like a ruin, clothed in ivy and wilderness, but the plants are houseplants, cacti, succulents and so densely planted with such drama you can't help but look for the hidden tiger, or maybe a croc in the bath. It's fun and fantastic rolled into one. The house plant obsessive might try to recreate this plant by plant in their bathroom, but even the most reticent house plant parent can't fail to be inspired to add just one or two plants to their indoor space. Designer Conservatory Archives. This installation was awarded a Silver Medal.
Forest in Your Home
It's not just succulents and cacti that are on show in the House Plant Studios at RHS Chelsea Flower Show 2021. The Forest in Your Home installation transports a segment of the rainforest into your home and its packed with air plants, bromeliads, nepenthes and other rainforest beauties. It's displayed to mimic how these houseplants would grow in their natural habitat in a rainforest scrambling effect with epiphytic air plants and baskets strung with macramé. A central seat provides a place to immerse yourself in foliage, a haven to rest, relax and read while the plants literally grow around you. Designer Fran Bailey. This installation was awarded a Gold Medal.
The Green Room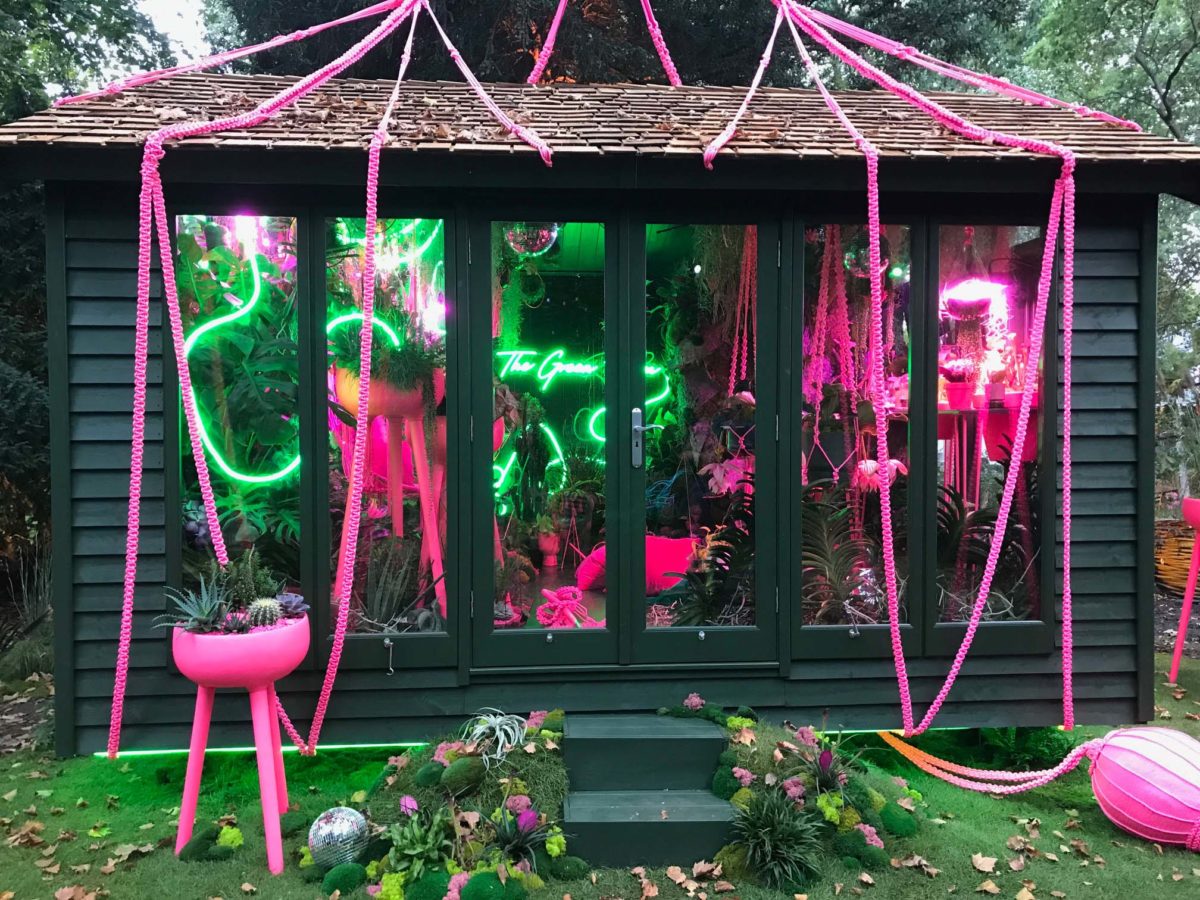 Well… the Green Room is green with a splash of hot pink. In fact it's more like a tsunami of hot pink, but I love it. It's Hollywood meets Mardi Gras meets Chelsea and it screams at you in a fun and funky way. I first stumbled across it as the sun rose on Press Day. The neon pink was burning in the early morning dawn and it was totally, totally just WOW. It's tagged as a VIP hangout for the show's 'Planterati', the idea apparently is to be suspended in a giant macramé hanger represented by the shocking pink cable that festoons the cabin. Inside orchids, rhipsalis, air plants hang in macramé plant hangers, grow lights boost the growing environment and a carpet of moss underfoot softens the scene. Designer Ian Drummond. This installation was awarded a Gold Medal.