When you think of Christmas and the garden, for me the top two things that come to mind are holly and ivy. These are two of the traditional and stereotypical decorations for this time of year. Why not gather some from your own garden and hang around your doorways and window frames to really give your house the traditional Christmas look this year? I remember, way back in my childhood in the 1960's, my parents had a pub in Oxfordshire and I would decorate it for Christmas with sprigs of holly and ivy cut from the garden plus some mistletoe we'd be given. I'd sometimes spray the foliage in gold and silver and use the mix to intertwine around the bar canopy or behind the pictures on the wall. You can also add small glass baubles or other Christmas decorations to them to create a great natural look in the house.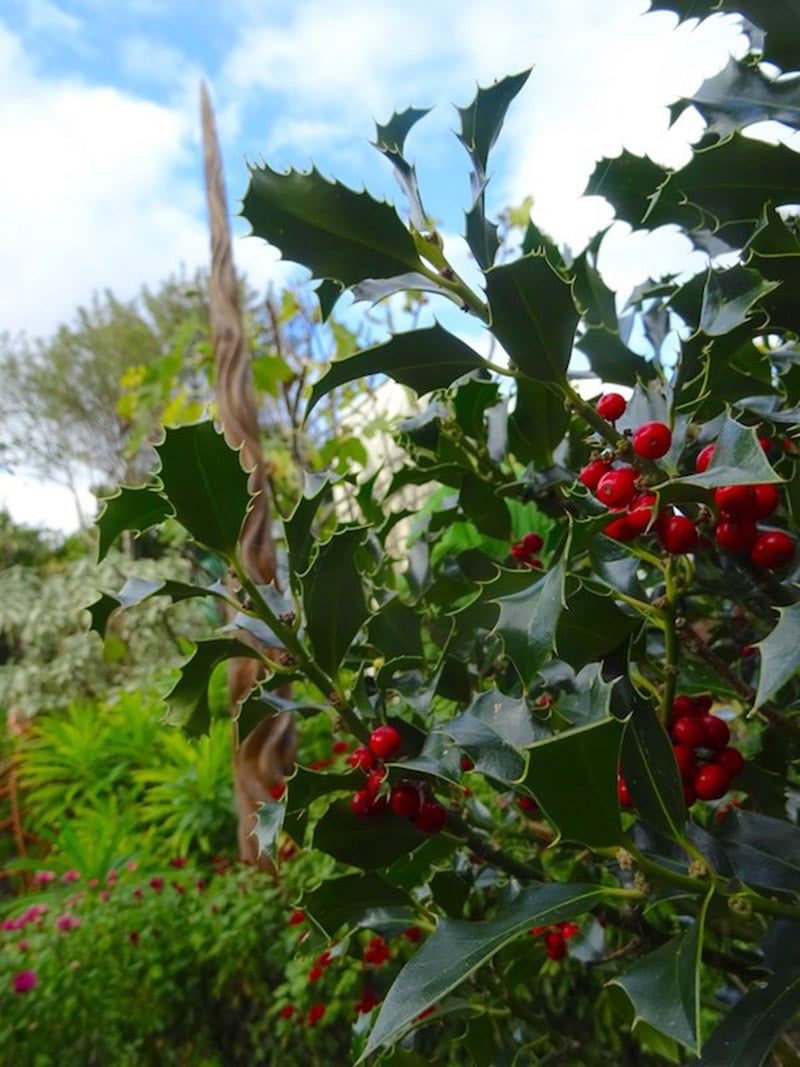 Evergreens are perfect for some Christmas inspiration from the garden. I seem to have more berries on my five holly bushes this year than in any previous year!They look so pretty, it almost seems a shame to cut the sprigs off. You can also cut branches from conifers or fir trees in the garden to create that naturalistic look too. If you have any seed heads or faded hydrangea flowers from the garden, these too, can be sprayed gold and silver, to add to the more conventional Christmas decorations.
Garden decorations
Don't keep all your decorative ideas for inside the house. I love sculpture in the garden all year around but in the winter, with a bit of frost or maybe a fall of snow, it can transform your garden into a mini magical kingdom. Most of my pieces are rusty metal, like this amazing arch which really catches the snow as it falls or a range of wooden wheels, not to mention a few garden gnomes too! Other pieces are metal spheres and cone plant supports which all look equally as impressive.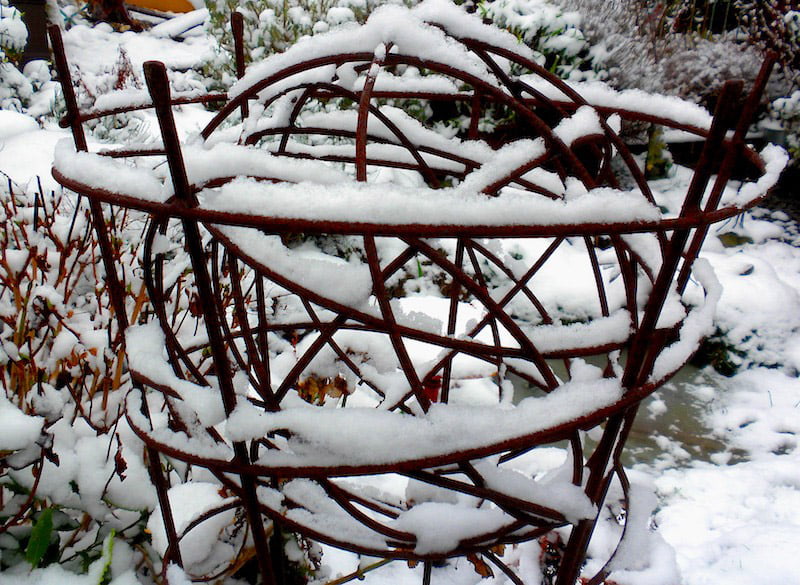 Even if it there's no snow this Christmas, it doesn't need to stop you having your very own snowman. I recently saw one made out of a series of different diameter terracotta plant pots, each turned upside down, one on the other, and then painted white with a cute face and decorated with a scarf. I'm going to have a go at making myself one this season too for the garden. It is also a great way to make use of any excess garden pots.
Feed the birds
Here's a lovely way to support the garden wildlife and add an extra dimension to the garden. A wonderful way to help the birds over Christmas is to decorate a small area of your garden for them.
You can try either a small decorated Christmas tree or just make up some garlands of food and arrange them on shrubs and bushes in your plot, close to the windows, so you can watch them enjoy the feast. I've made these from nuts and pieces of dried fruit, all very carefully strung together with a needle and twine and then tied off at the end and draped outside across the plants.
Have a great Christmas.