When it comes to buying your real Christmas tree, make it the best you can buy. Jean Vernon has plenty of advice.
There is nothing more seasonal than a real cut Christmas tree as the focal point of your festivities. The rich scent and beautiful presence of a real tree will fill your home with festive cheer.
The best Christmas tree for your home is the one that suits your lifestyle, but if we had to pick one tree that ticked all the boxes it would be the Nordmann Fir. Commonly referred to as the non-drop Christmas tree, the Nordmann Fir is the tree that won't leave a carpet of needles on your floor, so it's easier to move it in and out of your home and you won't be picking needles out the carpet for months after Christmas. The Nordmann Fir has a lovely consistent shape, without a long leader stem so that you can decorate right up to the top. The branches are evenly spaced and strong so you can hang heavier baubles, lights or decorations right to the top of the tree. 
Its glossy green foliage is scented, though not as strongly as some other Christmas trees, but it's very easy to care for and it is a lovely choice to add that woodland charm to your home. All you need to do is keep it watered and decorate it so that it becomes that magical focal point in your home.
What is a Nordmann Fir?
The Nordmann Fir is a species of evergreen conifer that is very popular for Christmas trees. About 80% of trees sold at Christmas are Nordmann Firs. It's considered to be the best Christmas tree because it has a lovely cone shape, perfect for decorating and it holds its needles so that you don't end up with a pile of needles beneath your tree over Christmas.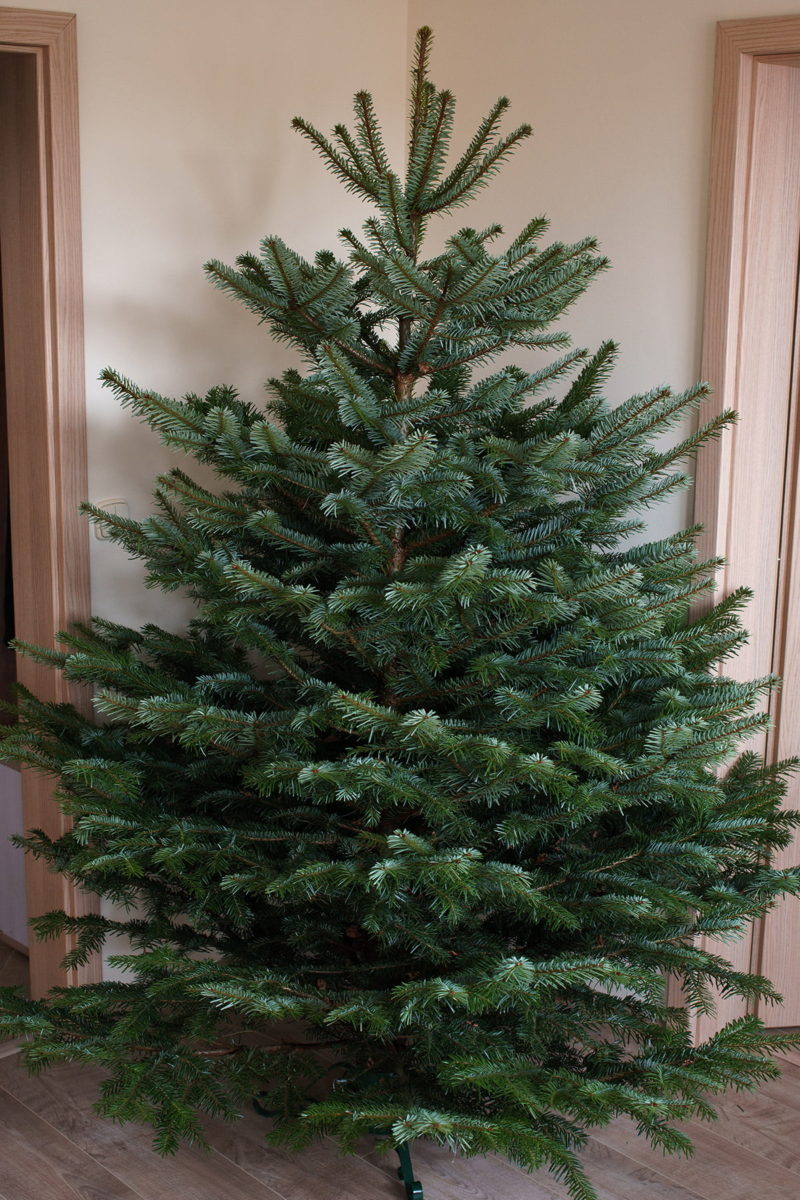 The botanical name of the Nordmann Fir is Abies nordmanniana so you can see where the common name comes from. It is also sometimes called the Caucasian Fir too, as it is indigenous to the mountainous areas south and east of the Black Sea, Georgia and the Russian Caucasus. It is a rich green Christmas tree with softer, flatter scented needles that won't cause needle pricks when you start to decorate and it's safer for pets and children too.
Buy British
Look for a British grown christmas tree, it will be fresher than those imported in from Europe and more importantly it will have been transported less miles. Imported trees have to have a health passport before entering the UK, but there is always a risk that new pests and diseases can be brought in by plants arriving from abroad. Buying a British grown tree helps to protect our Christmas tree farms, growers and nurseries and it's more ecological too.
Green credentials
A six-foot Christmas tree is about ten or twelve years old, so that means it's been growing in a plantation for all of that time. The trees are grown in harmony with nature and the wildlife that live and thrive in that environment.
You might think that an artificial, reusable tree would be more eco than cutting down a real tree and disposing of it each year. You would be wrong. An artificial tree would need to be used for at least TEN Christmases to be anywhere near as green as having a real tree. Let's be honest, most artificial trees are the victims of fashion. Trendy and fabulous for the first year or two and then abandoned for the latest trend or style. Whereas a real, festive tree never goes out of fashion and can be decorated using family heirlooms or your favourite decorations, and you can change the theme and colour scheme if desired.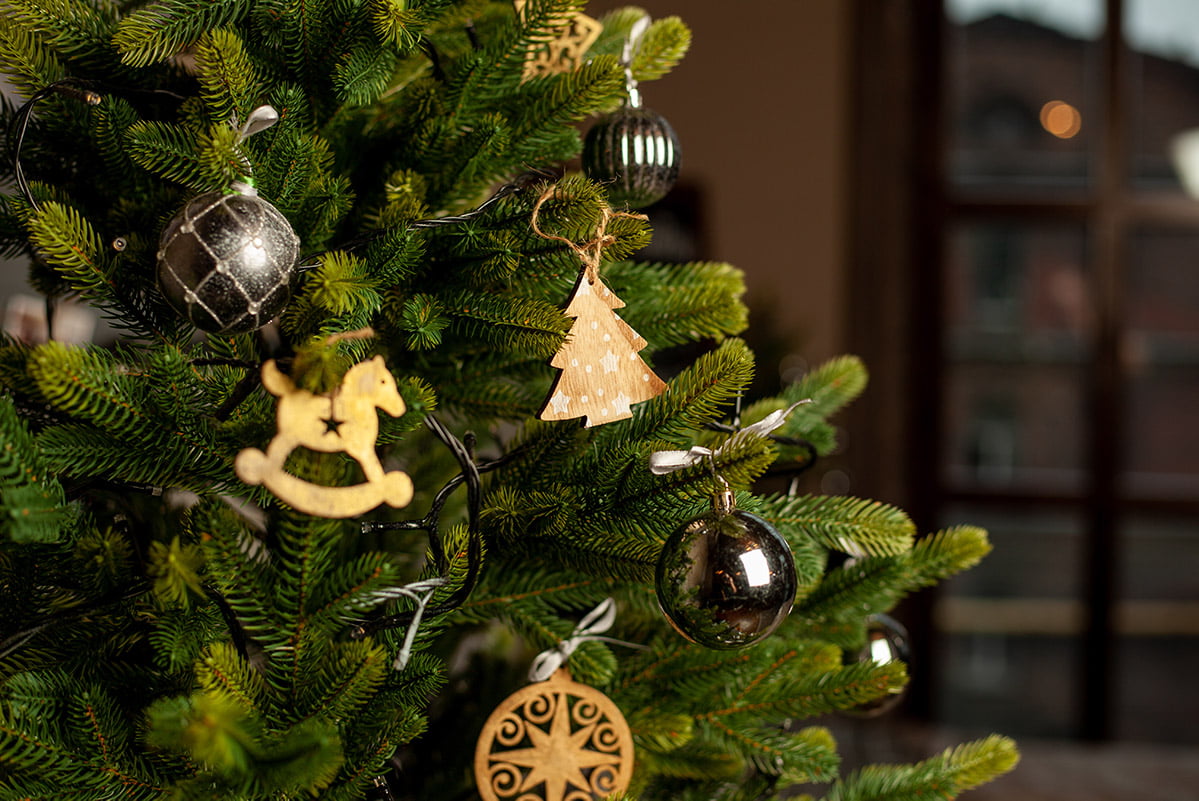 Most artificial trees are imported. Many are made in China, so you need to factor in air miles and the carbon footprint of transport across the world. Whereas a live tree absorbs CO2 from the atmosphere as it grows and photosynthesises and releases oxygen. The Carbon Trust estimates that an artificial tree has a carbon footprint of around 40kg of CO2, but a real tree that is burned, replanted or chipped has a footprint of around 3.5kg CO2. If it is sent to landfill and rots releasing methane, it's footprint is around 16kg CO2. So it is important to recycle your real tree after Christmas. Many local authorities offer a collection/recycling and chipping service for spent Christmas trees.