Herbs are star-performing power plants that have held their place in our gardens for centuries, just because they were so useful and could transform the plainest food into something sublime.
Think… mint with strawberries, sweet Cicely with rhubarb, basil with tomatoes, thyme or tarragon with chicken, rosemary with lamb, fennel or dill with fish, sage with pork, chives with new potatoes, summer savory with broad beans, watercress or sorrel soup, chervil omelette and parsley in sauce or tabbouleh, lavender in sugar or cream…. And on and on!
Herbs are plants that haven't had too much attention from plant breeders so their simple, uncomplicated flowers are early season magnets for bees and hoverflies.
If you brush against some, including lavender, thyme and rosemary, step on a thyme or camomile path, or crush the leaves of basil, you will know the rush of sensual pleasure from the resulting release of aroma.
Herbs for tea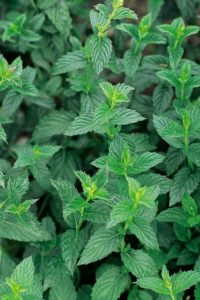 Use fresh or dried sage, hyssop, lemon balm, lemon verbena, mint, parsley, thyme and bergamot to make relaxing or refreshing teas. You need more fresh herbs than you would dried herbs. Fresh herb teas look more attractive than dried herbs, which, like tea leaves are best strained off or kept in an infuser. Mint and lemon verbena are my two favourite tea herbs.
My choice for tea is mint: A few sprigs of mint or mixed with sliced lemon or ginger – it is a real refresher. Mint is easy to grow from cuttings and it roots quickly in a container, but for even faster results put a few cuttings in water and in no time rootlets will develop at leaf nodes and at the base of the cutting.
Buying herb plants
If you lack some or all of the following – space, time, a greenhouse, a sunny windowsill and have no inclination to get involved in growing herbs from seed or cuttings, gardens centres and supermarkets are the way forward.
Buy a pot of herbs – all of the popular herbs – rosemary, thyme, sage, chives, parsley and bay are available as well as some unusual herbs, such as salad burnet and lemon grass. You can either keep them in the pots, if space is limited, or plant them out into your garden.
My top choice is parsley: it takes time to germinate and in its second year goes to seed, so it makes sense to regularly buy pots of it and harvest the leaves them as you need them to flavour casseroles, for parsley sauce, tabbouleh and omelettes.
Sandwich or micro-herbs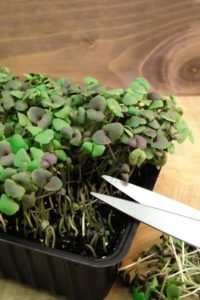 Almost any herb or salad is available now as a mini- or micro-leaf that is used as cress in an egg mayo sandwich. Sold in kit form, with mats and mini-greenhouse containers (or get inventive and grow in egg boxes – a great project for the children), you sow little and often and use them to flavour sandwiches or to add pep, as well as colour, to salads.
The rage for micro-greens started with pea shoots and now almost every veg and herb is available in single species as well as in spicy or sweet mixes. Beetroot, pea and even sunflowers seed (peanut butter heaven) can be sprouted this way. When the tiniest first pair of leaves have formed they are ready for snipping and using.
My top choice is Greek cress: It looks fairly innocent but once bitten you realise it has far more oomph than ordinary cress.
Herbs for salad
Herbs are intense flavour packages, so in salads they provide top notes of flavour, colour and texture. Add them in stages, so that all layers of the salad have a little hint of the aroma and scatter them on top of the salad.
My top pick is chives for strong onion flavour without the tears. When they are just coming into bud or about to burst open, the flowers also provide colour and flavour in equal measure. Chives are simple to grow and you can increase quantity by dividing the clump and replanting. Chive flowers are mauve or white. Use both for a colourful salad.
Herbs for growing outside in pots
If space is at a premium grow an array of herbs in containers on a balcony, on a windowsill or patio. A pair of bay trees will frame a front door and give it stature. Mint is a perfect candidate for container growing, since it can become an invasive plant in the garden, spreading so easily. Lemon verbena, rosemary, sage and thyme all grow well in containers.
Be regular and diligent with water as you are in control of this… don't let herbs stand in saucers of water after heavy rain, but equally don't let them go without water in a sunny season.
My must-have herb choice in a pot is basil. Give it pride of place in the sunniest position possible, protected from cold night temperatures, if necessary. I sow several seeds per pot and thin them out as they grow until there are three to four strong stems. There are so many different basils to grow – purple, green and frilly, lemon-flavoured, cinnamon basil and the large-leaved Italian, as well as the tiny-leaved Greek basil.