Plants are the lifeblood of RHS Chelsea, so it's no surprise that the hotly contested RHS Plants of the Year attracted dozens of entries.
The finalists are on show on Press Day, with the winner to be announced later in the day. With thousands of plants on show in the Great Pavilion at RHS Chelsea Flower Show, there are lots of rare and interesting plants being showcased around the show. But right in the centre of the Great Pavilion, is a collection of plants that are new hybrids; new to the UK market or that have never been seen at RHS Chelsea before. Here are five fabulous contenders for the title of New Plant of the Year 2017.
Rosa JAMES L. AUSTIN ('Auspike')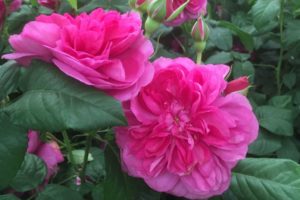 JAMES L. AUSTIN ('Auspike') is an English Old Rose Hybrid. Not only an exceptionally healthy and reliable rose, it is also a great beauty. The blooms are of deepest cerise pink, with numerous petals forming perfect large rosettes, each with a central button eye. It flowers prolifically from early summer until the first frosts and the blooms are not affected by bad weather. The medium-strong fragrance is delicious, resembling a mixture of dark fruits: blackcurrant, blackberry, raspberry and cherry with hints of lemon zest and almond. Neat and tidy with a bushy, upright habit, JAMES L. AUSTIN is a very versatile shrub. Named for the son of David Austin Senior and brother of David Austin
Clematis 'Taiga'
You could be forgiven for thinking this is a real exotic beauty, when in fact it's actually a clematis. 'Taiga' is stunning, exotic-looking Clematis and an ideal feature plant in a patio container or against a south-facing wall. It needs a sunny spot and can reach 1 metre wide and 2.5 metres tall. When the flower first opens, it is very spiky, and then it becomes rosette-like with large outer tepals, before the final stage when the centre opens out to create a luxuriant full double flower. A simply stunning introduction.
Begonia 'Silver Spirit'
Here's one for those who garden indoors, though it can also be used in summer bedding displays. It's a spectacular foliage plant, bred by Lynne Dibley at the nursery in 2015, and launched spring 2017. One of an innovative breeding line of quick growing begonias, a new style combining the colourful foliage of Begonia rex with the taller growing cane Begonias. It has fantastic potential offering a broad range of uses for indoors or out. Combine it with exotic summer bedding schemes for the best results. Grow indoors until established and then plant outdoors in partial shade after the danger of frost has passed. Lift before the first frost.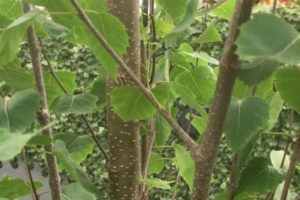 Betula pendula FASTIGIATA JOES ('Jolep 1')
A true breakthrough in tree selection, this neat, compact, fastigiated birch is a winner for small gardens. A chance seedling it has been propagated from cuttings and grafting to build the stocks. Its tight narrow habit and white bark are much-improved features of the normal Betula pendula 'Fastigiata'. It's a perfect specimen plant and makes the ideal feature tree in the smallest of gardens and spaces. A particularly neat pyramidal habit with attractive catkins developing an impressive white bark after 4-5 years makes this a superior fastigiate tree for gardens large and particularly for small ones. This Betula is narrower and less susceptible to leaf rust than B. pendula 'Fastigiata' and has good yellow autumn colour.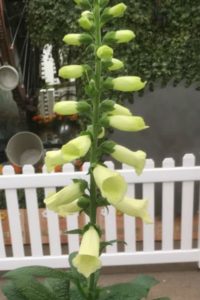 Digitalis 'Lemoncello'
The soft yellow flowers of this new foxglove would look beautiful in the flower border or a dappled woodland garden. A chance seedling spotted by Peet Burg from the Botanic Nursery in 2011 from which he saved seed from and gradually built up a stock improving it until it developed a unique colour and a strong constitution. This is the first time the plant has been made available. Yellow foxgloves of the traditional type are rare in gardens – this new selection offers gardeners a much-improved colour and a far longer season of flowering from its secondary stems, making it an ideal plant for colour-schemed planting in sun or shade. A robust, hardy biennial for sun or light shade on average soils. It's also good in borders or for summer tubs.