It is a very common question – what is your favourite rose? But for me it is an impossible one to answer. How can you answer when there are so many to choose from and it depends from what aspect – beauty alone? Fragrance? Health? As a shrub? As a climber? Or just very good all round roses?
Here is my list of favourite roses, some are excellent all-rounders others may excel in one character but not be quite so strong in another. But all, with a little care and attention, are to my mind wonderful.
Rose 'Desdemona' (English Rose) is an incredibly free flowering variety with blush pink buds that open to white flowers. It has a strong myrrh fragrance and is extremely healthy.
Rose 'Gertrude Jekyll' (English Rose) when this starts flowering, it is the sign for me that summer has really arrived. It has beautiful rich rose-pink flowers and the most delicious fragrance imaginable. It can be grown as a shrub or a climber
Rose 'Gentle Hermione' (English Rose) has the most perfectly formed blooms of soft pink with a very strong myrrh fragrance.
Red roses in particular should have a fragrance and rose 'Munstead Wood' (English Rose) is particularly well endowed – a superb blend of fruit and old rose. The flowers are very double, the petals beautifully arranged in a rosette
Rose 'Lady of Shalott' (English Rose) is a particularly free flowering and robust rose with rich apricot coloured flowers. While the fragrance is not particularly strong it is none the less very lovely.
Rose 'Lady Emma Hamilton' (English Rose) is another favourite. Sniffers of this rose always come up with a smile on their face. It is immediately recognisable as deliciously fruity and often very lychee like. The flowers are a strong apricot orange and freely produced.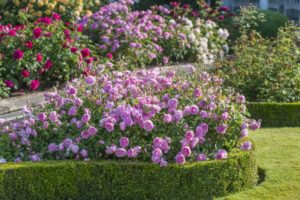 Rose 'Harlow Carr' (English Rose) has individual blooms, which are only medium sized but produced in great quantity and are strongly fragrant. I always remember this in the trial field, the row of about 200 plants was simply a mass of pink from the ground up.
The rose 'Buttercup' (English Rose) is my favourite for fragrance and interestingly not one I can describe except to say really delicious. The flowers are semi double and a pure rich yellow.
Rose 'The Generous Gardener' (English Rose) has a superb and particularly healthy climber. The soft pink flowers are large and deliciously fragrant. If not dead-headed large orange hips are produced. It's perfect for an arch, wall or obelisk.
Rose 'The Lady of the Lake' (English Rose) is one of a select group of repeat flowering ramblers, it has small semi double flowers of soft apricot pink that become pure pale pink with age. Charming.
Rose 'Celsiana' (Old Rose) is a Damask and so it does not repeat flower but very worth growing for its beautiful semi double flowers of soft pink that pale to blush with age giving a wonderfully mixed informal effect. Deliciously fragrant.
Rose 'Queen of Denmark' (Old Rose) is an Alba Rose with the most beautiful flowers and the most delicious fragrance. Not repeat flowering but definitely worth planting.
Rose 'Hansa' (Rugosa) has very double flowers of silky magenta and a particularly strong and delicious fragrance. They are followed by large rounded hips. The rugosas are very distinctive with their rather rough leaves but many of them are completely healthy.
Rose 'Penelope' (Hybrid Musk) a very lovely rose with semi double soft apricot pink flowers that fade to cream. They are followed by coral pink hips. The fragrance is a delicious mix of fruit and musk
Rose 'Rosy Cushion' (Modern Shrub) for repeat flowering and health this is very hard to beat. The flowers are soft pink and single and produced in great quantities. It can be kept as a medium sized shrub or allowed to become a short climber.
Rosa setipoda (Species Rose) I love the species roses for their simple charm and elegance and this is one of the very best. The clear pink flowers fading to white in the centre are followed by big flagon shaped hips in the autumn.
There are of course many more very wonderful roses to choose from and your tastes might be different to mine. When lockdown is lifted, visit some rose gardens and the flower shows to look at roses and then make your own list of favourites.