Roses are some of the earliest plants to have been grown specifically for cutting. In the early days, in the late 19th or early 20th centuries the varieties grown were various Teas and Hybrid Teas and very different to the classic cut rose available from florists today. The flowers were much smaller, the stems much thinner and the heads often nodded. Today we expect cut roses to be on very stiff upright stems and to last 10-14 days. These can make lovely arrangements but all rather formal and most (but not all) cut roses do not have a scent.
Garden roses though are very different. Their vase life is limited often to just a very few days, the blooms often nod with several per stem but many have a strong and delicious fragrance and they have real charm and beauty. An arrangement made of these will automatically be much more informal particularly when mixed up with other plants from the garden. Even as an amateur it is very easy to produce a very beautiful arrangement especially if you limit its size to a few blooms. And indeed just a few blooms floated on water or a single bloom in a little vase or jam jar can be very lovely.
Cut flowers
Bringing roses and indeed any flowers into the house is a great way of being able to observe them at close hand and to appreciate their fragrances too. With the right varieties it can fill a whole room and a bloom or two by your loved one's side of the bed will be greatly appreciated. Different varieties of garden roses will have different vase lives but by applying a few simple rules you can easily coax extra time out of them.
Cut in the morning when they are still fresh.
Don't cut the ones round the back with weak stems because you think it won't show so much. Those with good strong stems will last longer.
Cut them at the open bud stage.
Carry a bucket or jug round with you and put them straight into water.
Before arranging, cut them again under water to eliminate any air bubbles in the stem. Strip off the lower leaves.
Make sure your vase is really clean, if only rinsed out they will very soon be teaming with bacteria that will plug the cut end up and stop water uptake. Use a little bleach if necessary.
Add flower food to the water.
Once arranged put them out of direct sun and away from radiators.
Refresh the water every 2 or 3 days.
In theory you can use any rose in an arrangement although some may have a very short vase life and some are super thorny not making the process of picking and arranging very pleasant or easy.
Scented beauties
It's better of course to choose fragrant varieties and so David Austin's English Roses are particularly worthwhile as they are so beautiful too. Shane Connolly, one of the UK's leading flower arrangers, loves using them too and says: "I love to use English Roses as they are the epitome of the ideal rose with their scent, form and beautiful characterful irregularities".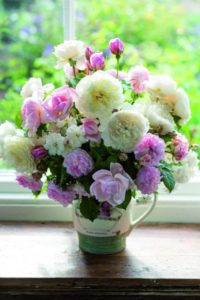 Here are a few of my favourites:
English Roses – Desdemona, Gertrude Jekyll, Princess Alexandra of Kent, Munstead Wood, Lady of Shalott, Golden Celebration, Lady Emma Hamilton, Charlotte.
Hybrid Musks – Cornelia, Felicia, Penelope.
It's not just the flowers that are beautiful in arrangements. The hips of roses come in all sorts of shades from yellow through orange, red, brown and black and a variety of shapes and sizes from rounded, oval, flagon, pear shaped etc. They are wonderful to give a real feel of autumn and in arrangements, some will last many months.