Except for the real monsters just about any rose can be grown in a container and it's a wonderful way of introducing them into an area where no soil is available. Everyone is used to seeing the tiny little miniatures in supermarkets and florists that, without too much attention, will last several weeks or even months. But with a bit of extra care and attention roses will easily last for years and you can grow the more exciting shrub roses or climbers that will create a real impact. If you are renting or moving home, you can take your roses with you when you move.
Scented and beautiful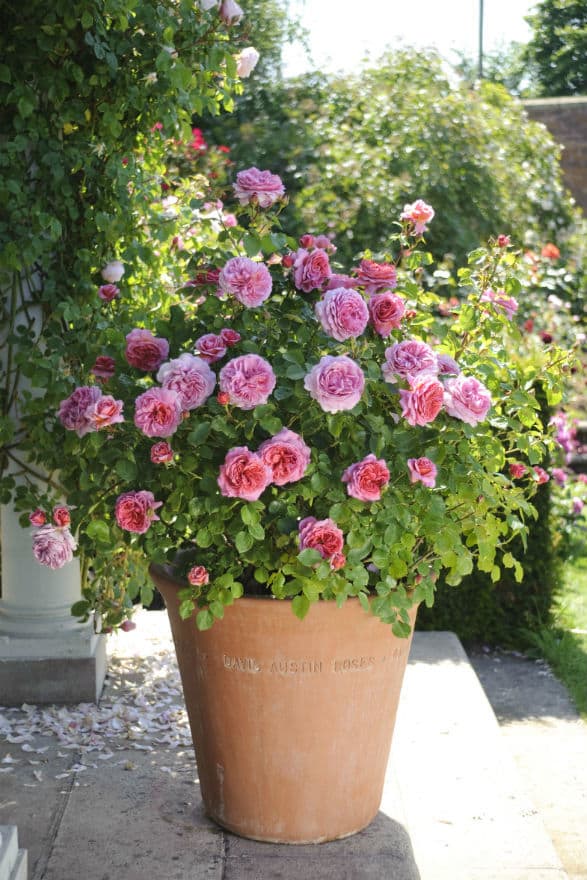 One of the best groups to grow in containers are the English Roses that have beautiful often very double flowers, wonderful fragrances and attractive bushy growth that will produce a mass of blooms from early summer through to the late autumn. Some of my favourites are:
Olivia Rose Austin – pink and fragrant flowers
The Poet's Wife – yellow and very fragrant flowers
Princess Alexandra of Kent rich pink and very fragrant flowers
Darcey Bussell – red and fragrant flowers
Munstead Wood – dark crimson and very fragrant flowers
Lady Emma Hamilton – apricot/orange and very fragrant flowers
Charlotte – yellow and very fragrant flowers
Ground cover roses
The ground cover roses are also well worth considering, with their lax stems they will hang down in a most graceful manner hiding the pot completely. The following are a great choice:
Centre Stage – pink and fragrant flowers
Grouse 2000 – pale pink and fragrant flowers
Scented Carpet – lilac pink and fragrant flowers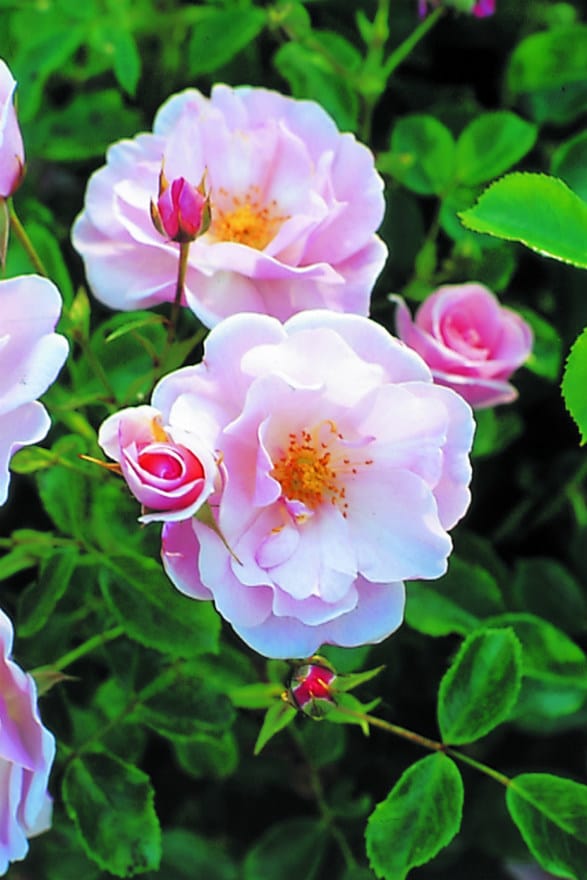 Patio and dwarf roses
The patio roses and dwarf polyanthas would be suitable for smaller spaces, they are usually less than half a metre tall and so can be grown in a relatively small pot. Good patio roses include:
Bianco – white flowers
Bright Smile – yellow flowers
Peter Pan – red flowers
Queen Mother – soft pink flowers
Sweet Dream – apricot flowers
Climbing roses
If you have a wall, fence or trellis to cover and there is only concrete or tarmac at the base then a climbing rose in a large container can cover it beautifully. It is best to chose varieties that aren't too vigorous otherwise keeping them under control will be a challenge. The climbing English Roses are ideal as they generally reach a height of 2-3m and produce many stems from the base so there is plenty to work with in terms of fanning them out to get the maximum number of flowers. My favourite climbing English Roses for pots are:
Lady of the Lake – soft pink and fragrant flowers
Strawberry Hill – pink and very fragrant flowers
Crown Princess Margareta – apricot and very fragrant flowers
Teasing Georgia – rich yellow and fragrant flowers
The Generous Gardener – soft pink and very fragrant flowers
The Pilgrim – yellow and fragrant flowers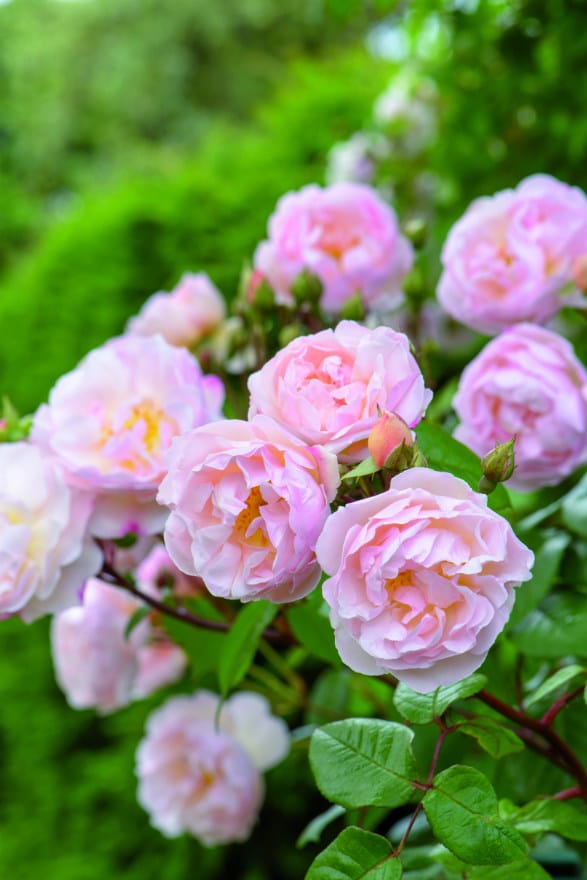 Practical considerations
The two most important things to remember when growing roses in containers is the size of the pot and plentiful watering and feeding. A good sized pot is essential for the English Roses that usually grow to 1-1.5m tall. I recommend at least 25-litres in volume or perhaps a half-barrel, while for a climber it should be bigger. Smaller roses can easily be grown in 10 or 15-litre pots but it is important to remember the smaller the amount of compost available the quicker it will dry out and the sooner the nutrients will run out. During the summer months smaller containers may well need watering every day in dry weather, with a watering can full, if not more. It is important to remember that most multipurpose compost you buy from a garden centre only has enough nutrients for about 6 weeks, after that there is basically nothing left and the plant will quickly starve. Feed with a controlled release fertiliser, it's much easier and very effective and once applied in spring will supply nutrients for the whole season long. Plant with a 50:50 mix of loam based compost and loam free compost if possible, which will provide a good growing medium that is heavy enough to stop the pot blowing over but light enough that it can be moved about without too much difficulty. The loam will serve as a long-term reservoir of nutrients and better water holding capacity. Position your planter somewhere that you will enjoy the plants, especially when in flower. All of the English Roses are fragrant many of them strongly so which is, of course, one of the main reasons to grow roses, so make sure you can enjoy the perfume too.