Just the word lavender conjures a restful image in the mind's eye. But there's much more to these sun-loving plants. Soft silver-grey foliage clings to the stems all year round adds a little structure and substance to the border, when many other plants have lost their leaves.
Its feathery but unassuming habit is no great garden statement until the tips of the stems burst forth with purple spikes of colour in summer. Then the plant takes centre stage. It comes alive both in terms of scent and vibrancy, dancing in the sunlight and making its magic at every turn. For although the aromatic foliage is delightful, it is the flowers and the oils that they contain, that hold the power of this plant.
Hailed as a muscle relaxant, antidepressant, insect repellent, anti-fungal and antiseptic, it's no wonder that lavender has won a firm place in our hearts, not to mention in our gardens.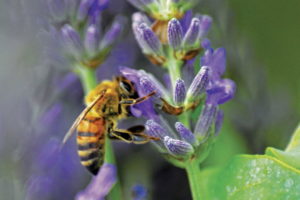 Bees, bees, bees
It's not just gardeners that love lavender. It is a favourite plant of most pollinating insects that visit the flowers to drink its nectar. Butterflies and bees are frequent visitors, visiting the many flowers on each stem. The flowers refill their nectaries regularly with the sweet liquid that these visiting insects need for energy. So every lavender bush you plant will help to feed these elegant insects. The honeybees will take the nectar back to their hive where they evaporate the moisture and turn any excess into honey for their winter food.
Great plants
All lavender varieties make great garden plants. Plant them with hardy sages, silver leaved artemisia, chocolate cosmos, roses and coreopsis or use the compact forms as an edging for vegetable beds, garden paths or alone as a specimen in a pot. Think about colour combinations, the rich purple flowers look fantastic growing with the lime flowers of Alchemilla mollis.
The French lavender has delicate heads of flowers and needs a warm, sheltered spot as it is less hardy than most English lavenders. For good reliable and popular English lavender choose the uniform lilac blue lavender 'Munstead Dwarf' or the dark rich blue flowered lavender 'Hidcote'. Both are compact and good for edging. For a taller border plant consider lavender 'Vera' and remember that lavender comes in a choice of colours, from white and pink, to mauve and purple.
Healing powers
Lavender is easy to grow and simple to use for basic home remedy cures and homemade cosmetics. It is excellent for minor burns and stings, apply a drop of the essential oil to a moistened cotton wool and pat onto nettle stings, mosquito bites and other insect bites. The effect is almost instant and the smell is very relaxing.
Lavender water applied to the skin can take the pain out of sunburn.
Relieve a persistent headache by rubbing one drop of lavender essential oil into the temples.
Pour boiling water onto a handful of lavender flowers and steep for five minutes. Drink as a refreshing herbal tea.
Use the cooled tea in the rinse water of hand washing.
Burn the dried stems and lavender prunings on an open fire, BBQ or firepit for a gorgeous, smoky but aromatic smell.
Add the flowers to ice cream for a subtle, aromatic flavour.
Make your own lavender bags for clothes drawers using dried flowers sewn into fabric bags.
IMPORTANT: Lavender oil should NEVER be taken internally. The aroma can be inhaled and the oil can be used in the bath, or rubbed on the skin, but always do a test patch first in case of allergies. If you are pregnant, or think you might be, you must check with a qualified medical herbalist before using any herbs in any way.  If in any doubt: DON'T.